Tough Race in San Deigo
My worse race of the Year
Sunday, August 19th, 2012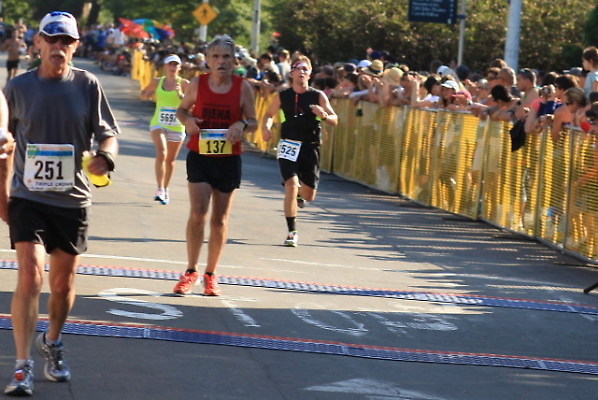 The San Diego Half Marathon was tough for me. I am just not running well when it is hot and humid. Even through the marathon started at 7am it was already 73 degrees and the humidity about 77%. By the time we finished it was about 80 degrees. On top of this there is a mile long hill starting about 11.5 miles. The course overall is beautiful and the organization was amazing. Spoke with Neil Finn the race director who has been involved for all 35 years before the start and he is really on top of things. I understand that this was the hottest day ever for this race. Photo: finishing...I can't say I was sprinting in. I didn't know him but number 251 just ahead of me was Alan White age 62.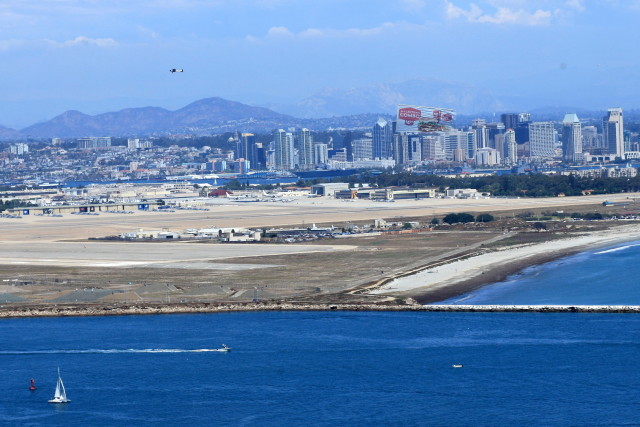 The day before Catherine and I drove the course and this is what you see looking towards the San Diego Bay and on the other side is the Pacific Ocean. The race begins at the historic Cabrillo National Monument. The sun had just come up when the race started the next morning.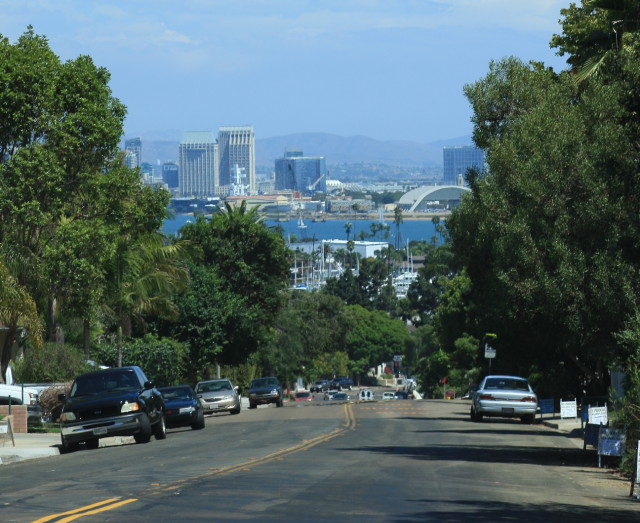 There are some downhills the first five miles (along with some uphills the first two miles). This is between three and four miles on the course. I am not sure what really happen. I just know my legs were feeling heavy starting about six miles, I lost focus, and then I hit the mile long hill at 11.5 miles. Yet the winner, Tesfye Alemayehu runs 1:03:44. Not as fast as what he did in Napa to Sonoma but still...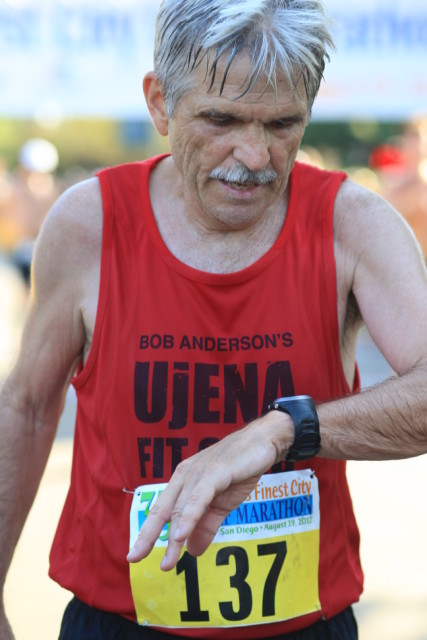 Here are my crazy splits: 6:52/7:10/6:48 (20:50 at 3 miles) There were about four solid hills and a couple of good downhills. The next mile is mostly downhill and I ran 6:08. Loved this mile. I was feeling so good. I was passing people and thinking that I was going to easily reach my goal. Next mile was 7:07 and then we were in full sun with a little hill 7:27 (41:32 at six miles). It was here my legs really started to feel heavy and I had lost focus. My seven mile split was 7:38, then 7:45, 7:47 and 7:51. My legs were dead and I was not racing any more. My time at 10 miles was 72:33. This was still right at 7:15/mile pace. My goal was still in sight. During mile 11 and when I hit the one mill hill my legs started feeling like Jello. I was even thinking about walking. And it got worse. Mile 11 split was 8:10. Mile 12 was 9:21. Once I got to the top I was able to pick it up just a bit but still my mile 13 split was 8:57. And I finished in 1:40:34. I almost walked across the finish line. I spoke to the PR person for the race afterwards and she told me that this race should be the heart and sole of my challenge. Why, because I didn't walk. If I had, I could have lost at least another another 10 minutes. She is right. When I crossed the finish line I could hardly stand...it was bad!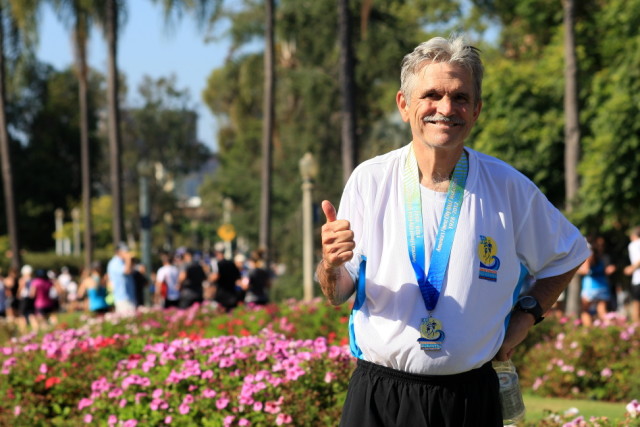 I changed my shirt, watched some of the runners come in, did some filming with Mike and Catherine, drank a bottle of Gatorade and ate some chips and I started feeling like a person again. I think I have not been getting enough sleep. This is going to change.
Mike got some good footage today for our movie. Catherine got a lot of images. But one thing we talked about is that I need to look carefully at my remaining races. I have 17 races to go and I am only just over five minutes ahead of my 7 minute/mile goal pace now. After 228.5 miles of racing I am averaging 6:59. I am going to need to pick up the pieces and get focused. I really want to reach my goal of finishing my 350 plus mile race challenge (50 races) at under 7 minutes/mile pace.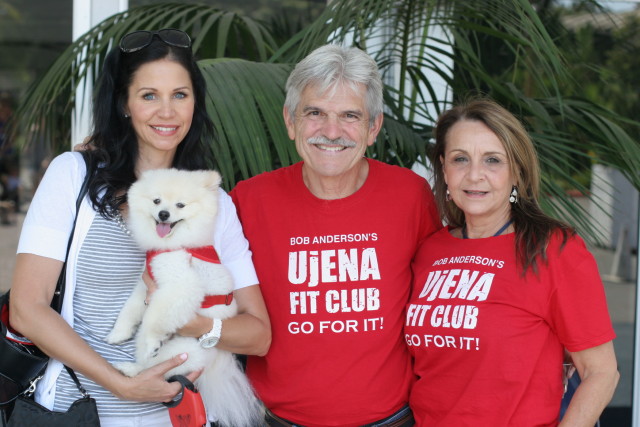 I really appreciate all the people who are supporting me. Ujena cover model Jodi and a good runner drove down from LA to have lunch with Catherine and I on Saturday. I really want to make my challenge and all this support gives me more reason to do it. I don't want to let you down.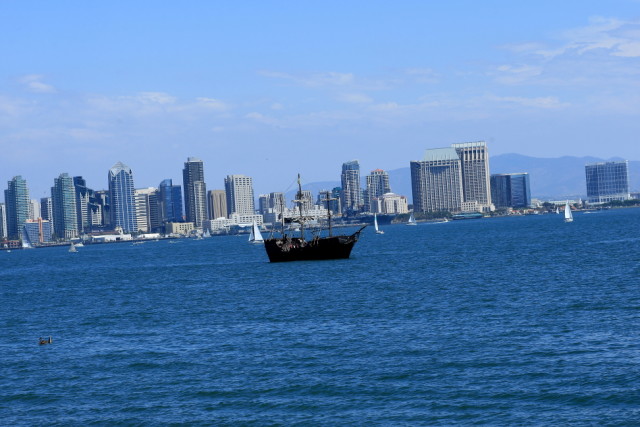 In closing I want to leave you with this image we took on Saturday. This is at about 7.5 miles on the course. This is how beautiful this course is. Even through this is my worse race by time of the year I still want to stay focused that I did run a sub 7 minute 10k, a 7:15 10-miler but then I ran a 28:01 last 5k. I did finished third for 60 plus (maybe second since I can't find any info on the winner of my age group) and 265th out of 8000 runners. Update: I finished second in my age group. Photos by Catherine Cross
Comments and Feedback