Third Best 5k of the Year
Fun Time at Morgan Hill July 4th Race
Wednesday, July 4th, 2012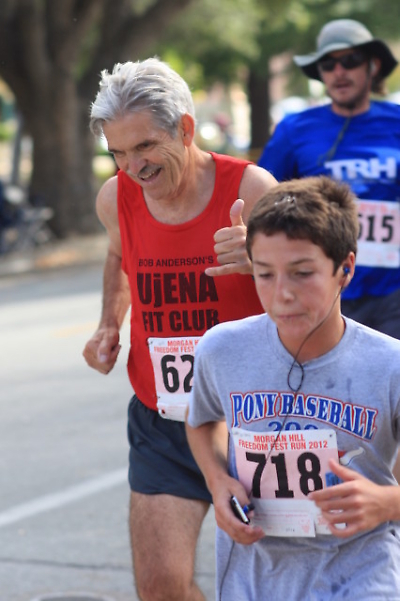 We have been doing the Morgan Hill July 4th race since 2007. This is one of our Family Running Trips we do. The grandkids run the kids one mile first and then Lisa, Justin, Michael and me do the 5k. Catherine, Crystal and Waitman took photos and did filming for our movie.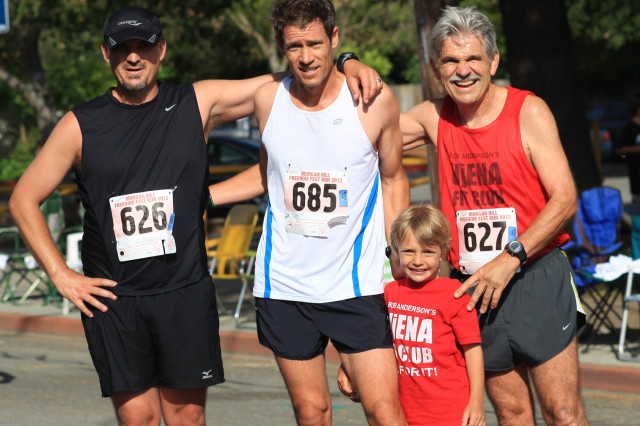 Photo: Michael has been so busy filming that he hasn't been able to run many of the races. In fact, this is only his second of the year. He ran Carlsbad. Today he ran 21:42. He will be under 21 soon. Justin ran 19:44.
I warmed up by running the mile with my granddaughter Carly. (She is seven years old and ran 9:55. Jaxson age 9 ran 7:55.) Michael and I were on the front row and went out fast. The first half mile was for sure under six/minutes per mile pace. Justin passed me and I tried to hang on. Ujena Fit Club member Michael King was right there too. I passed the mile at 6:17 and Justin was two seconds ahead and Mike was two seconds behind.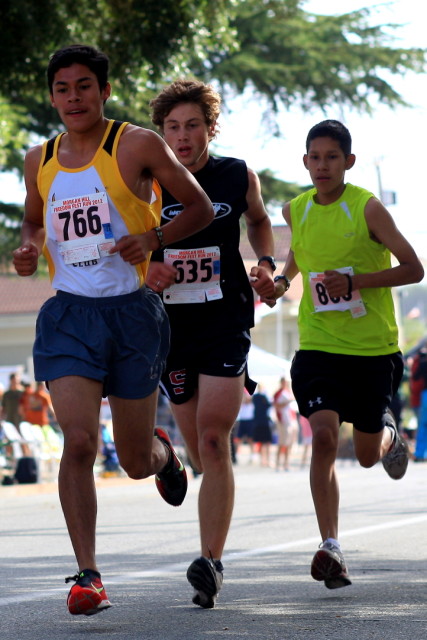 Up ahead was 15-year-old Jose Pina Jr. (In green)...his first mile split was 5:03. He finished second overall in 15:49. We are featuring the Pina family in our movie. They have a great story. We are meeting at their house tomorrow for an interview and then doing a training run with them. Jose's 11-year-old brother Omer won the kids mile running 6:55. Their dad Jose Sr. is a top master runner. More about them later...
I tired to hang on to Justin but he pulled away. There was some wind on the second loop and I just didn't have it today. I ran a 6:55 second mile. Justin pulled out 25 seconds on me. I then tired to stay with Michael King but he too pulled away. I was able to pull out a 6:40 last mile which helped a bit. Close behind me was Honor Fetherston. She finished in 20:47 which was the best age-graded performance of the day.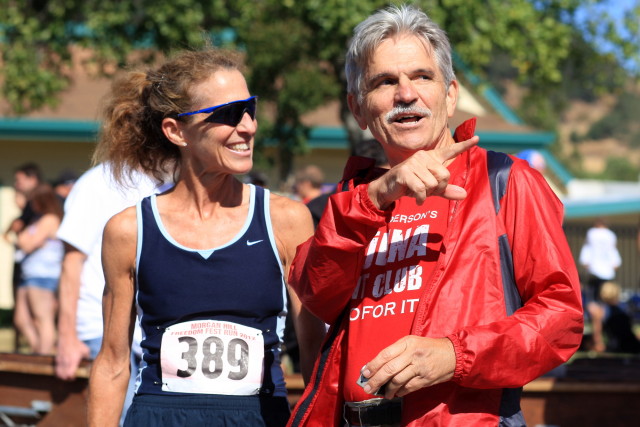 Honor and I talked after the finish. My 30th race of the year will be the Wharf to Wharf in Santa Cruz...this is one of Honor's favorite races and she too will be running. It will be my first time running the race which is widely acclaimed as "The best little roadrace in California."
I tired to hang on to Michael King (yellow shirt) but it just was not going to happen today. He ran a good race. He finished 24 seconds ahead of me. I finished in 20:24 which is my third best time of the year. Only two seconds off of my time in Carlsbad. I was concerned after the fall just four days ago. My left wrist and right hip are not back to 100% yet. But I didn't loose any time because of that. I am pleased.
Right after the finish. I don't think my time would have been faster if I had not gone out so fast. I am now 13:49 minutes ahead of pace overall after 176 miles of racing. My next race is the Napa to Sonoma half marathon July 15th.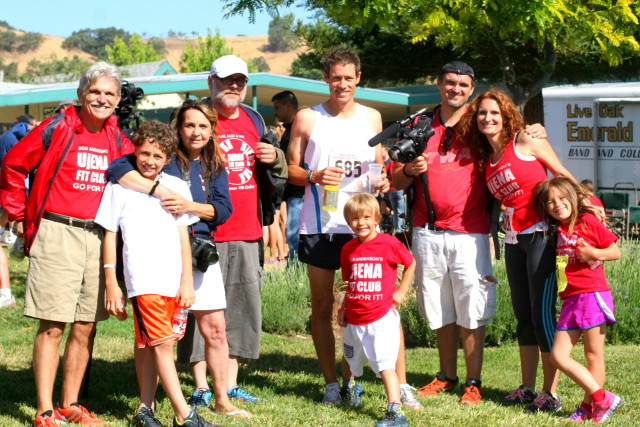 The gang minus Crystal after the races. Next up...the parade.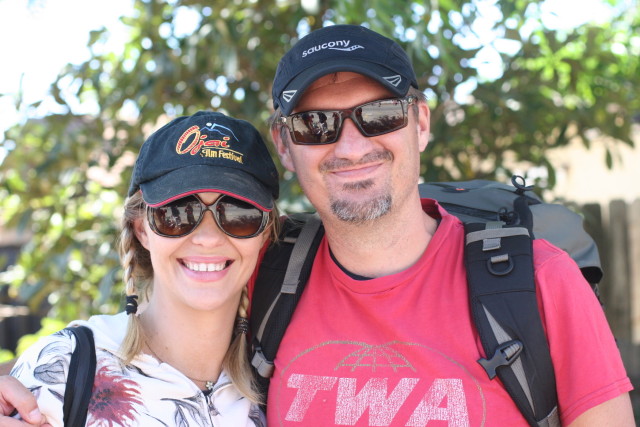 Crystal and Michael hanging out at the parade.
After running a 7:55 mile my grandson Jaxson ran the 5k with Lisa. This is the first time he has run that distance without stopping. Good going Jaxson...that's four miles for the day.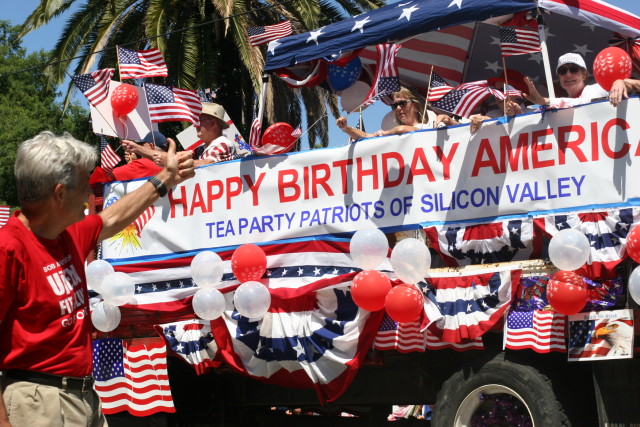 This is how the 4th of July needs to be celebrated. First run as a family and then watch the parade as a family. Photos by Catherine Cross Ujena Fit Club
Comments and Feedback