Not sure how I pulled this one off
Race Number 29 - 1:32:12 half marathon
Sunday, July 15th, 2012
This race was really a concern because of the situations I have had the last two weeks. I love the race and this was the third year in a row that I have run it. There are some hills in the first few miles including a tough quarter mile hill right after the start. For many, these hills really are not that big of a deal but for me it does slow me down. I like to go out fast and today I hit the first mile at 7:04 which is at least 25 seconds slower than normal. But more importantly, on Wednesday I could not even run a quarter of a mile and even through by Thursday I did do six miles at 8:41 pace I was beginning to think that 1:35 would be the best I could do.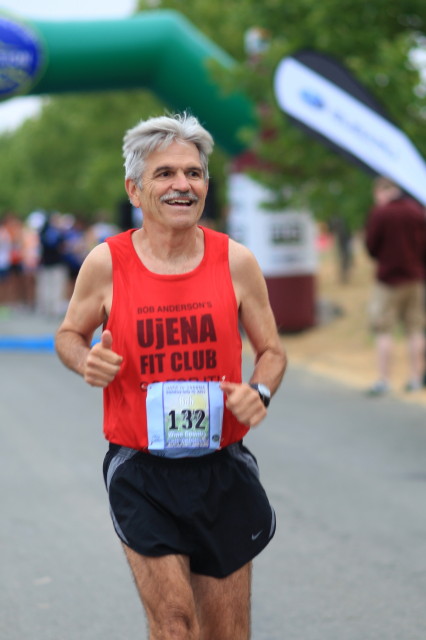 The night before Michael wanted to capture some footage about the situations I had been having getting ready for this half. We both decided that the only way I was going to be able to run well was to use the Pre method...run my guts out. That was the plan. I would be happy with 1:35 but my goal was to get under 1:33. However, I was really concerned. I like going into a race knowing I am ready. I just was not ready...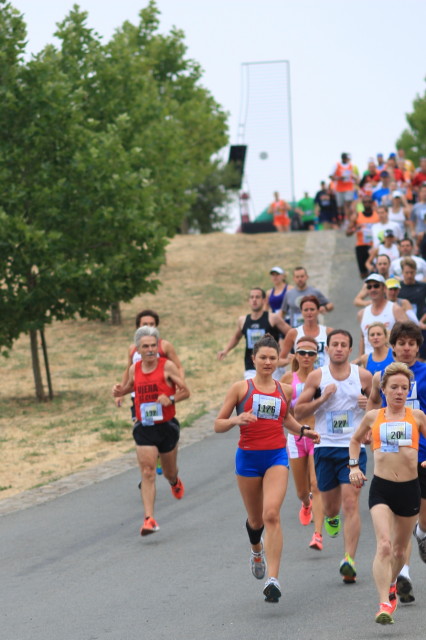 But when the gun went off my legs felt good. I was ready to race. I went out hard but then got passed by 50 people on the quarter mile hill right after the start.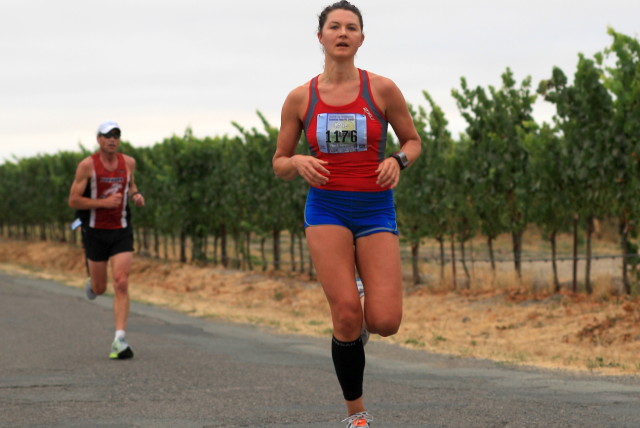 I met Kathie Mcquire at a race last October. We have seen each other several times at races and in fact she is being featured in our film. She was about 120 yards ahead of me at some points but by the 7.5 mile mark (photo) I was just 60 yards behind. She told me at the starting line that she was hoping to run 1:30. I kept her in sight for 11.5 miles before I caught her.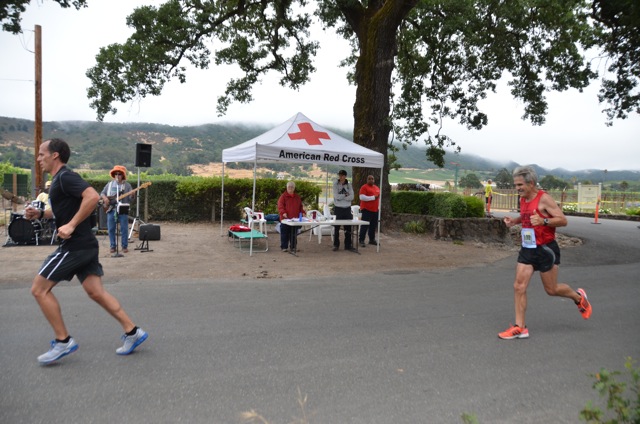 Here are my splits: 7:04, 6:39, 6:50, 7:00, 6:49, 7:04, 7:07, 6:59, 7:24 (not sure what happened here), 7:02, 7:09, 7:05, 7:07. Photo at the 7.5 mile mark with Katie just ahead. My legs felt strong the whole distance. I was 69:58 at 10 miles. I did my last three miles faster than normal. Maybe the two weeks of "rest" helped? My official chip time was 1:32:12.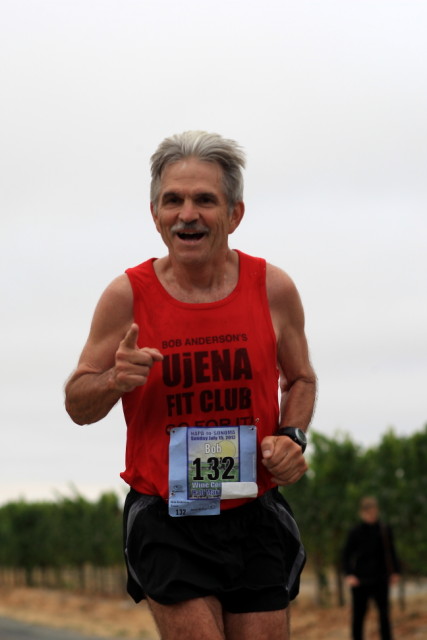 It was great to see Catherine at the 7.5 mile mark and Michael (shooting video) at the 10 mile mark. Then to also see Mary Etta Boitano Blanchard at the 8.5 mile mark. All of this along with having Katie right ahead of me and Christine and Verity out front helped me today. Plus I did have my perfect pre race dinner the night before.
At the finish with Katie just behind.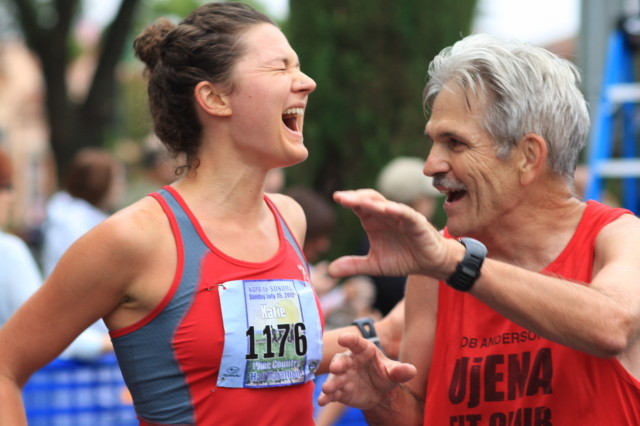 I told Katie that I focused on her butt the whole way. I could see her ahead of me for 11.5 miles. Seriously, I knew she was trying to run 1:30 and by keeping her in my sights it really helped. She has been injured and this was her first race in six months. She ran well and won her age division.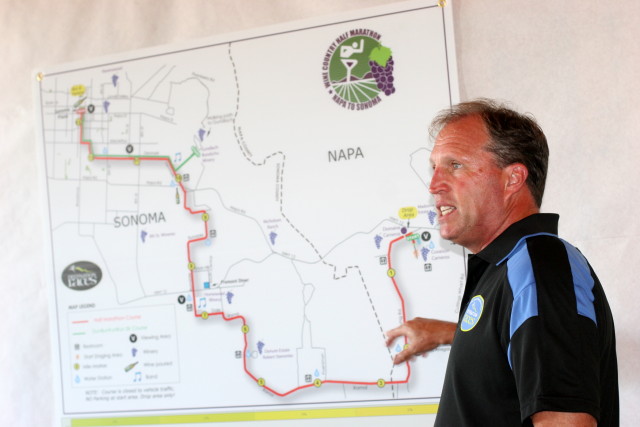 The day before race director Matt went over the course with me. I had run this the last two years but it was nice to get a good review. I also feel that Matt's and crew warm welcome helped me get focused.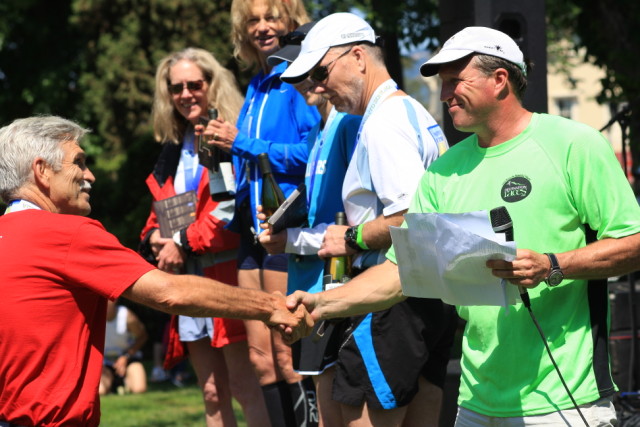 I have been first in my age-group 19 of the 29 races I have run so far this year. I hope to add more.
After the race we interviewed Mary Etta for our film. She started running at age 4.5 and held many world records. She ran the Bay to Breakers before women were even allowed to run that distance. Can you believe when I started Distance Running News (1966) women were not allowed to run more than a half mile. She has a great story and at age 49 she loves running just as much as ever. She has always been out at the 8.5 mile mark on this course to yell out words of encouragement to me the last three years. Thanks Mary, you are such an inspiration!!!
Mary had a lot to say and we captured it all on film.
I won a bottle of wine, got a nice medal and a box of chocolate. This is a fun event and I will be back.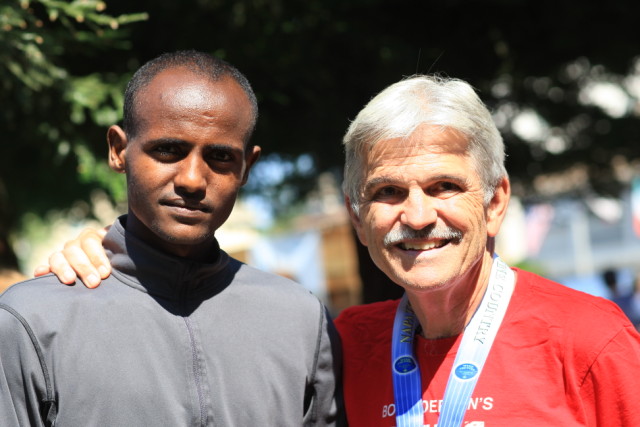 Tesfaye Alemayehu was the overall winner. He ran 1:02:37 which is a course records. Amazing time...an amazing runner! Very nice too!
57-year-old Christine Kennedy turned in one of the best performances of the day. She ran 1:25:10 which is 95.85% age-graded. She is being featured in our film and will be sharing her training secrets with us.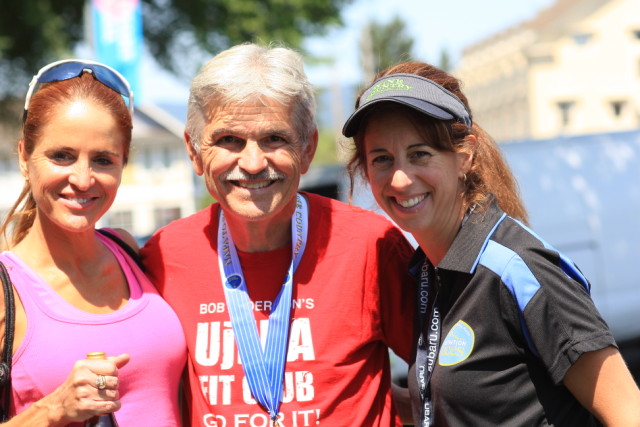 One quick shot with Verity and Lisa (who works closely with Matt on the race) and we were out of there. On the way home stopped by a hamburger joint and wow that tasted so good...
Comments and Feedback