Training Runs Feb 20 in Los Altos
I really enjoyed My Training Runs today!
Monday, February 20th, 2012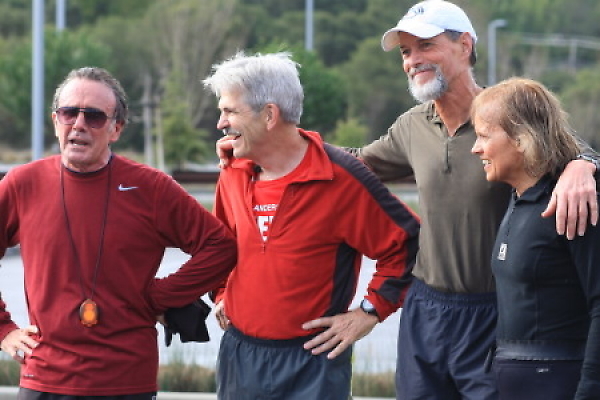 I would have normally ran easy the day after a race but today I did two workouts. At 8am Bill Dunn, Rich Stiller and JoAnn Dahiloetter came over to the house. We decided to go up to Foothill college and run the old 5-mile fun run course. Rich and Bill had met there over 30 years before and JoAnn sometime later. Michael and Waitman filmed us for "A Long Run."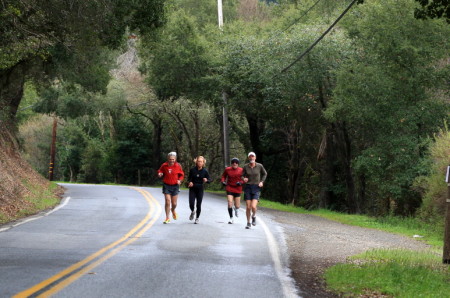 Moody Road in Los Altos Hills, CA is a beautiful place to run. We wanted to stay flat and actually we had forgotten that there are some hills along the way. We had all run here many times before and I guess the hills were not not noticed as much in our younger days.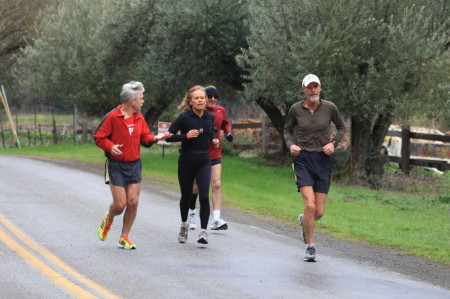 I had not spoken with JoAnn much in the past even through we had seen each other a lot at races over the years. She gave me a copy of her book "Your Performing Edge" and I am looking forward to reading it. She was the winner of the 1980 San Francisco marathon and second in the 1982 World Championship Hawaii Ironman Triathlon.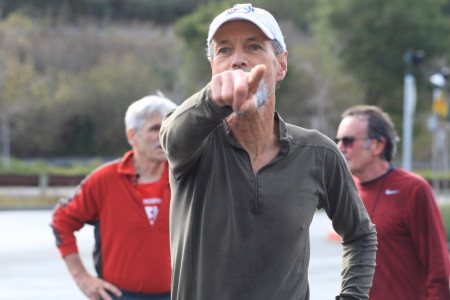 Bill Dunn and I have known each other for nearly 40 years. We have battled it out many times on the road and most of the time he came out on top. But I did beat him a few times. Oddly enough we had not taken the time to do many training run together until this morning. It was a real pleasure. He has a great story and is being featured in our movie.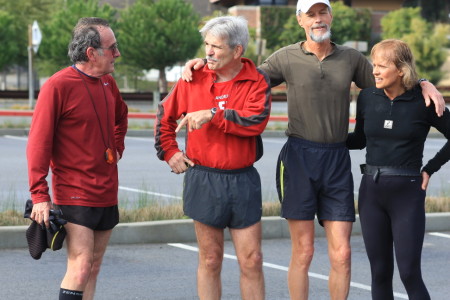 Going into this run, Rich was concerned that his calf would hold up. The good news is that it did. I think he is on the road to recovery. Thank god! Injuries are the worse!!!! Photo by Waitman for Ujena Fit Club
I had not officially met Matt and Mark Tompkins until yesterday at the Chinese New Year 10k. I had seen Matt many times at the races over the last 20 years but other than smiling at each other we had not met. Mark lives on the East coast and I am not sure I even knew Matt had a twin brother. Before the start of the race yesterday, I motioned to them I would like to talk to them about our film. They finished second and third and we made a plan. They will be featured in "A Long Run" since they have a great story...
This was my second run of the day and all three of us pushed ourselves in the 10k yesterday but Matt had his team out running 60 minutes (he is the track coach at Gunn High School) and could Mark and I not tag along.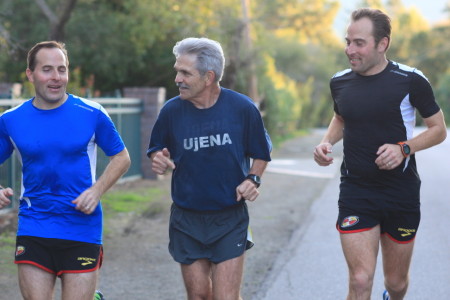 We had a really enjoyable 5.5 mile run through Los Altos Hills near Gunn High School. Photos by Michael Anderson Ujena Fit Club
Comments and Feedback