Bill Rodgers Is so Inspiring
We spent last Saturday morning with Bill in Falmouth
Thursday, August 16th, 2012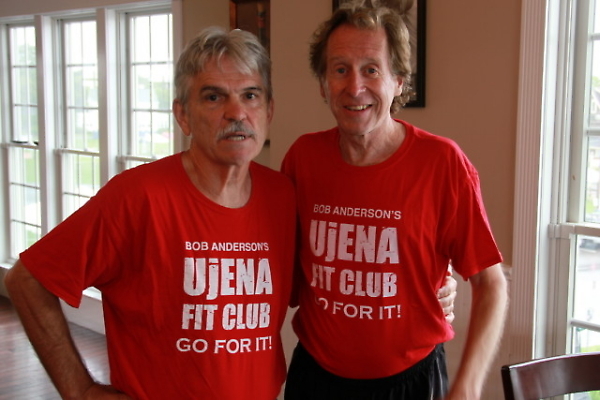 There were four exciting highlights on our trip to Boston last weekend. (Photo: running the interviewing Bill Rodgers on Saturday in Falmouth was so exciting.) First was my training run with Roger Wright on Thursday (August 9) in Boston. We did a four mile training run along the Charles River. Roger has an amazing story. Before he found running he weighed 318 pounds. He could not run more than ten yards. Eleven months later he had dropped his weight down to 163 pounds and he ran the Boston Marathon.
Roger has run three Boston Marathons and several others. He is now interested in not just finishing road races but he wants to improve on his time. His story is very inspiring and we are glad to have him part of our movie.
Friday morning we met up with Jack Fleming at the B.A.A. offices in Boston. I have to say it was amazing to see everything on display. Jack let me hold the Boston Marathon official cup. It gave me chills. Very few people have held this cup and I felt honored to have it in my hands.
Jack had me sign the official book near the front door. The names among the pages brought back so many good memories I have of the oldest annual marathon in the world. The first race, run in 1897, included only 15 male runners. There is nothing like the Boston Marathon.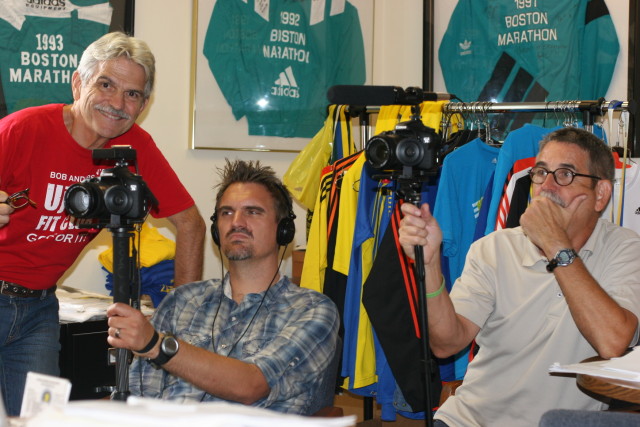 Our one hour interview with Jack was one of our best yet. He has so much to say and he says it so well. There are so many exciting stories surrounding the Boston Marathon and other events the B.A.A. sponsors. Our segment on the B.A.A. and the Boston Marathon for our movie is going to be so good.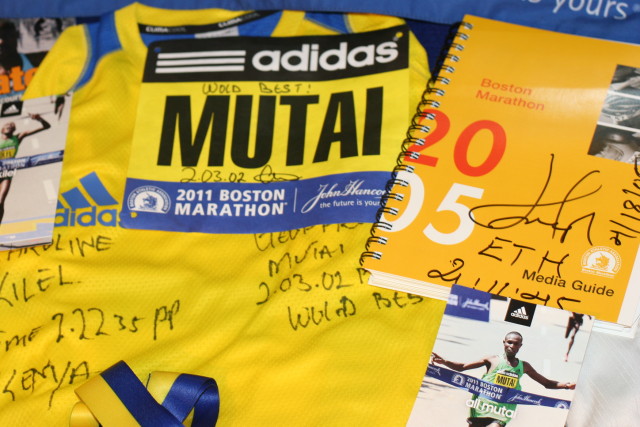 In one of the many cases is Mutai bib from the 2011 race. This is the race on April 18, 2011 that Geoffrey Mutai of Kenya ran the fastest marathon ever run. He ran 2:03:02.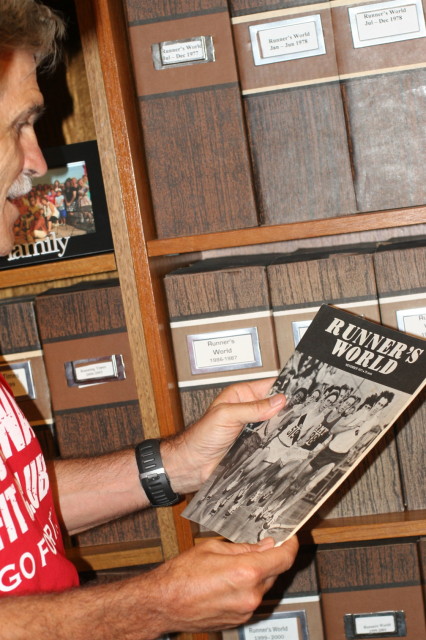 Next Jack showed us the library. They have a collection of Runner's World magazine dating back to 1971. I first started writing to Jock Semple in 1967. Jock was a key person in the B.A.A. at that time. Jock was the race official that attempted to remove Kathrine Switzer from the race in 1967 when women were not allowed to run the Marathon. The photographs taken of the incident made world headlines. Actually Katherine was not the first women to run the Boston Marathon. The year before Bobbi Gibb ran the race without a number.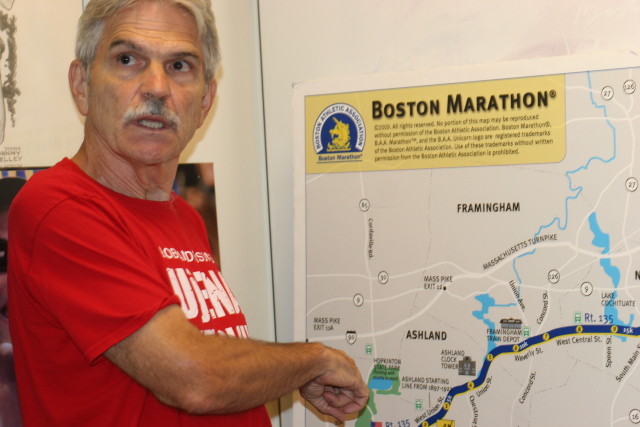 Just being in the offices and speaking with Jack I got so inspired. I have not run a marathon in 30 years. I told Michael that my body does not like races over the half marathon. But before we left I asked Jack what he thought about me running next year along with Mike. He thought it was a great idea. So, after I finish this 50 race challenge, Mike and I plan on being on the starting line in Boston next April. My goal would be to run 3:20 or better which should be good enough for five top in my age group.
After visiting with Charlie at the Bill Rodgers Running Center we had lunch. Mike, Catherine, me and Barry really enjoyed Boston. The fish, lobster and Boston Clam Chowder is so good. After lunch we headed to Falmouth. It rained most of the way and it took over three hours to get there. We called it a night. We met Bill Rodgers the next morning for a training run. As we were waiting, Craig Virgin came by and we had a good chat. I had not seen Craig since he came out for National Running Week we sponsored 30 years ago in California. Craig was an amazing world class runner.
Bill and I did a three mile training run (which we filmed) in the rain. After that we sat down for an hour. Bill has so much to share, so many great stories, and so much good information. We are so excited to have Bill part of our movie. The next day, we both ran the Falmouth Road Race. Bill had won the race three times in the past.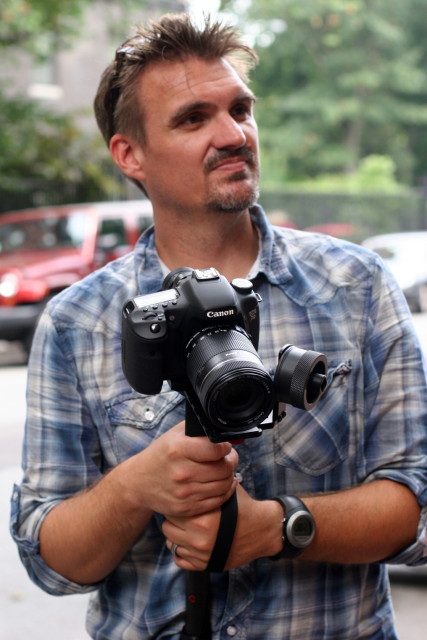 Michael and I have wanted to make a running film for years. I am really enjoying working with Mike most every weekend. His vision is happening.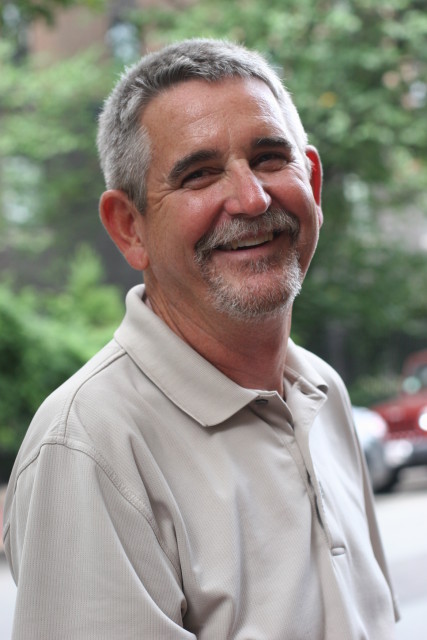 This project is bringing so many people together. My brother Barry lives in Manhattan Kansas and we just have not seen much of each other for 25 years. But A Long Run has brought us together. It is super to have Barry on our crew. Photos by Catherine Cross
Comments and Feedback