Race Number 4 in San Francisco
The Big Issue today was my hamstring
Sunday, January 22nd, 2012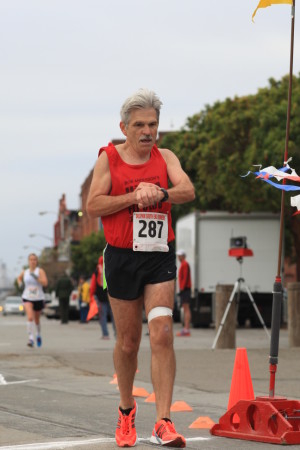 The white tape around my hamstring really helped me get through this one. I worked all week on my hamstring. I really wanted to race 10 miles but this is just not going to happen. I was afraid my hamstring would tighten up again. I ran the 5k. It held up and I fnished in 20:49. My best 5k of the year. Things are coming together. What I did during the week all worked. Will I be ready to race 10 miles next Saturday? Glad it was only 5k today.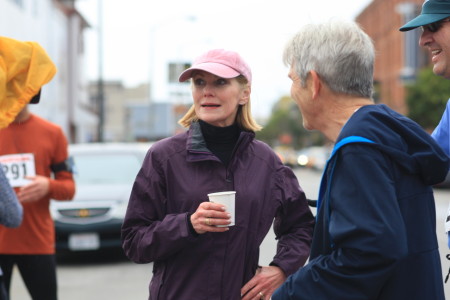 After the race we had the chance to speak with a lot of other runners. We got some great footage and we hope to include much of it in our film. So many great stories.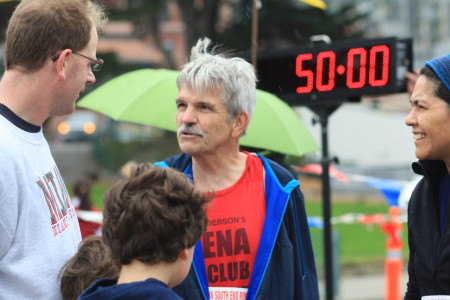 This famly of four run together. They have a good story.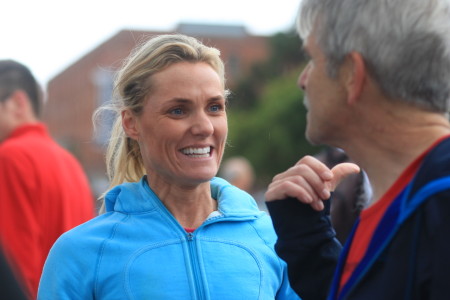 Last week this runner came flying past me the last quarter mile and beat me by ten seconds. I don't remember seeing her on New Years Day. But today I beat Kate by twenty seconds or so. We met and I told her about our film and my 50 races. She wants to do 50 races also. I also found out that she had only gotten a few hours of sleep the night before this race. She has two small kids. Good footage for the film...
Kate at the finish of the 5k...feeling that moment when you know you ran hard...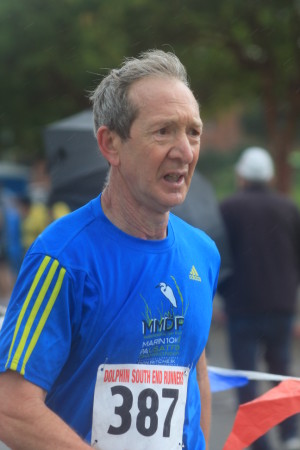 John has just turned 60. He ran the 10 mile today in a great time of 64:48 or something like this. He was telling us that he gets up around 4:30am and runs 14 miles hard three days a week through the streets of San Francisco. He had some good stories including being hassled by the police and protitutes early in the morning talking about that they know a better exercise. - from Bob Anderson
Comments and Feedback

I am glad I thought through this race and so far my hamstring is holding up. Now my right one is feeling a little odd but I am doing hip swings. Ceci Hopp St. Geme, a top master runner told me about them...
Bob Anderson 1/25/12 12:16 pm

4 down, 46 to go!
Justin Wall 1/26/12 2:33 pm