Race 21 DSE Mother's Day 5k SF
"I like these low-key type races once in awhile"
Sunday, May 13th, 2012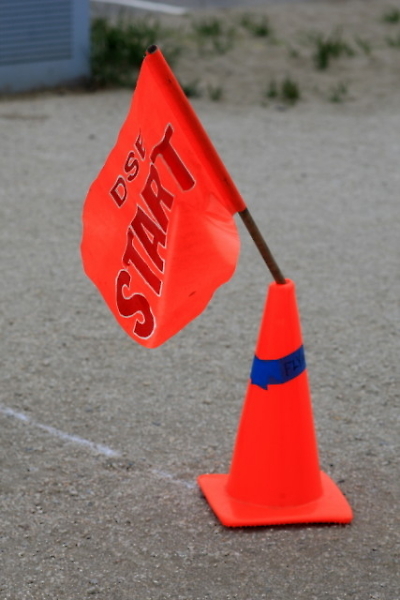 I do like to run a lot of different type of races. I do love the big races but I also like these little races of less than 200 runners. The DSE holds a race almost every weekend in San Francisco. They have been doing since for over 30 years. Their entry fee is $5.00 for non-members and $3 for members. Everyone gets a ribbon at the end and they give out awards to the top five male and female overall.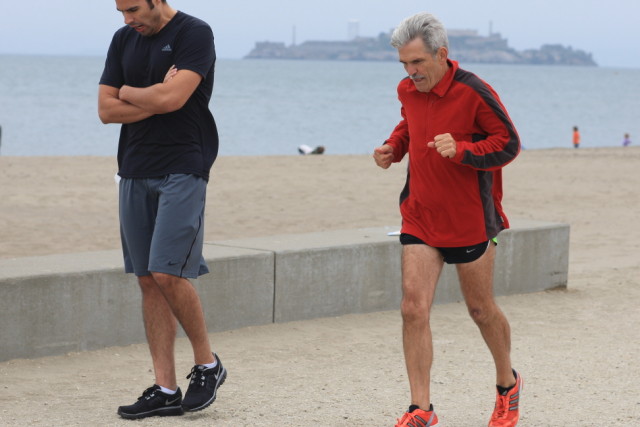 We take it for granted but on this course you can see Alcrtaz Island, the Golden Gate Bridge, Crissy Field, the Marina and the yatch harbor. If you didn't live in the Bay area, these are all sites you would put down on your list of things to see while visiting San Francisco. This morning we ran by and hardly took notice but isn't that the way it is?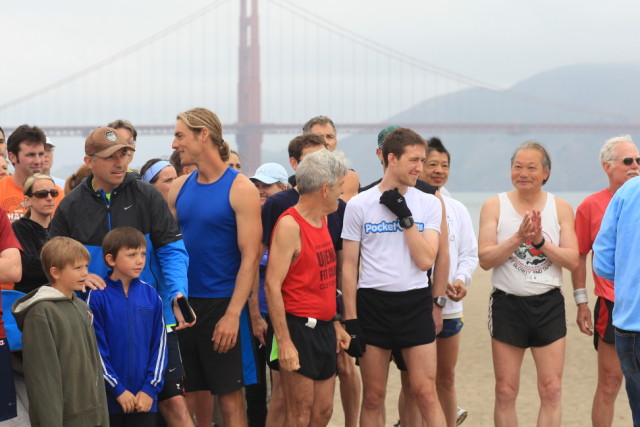 It seems like a lot of things have been slowing me down. Maybe it is because I have raced every weekend of the year? Or maybe it is because I am 64-years-old? Or maybe because I am carrying five extra pounds (belly fat)? In any case the things that are costing me time are: wind, gravel, hills. heat and humidity. (What have I left out?) Today there was a 10 mile per hour wind and there was about two miles of gravel. (I think they changed the course since Rich ran it or maybe gravel doesn't bother him?) I am not complaining but just stating facts. And Dr. JoAnn I am thinking positive the whole way and I think I am achieving what I am doing because of it. Thanks for your help JoAnn.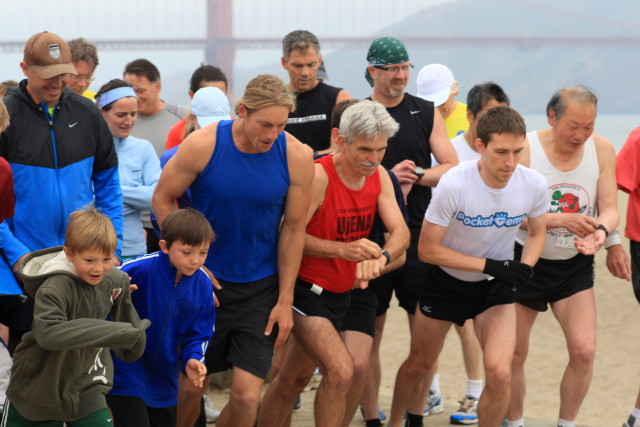 We started off at 9 sharp. The first quarter mile was on gravel but the wind was at our back. Even through this was a low key race I still did not warm up enough. I maybe ran a half mile in total. Not enough for me. It is tough since we are making a movie. There was a lot of things we needed to do and that cut into my warmup.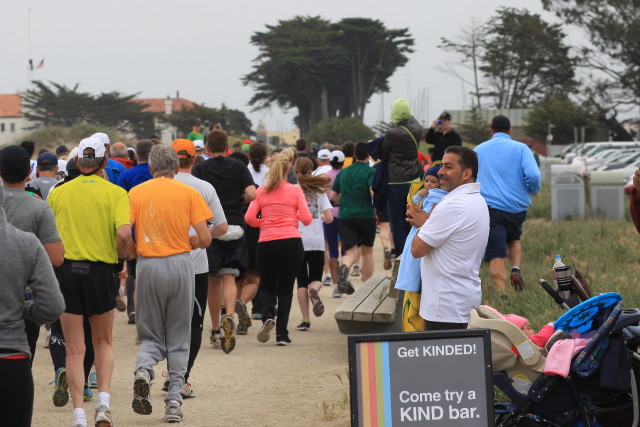 One person from my support team and film crew was missing today. I was going to race on Saturday but decided at the last minute to run this race instead. Catherine had already made plans with a dear friend and could not join us. We missed her but Michael and Waitman picked up the pieces. We couldn't stick around afterwards however because Mike had to get back to be with his mom for Mother's Day.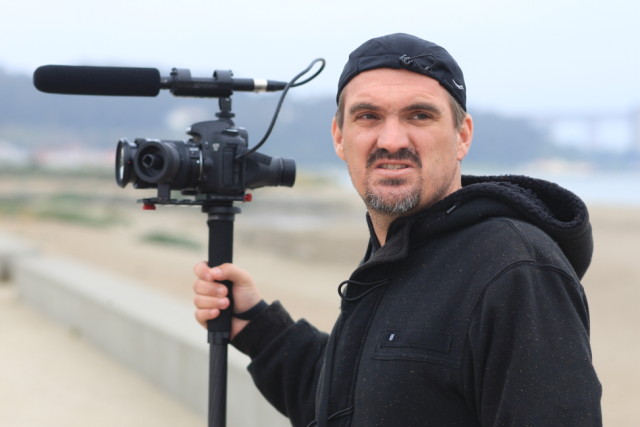 Mike went out to the Marina to grab some footage and Waitman stayed back to do the start and finish. It was overcast but for video it will look good. Wished we had more time to do some more interviews with other runners but we just didn't. However, Mike got what he wanted.
You can see how the wind and gravel effected my time. My first wile was 6:27 which included a quarter mile of gravel and wind the last 220. My second mile into the wind and 3/4 on gravel was 7:03. My third mile was 6:47 1/2 into the wind and all on gravel. And my last .1 was 36 seconds which is under 6 minute/pace. The good news is that I did not feel like I did at the Zippy or the Great Race a couple of weeks ago. At those two races, my arms were dead and my breathing labored and I really could not wait for them to end. I never felt like that today.
I can't say that I am pleased with my 20:53 time. But this speed work is going to help my half marthon times. I like racing 5k but I love the half more. My body and mind likes 9 to 15 miles. I should be ruunning these 5k's faster when you compare them to my half marathon times. However, I keep reminding myself, my major event is a one year long. It is racing 350 miles (no more than 50 races) and I want to average under 7 minutes per mile. After today I have raced 131 miles and my average pace is at 6:57. We are 134 days into the year. I am going to do this.
Talking with Mike after the race. Looking at some of the sights. And what this photo shows is some of the five pounds like I need to loose. It would make racing so much easier. I was at the starting line this morning at 145 pounds (5'7"). 140 is what I want to be and the weight I raced at when I was in my 50's. But I love to eat and drink a little red wine. I am not eating or drinking more than when I was in my 50's but my metablism has slowed down. Just not burning enough at rest...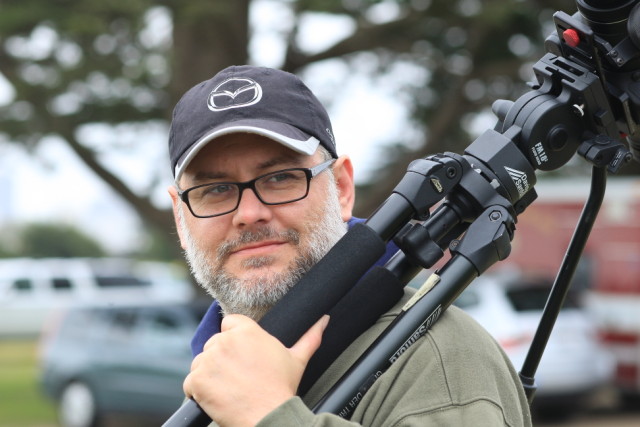 We have a good base team. Waitman today shoot voth video and still photos since Catherine was not able to make it. This is a team effort and it would be so much harder and much less fun without my team. Thanks guys and thanks Catherine for helping me complete my challenge. My support team goes much deeper than this too. Rich Stiller who has been helping me from the start is the one who suggested I run this 5k. Verity, Honor, Shelley, Bill, JoAnn, Jodi, Christine, Lisa, Justin, Barry, Amol, Neil and so many others have been cheering me on. This challenge would have so much less meaning without the support I am getting. And I thank all of you! Photos by Waitman Gobble Ujena Fit Club
Comments and Feedback

If you live in San Francisco or when you are visting SF, you can always count on the DSE to have a race for you. I have done four so far out of 50...thanks DSE Runners!!!
Bob Anderson 5/13/12 4:07 pm

I love gravel ;) Raced this section for years over many DSE courses. My father's last post at the end of WWII was the Presidio and for all I know he put the gravel there in 1945. Lol
Richard Stiller 5/13/12 5:23 pm

Bob, you are keeping the right attitude and keeping things in perspective for the LONG HAUL. Maybe your body will at least compromise with you and you can knock off 2 or 3 pounds. If you keep going this fast, the unnecessary weight will get discouraged and will eventually go away. Good luck in the big one this Sunday, save a little back for the last half.
Bruce Gilbert 5/16/12 8:32 am