The course was certified before the changes!
Better to be safe than sorry
Monday, June 25th, 2012
Update: June 28 - (This is now on their website. This explains it all. I am totally cool about this. It was a six mile race.)
"Please note that our courses were not USATF-certified, in order to avoid widespread construction on the Stanford campus. We chose to steer clear of the dust and heavy machinery to make for a better (and safer) running experience. This decision was made close to race day and we apologize for any confusion it may have caused."
Original Post -
It is not easy to put on road races. We have put on several and there are so many things that can happen. For one thing we are running on roads that are made for cars. It is nice that runners are allowed to run or walk on most roads. But roads have to be kept up for cars. I guess in the case of the Packard 10k held last Saturday at Stanford, there was some construction that changed the course at the last minute. A friend of mine Tom Knight re-measured the course and found it to be six miles. This is what my Garmin recorded too. At the last minute the course had to be changed because of some construction projects. It was a very well run race and I plan on doing it again.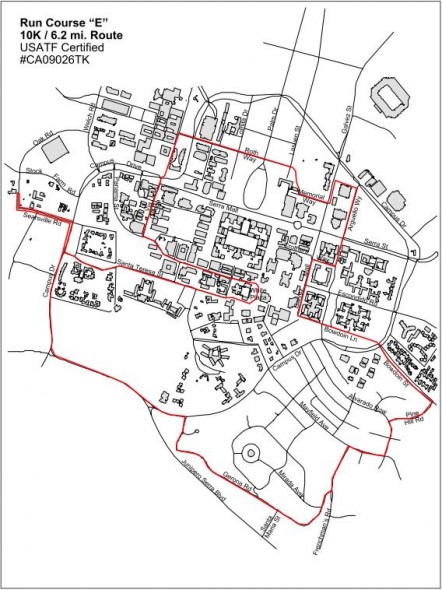 I was excited to get under 42 minutes for 10k and I really wanted it to be true. But I just can not overlook the fact that this course was 2/10th of a mile short. Many of my other races have come up long. In fact, many by 1/10th including a certified half marathon known course. Being long is one thing. You don't adjust it. It is just a little long. But a 10k 2/10th short is just too much to overlook. I am officially adjusting the length for my challenge. However, the course was given a USAFT Certified number (#CA09026TK). Do runners need to start wondering about the real length of a certified course? I hope not.
In any case, I enjoyed running this race. I officially finished 48th overall. My time was 41:22 and I was the first finisher 50 plus. I will be back next year.
Comments and Feedback