Fontana Half Marathon
Saturday, June 2nd, 2012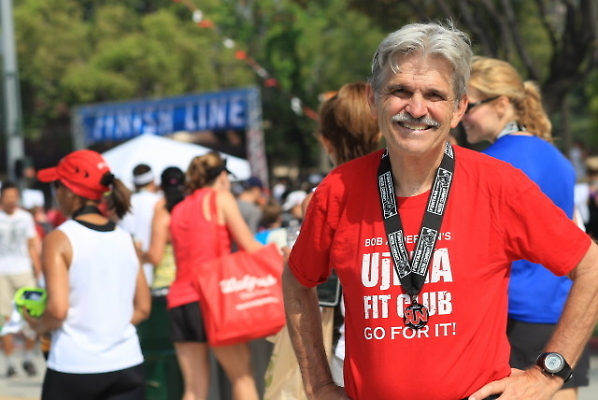 Everything worked today. On Friday I had a fifteen minute back massage, got a lot of rest (even through we had to catch a plane at 6am), drank a lot of water, ate early (8 oz of steak, mash potatoes, and one mile stride at about 8 pm (first mile on the race course). Did about a half mile warm up, got a good place at the starting line and I took in a lot of deep breathes before the start. Ate a Glu, put one in my shorts, put on my Icy Hot, drank a little Gatoraide, some water and I was ready.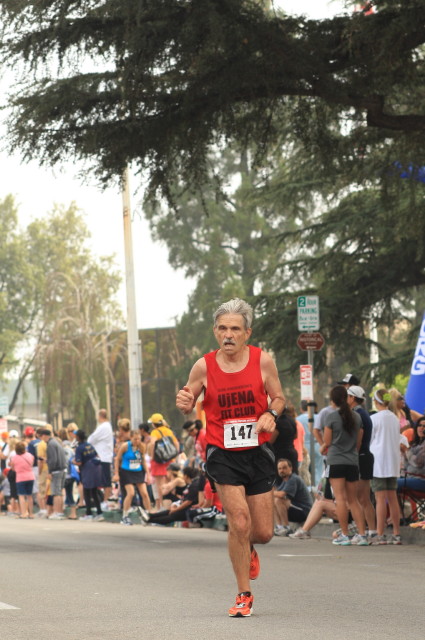 Photo: just a few yards away from the finish line. I ended up running the best age-graded performance of any race ever! 87.95%...
This is my kind of course. The first three miles is downhill, the next three is rolling downhill, and the last seven is straight and slightly downhill with a couple of bumps. It is a fast course but you can easily blow it. My legs were so sore at 10 miles I was actually thinking about walking. But I kept going. I finished 35th overall (first print out said 32) out of 1025 finshers. I was third 50 plus and first 60. My chip time was 1:26:27. I ran 1:26:26 on the same course three years ago. Here are my mile splits: 5:57, 6:06, 6:13 (18:16 three miles - 18:54 5k), 6:30, 6:24, 6:33 (39:01 10k), 6:34, 6:38, 6:33 (59:28 15k), 6:55 (64:23 10 mile), 6:52, 7:10, 7:02.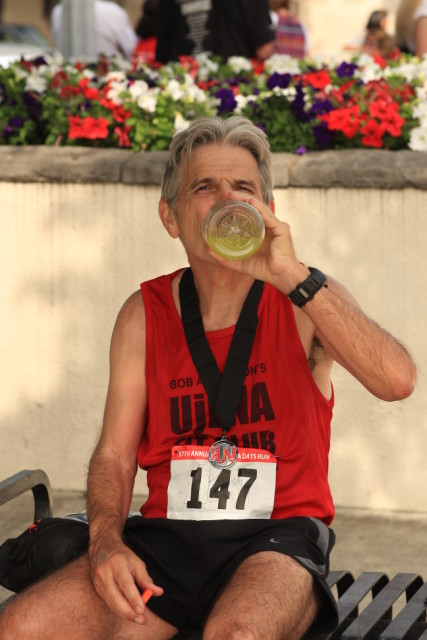 Right after the finish Catherine gave me two bottles of Gatorade and two bags of Fritos. I added a banana, a couple of bottles of water and I was already feeling better. Since then I have been eating a lot and taking in a lot of water. This is very important after a hard race.
After the race Diana Pacheco (a new Ujena Fit club member who I met here in 2009) and I shared times. She ran 1:35:22...her 2nd fastest half marathon time. It was nice to see Diana again.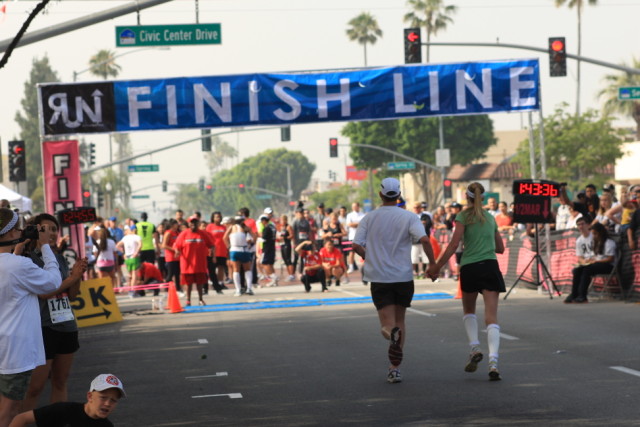 This was the 57th Annual Fontana Half Marathon. It was a perfect day for running. About 65 degrees at the start and about 69 at the finish. Plenty of water stops and the times were right on and out quickly. Cash awards to the first finishers and the top three in each age-group got a special medal. The t-shirt was really nice and the goodie bag was filled with plenty of food items. photos by Catherine Cross
Comments and Feedback