Race Number 12 Juana 8k
Saturday, March 10th, 2012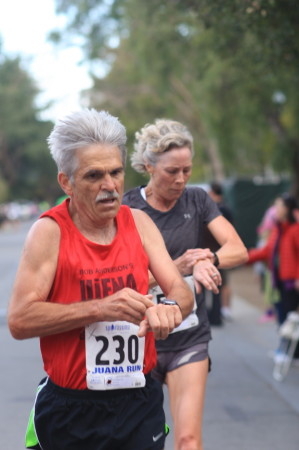 The Juana 8k race this morning went well. I had a lot of things working for me. I ran 33:16 and placed first 60 plus. This helped my average pace for the year. I am now at 6:56/mile. Dan Brown, who I met at the first race of the season, from the San Jose Mercury News ran with me for the first mile. That helped me run 6:25. (Dan and I pictured below)
During the race I kept thinking about what Dr. JoAnn told me yesterday in our interview. She told me to imagine that the runner in front of me has a magnet. Let it pull me to them. Also, at the finish line. I was almost toasted by 54-year-old Meredith at the finish but I held her off. It is always nice to have the encouragement of Rich Stiller.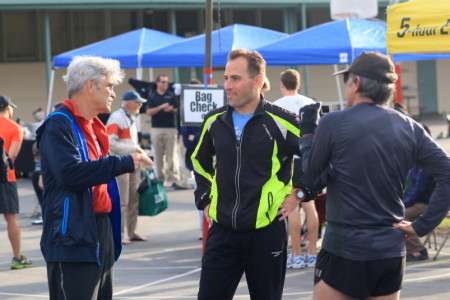 Rich filming as I am catching up with Matt who we interviews a few weeks back after donig a nice 5-mile training run with him and his twin brother Mark. Matt finished third today.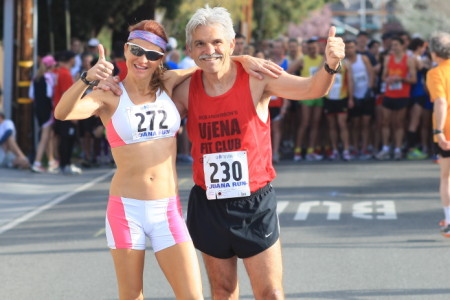 I had just interviewed Verity Breen for the Ujena Fit Club. Here we are before the start. She placed first women overall.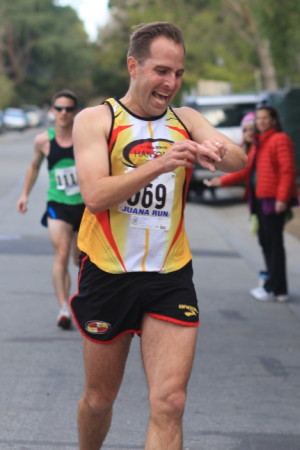 Matt finished third overall. He ran what he was hoping to do.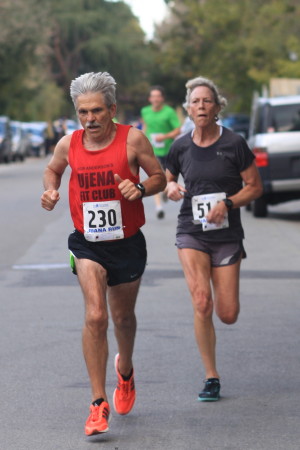 Catherine and I ate late last night (like 9:15pm) and I had half a banana this morning. I finished as strong as ever. I also like my splits too: 6:25, 6:45, 6:45, 6:45 and 6:30 the last .97 which equals a 6:43 mile. So does this mean I should start eating later?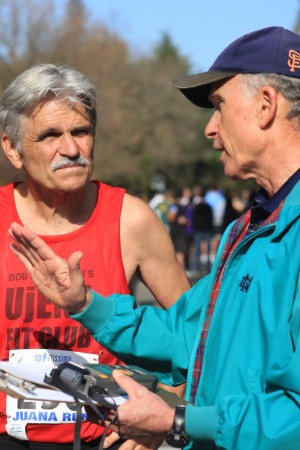 Talking with Bill Clark (below) after the race. We have known each other for a long time. He set the American Record for two hours on the track at Foothill College many years ago. Runner's World sponsored the race.
Ellen Clark has done so much for running. In the backgrown Mike is filming Bill and I.
Wih Matt Tompkins and family. Their son race in the kids races.
With Bill Clark, Karen and Amol. We will be interviewing Bill and Amol for the movie.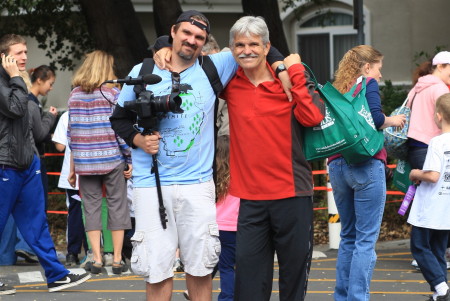 Always great to be working on this project with my son Michael, Catherine and Waitman. Next race is the whale Run in Fort Bragg. CA next Saturday. Thanks everyone for making this race so enjoyable. Photos by Catherine Cross
Comments and Feedback