Did I make the right decision this morning?
I need to make up 40 seconds over the next four races.
Sunday, December 2nd, 2012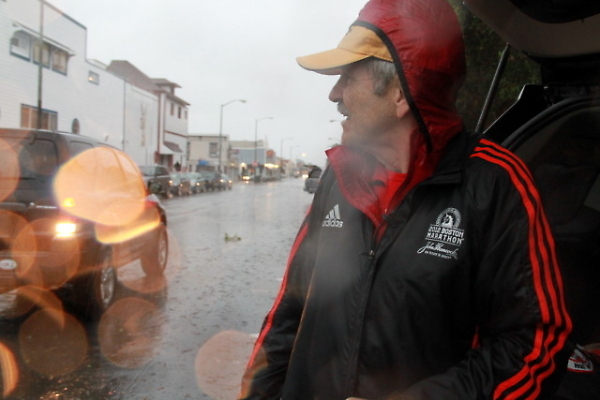 Got up at 5:45am to get ready to run the DSE Ferry Building 4 Miler this morning. It was pouring down rain on the way over. Catherine and I decided to spend Saturday night in SF (after running the Bah Humbug 5k) so we didn't have to deal with the drive up Sunday morning. The race started at 8am. Catherine and I like any excuse to stay in SF. We stay at this little boutique hotel and it is like having a place in the city. Good fun...
In any case, the DSE race was to be number 46 of the year. I was 29 seconds off pace to average under 7 minutes/mile for my challenge after running Saturday. I wanted to pick up another 45 seconds or so today. On October 27 I had run the Cabo Double (10k and 5k) but I decided in advance not to count the two races because I knew I would not run well because of the heat, humidity and being on my feet for three days taking photos of our Ujena models in Cabo Mexico.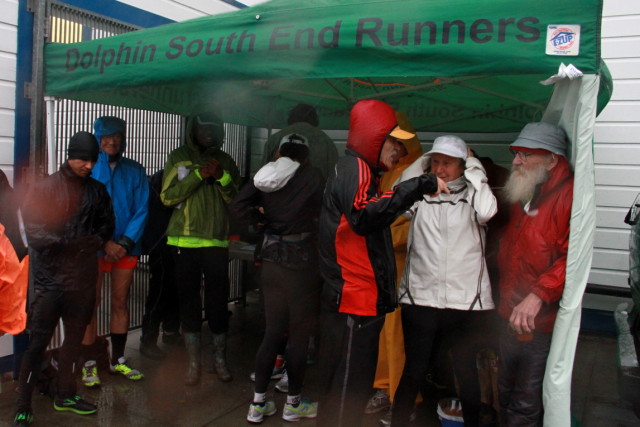 I spoke with some of the runners I know and asked them for their advice including 78-year-old Barbara (white jacket). It was not the rain and the standing water that had me concern. It was the wind. It was estimated by Neil (a running friend) that their were gusts over 40 mph. Much worse conditions than Davis a couple of weeks ago.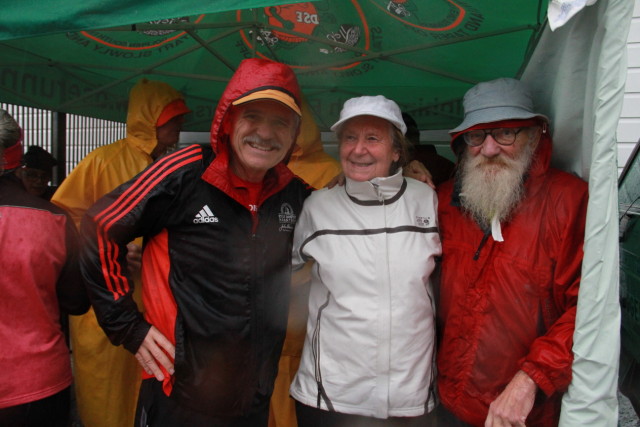 I would have run this race today if my challenge is also about time. About 25 did run. I like running in the rain. But the best I could have done in these conditions would have been 7:15/mile. Maybe even worse. In any case I would have lost one minute or more today. Once I run the race I would have to count it. I decided not to run. That was so hard for me to do. Once I set out to do something I don't like changing the plans. Did I make the right decision? Within the hour (too bad the race didn't start at 9am), the wind died down. It was still raining however. I had to do a training run. Mike and I went back to the hotel and we ran my seven mile Giants course. We were soaked when we got back and I was glad I decided not to race today. I might have been more like 7:30/mile pace today...
So what am I going to do? I have a 10k in Golden Gate Park next Sunday and then I am running the Ted Corbitt 15k in Central Park (NY) the next Saturday. Then my final two races of the year is the Double in Pleasanton Dec 23 (I count the two legs as two races for this challenge). I have to run each one well. I really should not double up next weekend. On October 27 (photo) I ran the Cabo Double. And as expected I did not run well. However, I had two races on reserve if something might happen. I ran 21:56 for the Ujena 5k and I am now going to count that race.
On Saturday I ran 20:52 (photo) and picked up 50 seconds. By counting the Ujena 5k I lost 11 seconds in that race. So now after 46 races I am 40 seconds off pace. I have four races to go. I was hoping to be ahead at this point. I have to run well in Golden Gate Park on Sunday. I should be able to make up most of the 40 seconds I am behind. I need to run 6:53/mile pace or better. I should be able to do that. Then we are off to New York Dec 12. The 15k is Saturday Dec 15. Can I run under 7 minute pace for 9.3 miles? There is going to be a lot of pressure on me going into these final races. This is going to be close...but I am going to do everything I can to make it happen! Thanks for your support!!!!
Comments and Feedback