Race No 22 Bay To Breakers
I had a tough time on the Hayes St Hills
Sunday, May 20th, 2012
I had not run the Bay to Breakers in over 20 years. Then I just jogged it with the kids. Today I raced it. I went out easy but still hit the first mile in 6:27. I was feeling just fine. But I knew the Hayes Street hills were coming up just after the 2 mile mark. I think at least 100 runners passed me on those hills as I posted a 8:12 mile. I knew I could make up some but this was a lot. And then there was some up hill left to run as Rich mentioned to me. My next mile was like 7:13. I now had a minute and a half to make up. My goa1 was to get under 52 minutes. I finished in 52:05 which is 6:59/mile.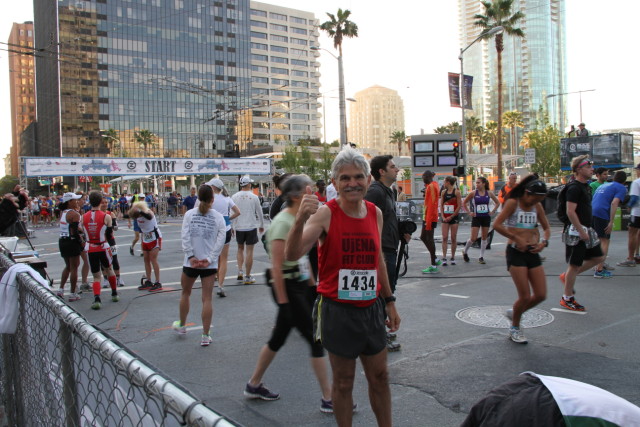 Glad I got a sub seeded number. Otherwise I would not have run what I did today.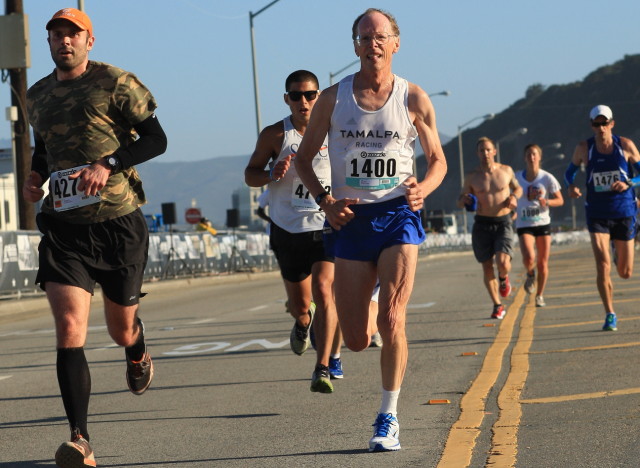 First to finish in my 60-69 age group was Joe Schieffer (1400). We have battled it out several times this year (like at least four times). I did beat Joe at the Oakland Half. But today he toasted me big time running 50:10. I was ahead of him for the first two miles.
I finished third in my division (60-69). Second place was someone I don't know named John La Claire from Austin, Texas. He did not get a time at the top of the Hayes Hills. I am assuming he ran the whole way?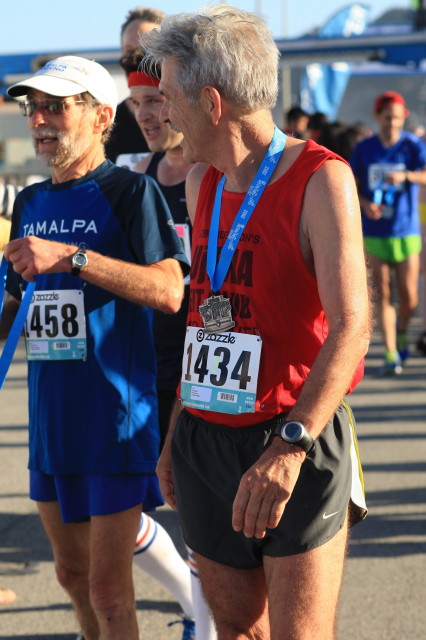 Talking with Hans at the finish line. He was about 30 seconds behind me. Hans is 72-years-old and won that division.
With the winner, Sammy Kitwara from Kenya in the VIP area after the race. His winning time was 34:40.
Had a chance to speak with Meb after the race too. He placd 6th with 36:15. He is getting focused for the London Olympics.
Dan Brown, from the San Jose Mercury News and friends at the finish line.
First to finish was Mamitu Daska from Ethiopia. The elite women get a five minute lead start. There is a $25,000 bonus for crossing the finish line first. She also won $7,000 for being first female and another $5,000 for being the first up Hayes Street Hills. Her time was 39:03 which was just 37 seconds ahead of Sammy.
With Mamitu Daska in the VIP area. It was hard to communicate since she does not speak English, however.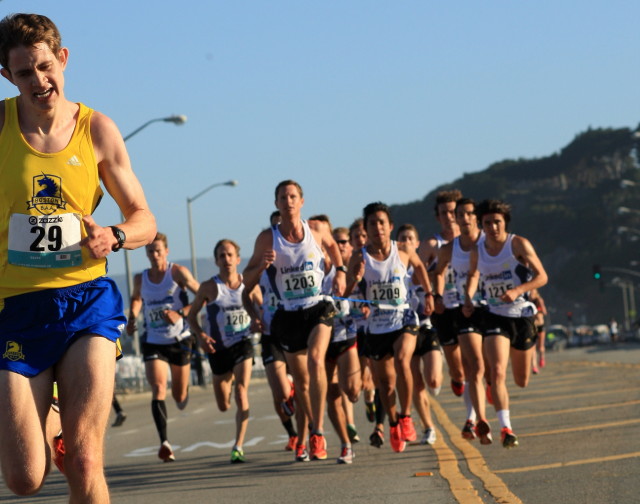 Team Linkedin won the Centipede division (13 runners) in a time of 36:44.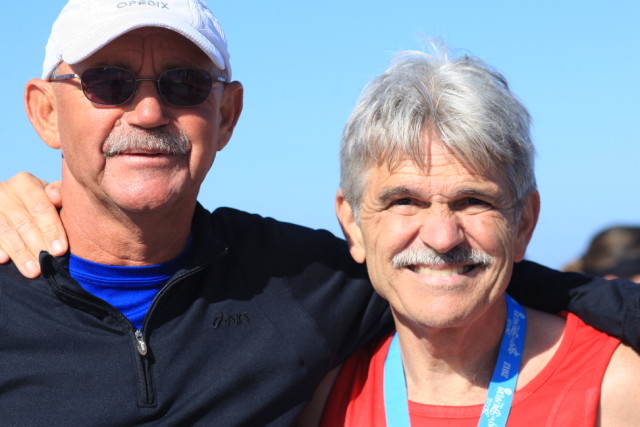 Peanut Harms came up with the idea for the Centipede competition over 30 years ago. Peanut worked for me at Runner's World in our promotions department back in the 70's.
Our crew heading home. We got some really good footage today. Photos by Catherine Cross Ujena Fit Club
Comments and Feedback