The Amazing Pina Family
Did an Interivew and Training Session
Thursday, July 5th, 2012
I first officially met the Pina family at the Trailblazer 10k/5k race in Mountain View, California last September. I had seen Jose Pina senior at some of the races over the last few years but we had not spoken. I was waiting to pick up my award for the 10k and I noticed the Pina family. Jose Pina won the 10k in 34:14 and Jose junior at age 14 had won the 5k in 17:07. His 10-year-old brother Omar didn't run but you could tell that he wanted too. This was truly a running family...the next time I saw them was at the All-Comers meet in Los Gatos last spring. We told them that we wanted to feature their family in our movie "A Long Run."
Then we saw them in Morgan Hill at the July 4th race. Jose Jr placed second over-all in the 5k running 15:49 and his 11-year-old brother Omar won the kids mile in a time of 6:55. We wanted to find how more about this family and why are running so well. We set up an interview and training run with them for the next day...July 5th at their house in San Jose.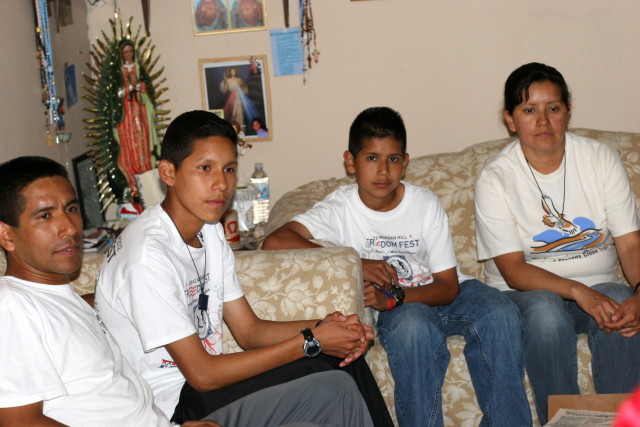 Trophies, plaques, medals and ribbons line most of one wall of their place. Jose was the first master at the San Jose Half Marathon in 2011. He ran 1:14:57. In 2009 he ran 1:13:58. Jose started running in 2003 while living in Mexico before moving to America. Within a year he ran a 31:38 10k. He nor his sons have ever been injured. We wanted to know what they do...
For one thing, they have a very special diet which includes a morning "Pina Shake" which tastes great. A bowl of cereal loaded with goodies about mid-morning and then lunch a couple of hours later.
They eat a very healthy diet and from what I tired it also taste good. One thing they made up but was not finished before we went running was their beet tea. I will try that Saturday when we get together again.
Then we went over to the Rose Garden, just a few blocks from their place, for our workout. It was already getting dark, so we only did a little of what they normally do. Everything they do is quality. They start with a 5-10 minute warm up, they they run laps on the grass around the Rose Garden. We only did one half mile loop. They told me that they ran easy today. We were running at 6:30/mile pace. They normally run a minute faster per mile when they do their 10 laps.
The kids have many talents besides running. They are very involved with their church and they like music.
Jose running strong at the San Jose Half Marathon. To get ready he would run 22 miles on Saturday at about 6:05/mile pace and then run the same course on Sunday in the same time. As I mentioned in our interview, I wanted to know what was in that morning shake.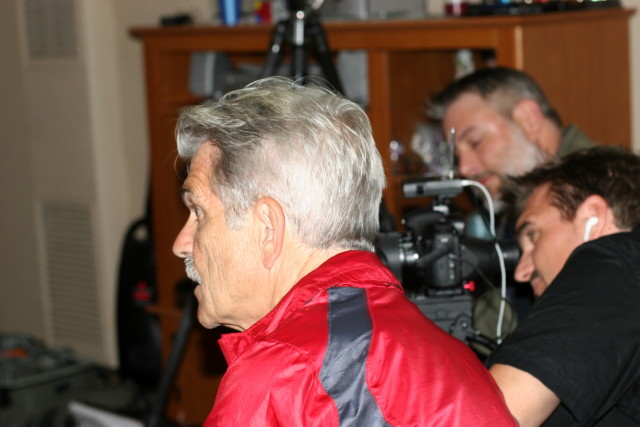 We talked for about two hours. They shared a lot of great insights and we captured it all on film for our movie. We are meeting up again tomorrow morning. The light will be better to capture their unique training routine.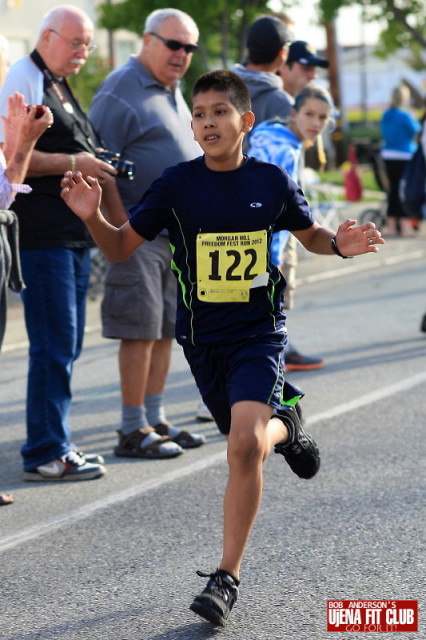 11-year-old Omar Pina was the first to finish the 12 and under mile in Morgan Hill July 4th. He ran 6:55.
Jose Jr. was right were he wanted to be at the half way point July 4th. He went on to finish 2nd overall in 15:49, a PR. Photos by Catherine Cross Ujena Fit Club
Comments and Feedback

Very interesting--will watch for the rest of the report.
Bruce Gilbert 7/7/12 10:33 am