Talking with Dave Zimmerman
We interviewed Dave on Saturday
Sunday, November 4th, 2012
Dave Zimmerman and I were just 17-years-old when I told Dave on a bus headed to a high school cross country meet that I was going to start a magazine about running. Dave worked with me for one year before we both went off to college. I went to Kansas States and Dave to Missouri. I got busy with the magazine and 40 years went by. We sat down on Saturday and Dave talked about Distance Running News. (lead photo...Dave and I when we were 17...we look pretty young to be starting a running magazine don't you think?)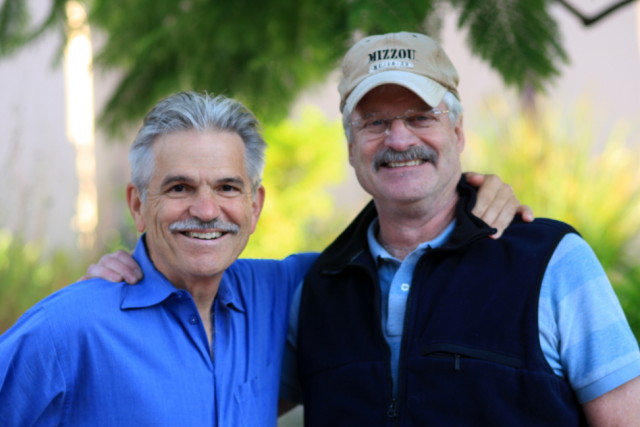 Dave and I are both 64 now. Even through we had not seen each other for over forty years we still have that bond that brought us together in the first place. We were both runners in high school. Our cross country team coached by Coach McGuire was first at regionals and second at state. The team that beat us at team we had beaten at regional. Dave and I were second and third at state on our team. In track Dave ran a 1:51 half mile. My parents moved to England my senior year and Dave's family had me stay with them to finish high school. I will never forget this. If I had gone to England I am sure I would not have started my magazine...
It is only fitting to be in front of Redwoods when Catherine is setting him up for the intereview. Dave majored in forestry in College and is still currently working in that field.
Director Michael setting up the shot. Waitman was on the second camera. Catherine took still images.
Dave and I have so many good memories when we were in high school. Dave's running ability got him a full college scholarship. And my love of running got me into the magazine business.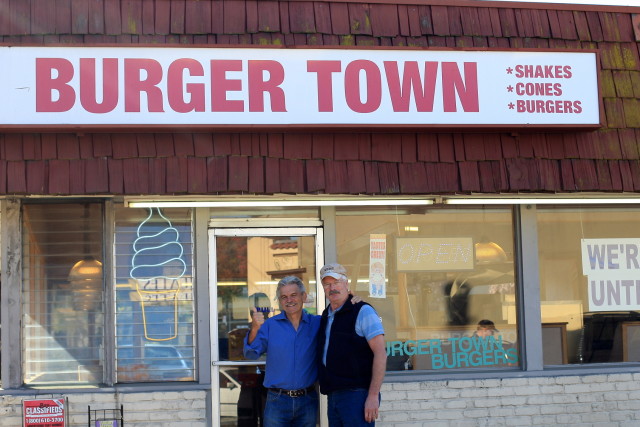 I just had to take Dave to my Burger place after the interview.
Dave and I hung out at a similar place in Overland Park.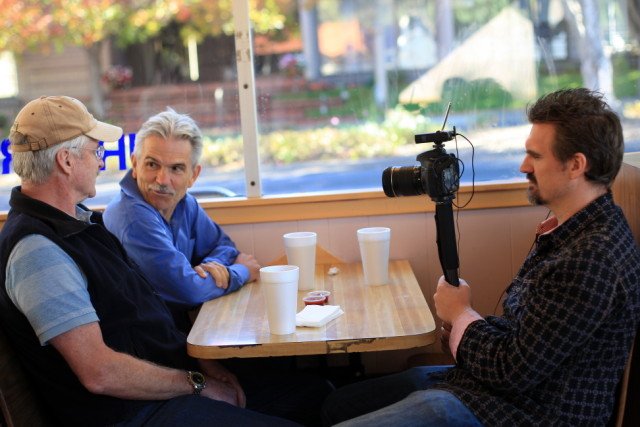 We could have talked for days. So many great stories for our film.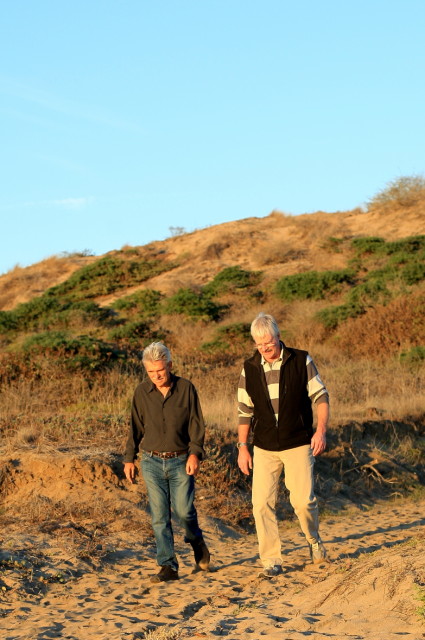 After lunch Catherine, Dave and I drove to Santa Cruz, then the beach and finally to the Moutain House for dinner. What a great day. Dave and I agreed that we are going to stay in closer contact. Forty years was just too long... photos by Catherine Cross
Comments and Feedback

Looks like you had a great weekend! You're almost there!! On a side note, I am thinking you should buy Burger Town ;)
Jodi Labossiere 11/8/12 3:49 pm