Getting Back on Track
It is tough to stay focused
Friday, June 22nd, 2012
I am just one week short of six months in doing my 50 Race One-Year Challenge. There are a lot of things that makes my challenge unique and certainly one of them is the fact that it is a one year event. I am not sure if I know of other one-year events? You can run across the US in less than two months. However, unlike those guys I have rest days. I had a bad race in Puerto Vallarta and I am hoping to get back on track in the morning.
Photo: After the Ujena 10k last Saturday. It was hot and humid. I made sure to drink most of a bottle of Gatorade before starting the 5k 45 minutes later. The Bob Anderson 15k Challenge is an interesting event.
Obviously we all have lots of things going in our lifes. The trick is to fit the 50 races into my routine. I am the CEO of the Ujena swimwear company. I started Ujena back in 1984 and have been running our family owned company since then. After selling Runner's World the same year, I threw myself into selling women's fashion swimwear. We have made a good mark for ourselves. We have sold over one million swimsuits to customers around the world. One of my responsibilities is taking images of our product in real life situations. About 90% of the images we use for our Ujena.com website are my images. I take a lot of images. The light was perfect in PV and I took over 35,000 images there.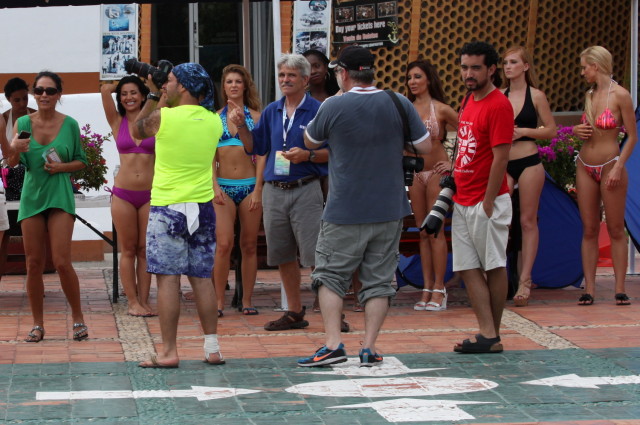 Photo: I am going over the rules of the final shoot-out with our photographers and models at the recent Ujena Jam in Puerto Vallarta. This is a totally unique judged event. Models and photographers have 20 minutes to get catalog-style images and then another 20 minutes to get editorial-style images. Their style of shooting and posing is judged. And all the images are turned in for judging.
We do three Ujena Jams per year. The Jams are held in locations we would travel to for photo shoots. We go to Cancun, Puerto Vallarta and Cabo. They are 7-5 day trips and almost all of our images and videos we use to sell Ujena are taken at these three events.
The days are long and even through I do get in a run each morning, it is hard to get focused to race. We have always been doing a 5k as part of our week activities. Now we do the 15k Challenge. I am only saying all of this not because I don't enjoy my job but it does add to the challenge of staying under seven minutes per mile. I just know I am going to loose ground on these races and will have to make it up on my other races.
When you are not focused you are just not going to race as well as when you are focused. I was focused on racing in Fontana June 2nd and averaged 6:36/mile for the half marthon. I was not focused (I also had gained five pounds and was not getting enough sleep) June 16 in Puerto Vallarta plus it was hot and humid. It was a flat course and I averaged 7:18/mile for 10k. I was able to bring it down to 6:57/mile for the 5k 45 minutes later, however. There is not a lot of room in my challenge to run bad races for me to reach my goal.
Comments and Feedback