Update - Wharf to Wharf Six Miles
Ran 40:22 for race number 30
Sunday, July 22nd, 2012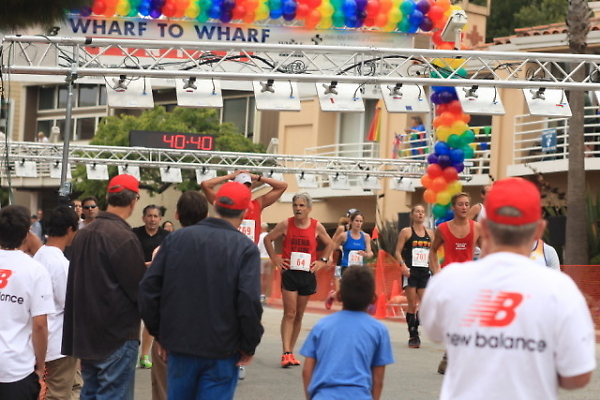 Ran the Wharf to Wharf six mile race today. It starts at the Wharf in Santa Cruz and goes to the Wharf in Capitola California. I ran 40:22 which would be equal to a 41:53 10k. This would be my best 10k since November 2009. Maybe this racing nearly every weekend is working. There were over 15,000 runners and walkers today. It is a fun race and it is the type of course I like.
Just got this photo from Sean Curry right at the finish line. Thanks Sean...
I had not seen Monica since February. She had been injured but that is behind her now. She ran 37:44 today. We are still planning on getting together for a hill workout for the film.
The top Ujena Fit Club member performance of the day was turned in by Giliat. He ran 28:11 and finished sixth overall. We are going to get together for a training run and then sit down for an interview. Gil is going to be featured in our film.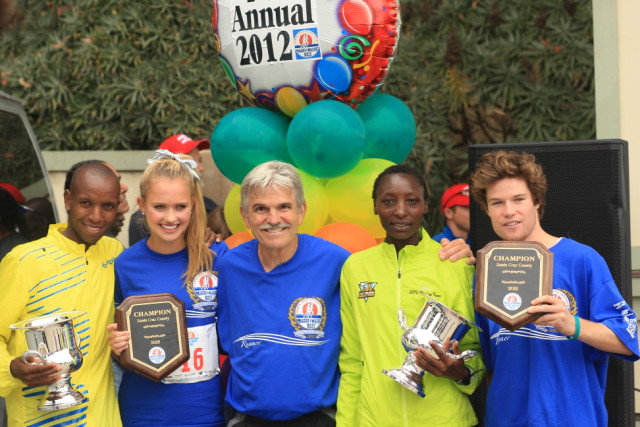 There were some fine times run today. Shadrack Kosgei was the overall winner in 27:20. Risper Gesabwa was the female winner with 30:58. 16-year-old Vanessa Fraser was the local female winner. She ran 35:15. Mitch Moriarty was the local male winner. 20-year-old Mitch ran 30:19.
I finished 309th place overall in 40:22. My splits were 6:23/6:39/7:02/6:46/6:54/6:37. I lost focus in the middle of the race. I should have been under 40 minutes.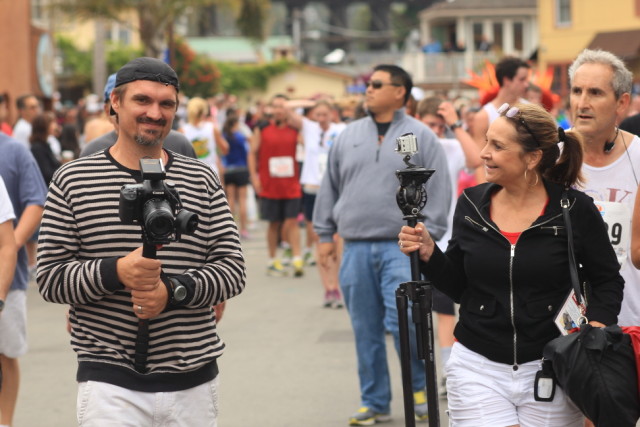 Michael and Catherine getting it all covered...
The day before it was 80 degrees in Capitalo. This is from the pier looking back toward the hotel where we stayed. The finish line is in front of the hotel. On Sunday it was about 60 degrees...perfect running weather.
The race starts about 200 yards down the road from the the Giant Dipper. It is a narrow start and if you want to ran a good first mile you need to be up front. I was about five rows back and did not loose any time.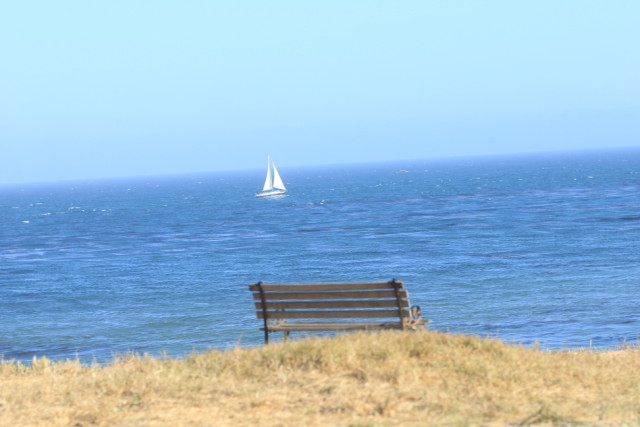 This is the kind of scenery we see along the route. But when I am racing I don't really notice much of it.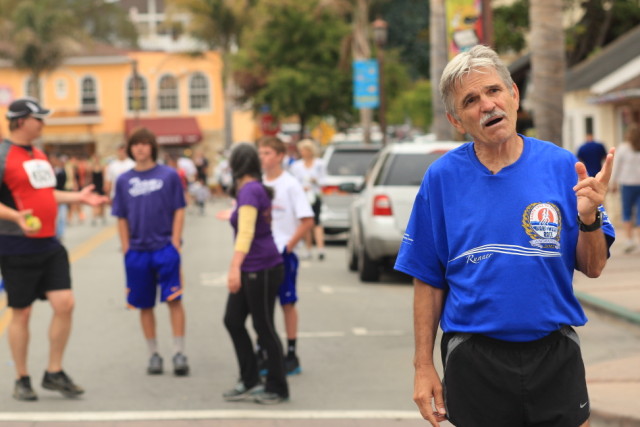 I loved running this race. But it is now Tuesday morning and they still don't have the results right. I know this race does not do age-group awards and they seem to mainly care about the elites and then everyone else. They don't need more runners. It sells out and the course could not handle more runners. However, they should get the results right. I think results in the past have been correct but they used a new timing company.
Here is a photo of two "finishers" that came in about a minute before me. Bob Warfield (7890) was second in my division. They have his time as 39:28. He is 69-years-old. I am glad he participated but most likely he started more than an hour before me. I have sent this photo to the timing company and to the race director. 69-year-old Virginia Delaney (4976) ran 30:29 as well. The winner of my division Lonnie Applegate ran 34:56. He is sixty years old. We do not have a photo of him nor does he show up on our video. The only Lonnie Applegate we can find on the internet is a 59-year-old guy living in Sacramento. In his last race he did a 5k in 59:17. What an amazing improvement. Or it is another Lonnie who ran an amazing first race. It would be nice to know what really happened.
Here is what I got from the timing company Monday July 23 at 2:25pm: "We will look at the times that you identified. We had runners jumping up and punching our antennas and that caused us to have some damaged equipment. Not to worry though, we had 8 systems at the finish line for redundancy and we had 6 high-definition video cameras. It would be virtually impossible for someone to get past the finish without us being able to identify them. Check back in a few hours on the results site and let me know if your time hasn't been corrected."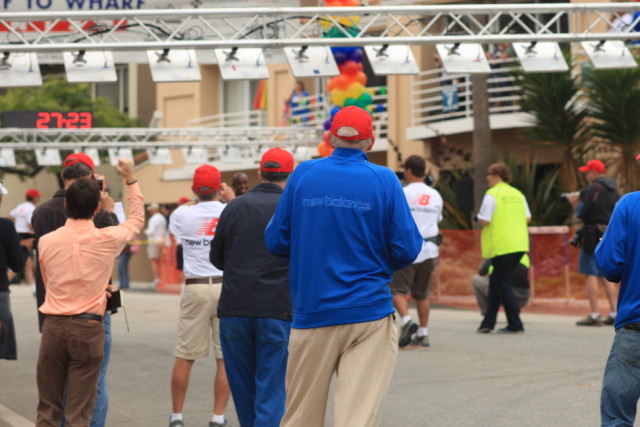 I am sure they will get the results right at some point. This is a race I would recommend. It is a beautiful course. It is a fast course. My Garmin did say it was six miles. I can accept no age-group awards. Not sure why they give out thousands of dollars to the elites and not even a ribbon for age-group winners but that is the way they do things. It is also great that they raise a lot of money for youth sports. That is so cool. BUT they need to get the results right. I race to get an offcial time. And I want to know who in my age-group was ahead of me. Enough said...
1pm Tuesday update: they have corrected the results and it looks like there were nearly 300 walkers who started early or jumped in. I did not place 309th overall. My corrected place is 266 which seems right to me... Thanks Scott and Kurt for taking care of this.
Comments and Feedback

Why is Bob always around the pretty girls?
Richard Stiller 7/23/12 7:18 am

Bob, you may have taken a short mental break during mile 3, but that conserved brain energy needed for a strong finish--great job!!
Bruce Gilbert 7/23/12 8:53 am