San Jose Mercury News Article
Runner's World founder doesn't let age slow him down
Friday, May 18th, 2012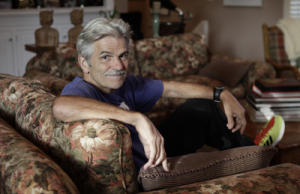 by Dan Brown
It's 8:17 a.m., less than an hour before the starting gun, and Bob Anderson has made the rookie mistake of leaving himself too little time to warm up.
The founder of Runner's World ought to know better, having dedicated his life to unearthing strategies for just these occasions. Anderson's seminal magazine provided tips on what shoes to wear, what to eat and how to train -- but, alas, never a word about how to juggle a documentary film crew.
This article was featured on the front page of the May 12 Saturday edition of the San Jose Mercury News. Right next to the article about Facebook going public...
Such are the hurdles awaiting this Los Altos resident on his audacious journey: Anderson is celebrating his 50th year in running by racing 50 times. He will consider his goal met only if he does them at a young runner's speed, averaging under 7 minutes per mile.
Sunday marks Race No. 22, the Bay to Breakers in San Francisco.
But on this morning, in the increasingly agitated lead-up to Race No. 12, in Palo Alto, Anderson is grumbling that a problem with the film crew has cut into his preparation.
There will be no time for a favorite trick, slathering his bare feet in Icy Hot.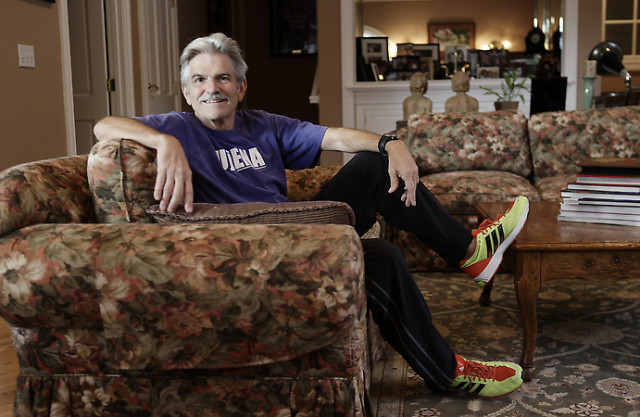 Sitting in his family room speaking with Dan Brown after their run. Photos by Gary Reyes/Staff
"I know that sounds weird," Anderson said. "But I want that burning sensation. It gives me that flying feeling."
Hidden gems like that are what Anderson, now 64, set out to discover as a high school cross-country runner in Kansas, when he sent letters to athletes and coaches around the country pleading for advice on how to train for a marathon.
The immediate flood of responses fueled the birth of Runner's
World magazine, which would soon move its headquarters to Los Altos, then Mountain View, and serve as the companion reading for the running boom of the 1970s.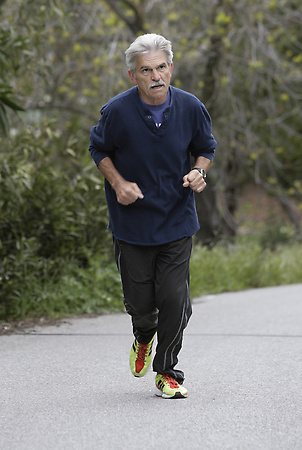 Now, with Runner's World long sold, Anderson wanted a new way to spread the sport's gospel. Thus, the 50-races-for-50-years quest that will cover 350 miles and includes 10 half-marathons.
In the running formula known as age-grading, Anderson's mile pace is the equivalent of a 30-year-old running at 5:24.
"I wanted to do something special, something that would be very positive for running," Anderson said. "But I also wanted to do something that would not be easy."
Here is the link for the whole article: San Jose Mercury News
Comments and Feedback

I have not seen the paper but I guess it was on the front page...been getting a lot of emails about it...thanks everyone for your support...means so much to me!
Bob Anderson 5/20/12 5:10 am

Plus now I have been dragged into the limelight too because I am mentioned and quoted. It was all I could do to fight my way into my house past the press and autograph seekers. ;-)
Richard Stiller 5/22/12 11:40 am