Half Done with my 50 Race Challenge
27 Races completed and I am ahead of pace
Sunday, July 1st, 2012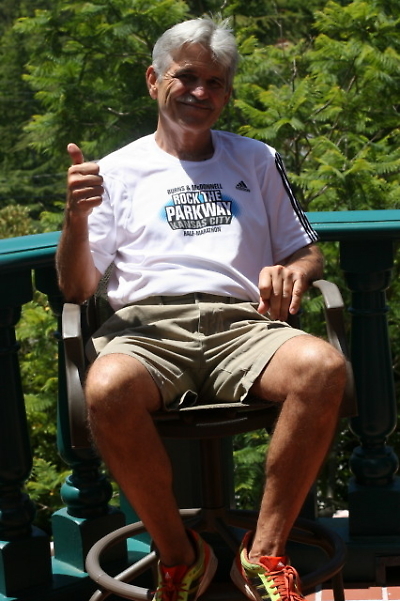 My 50 race 2012 Challenge (A Long Run) is half over. Overall it has been a very good six months. I have completed 27 races so far and I am averaging 6:56/mile for my first 173 miles. I have 177 miles to go. Several of my up coming races are half marathons. I love this distance and I am planning on being real close to 7 minutes/mile or under on each of them.
It is ironic that 13 days before the start of my journey I fell and really messed up my knee and opened up a hole in my head that took over 60 stitches to close. Jennifer the plastic surgeon on call at El Camino did an amazing job of sewing me up that December 18 afternoon. In fact the scar right above my eyebrow is hardly noticeable now. However, it took over a month for me to be able to bend my left knee completely.
My first race January 1st was one of the hardest of the year. I could not take a fall stride. I hit the mile at 7:49 in the DSE 5k race in San Francisco and that was all I could do. Somehow I was able to pick up the pace and finished in 22:19. I was able to gut it out the last two miles. But my goal for this challenge is to average under 7 minutes per mile. To do this I need to run 5k's under 21 minutes, which I have been doing mostly.
Six months to the day (yesterday) I fell again. But this time it was different. I broke the fall and I rolled. In December I hit my knee and then my head without breaking the fall. Still not sure what happened that Sunday morning last December. I was not running as fast yesterday and I almost didn't go down. But I did, however nothing like before. My right hip and left wrist is what hit first. I should be 95% by Wednesday which is my next race. But I was not ready to race this morning. I can run easy and I am sure I could have somehow ran as good as what I did January 1st but I am not going to reach my goal running 5k's over 22 minutes.
What is ironic is that I started off this challenge with a fall and doing a DSE 5k afterwords (but I did have several days to recover) and six months later I fall again and then canceled running a DSE 5k. This is not a big thing, but I did have to cancel a race because of it.
I want to thank everyone who has helped me these first six months. You guys make this all worthwhile.
Comments and Feedback

Good attitude Bob, and I like the Rock The Parkway shirt!
Bruce Gilbert 7/5/12 9:19 am