Ran my last half Marathon of Year
Just nine more races to go!
Sunday, November 11th, 2012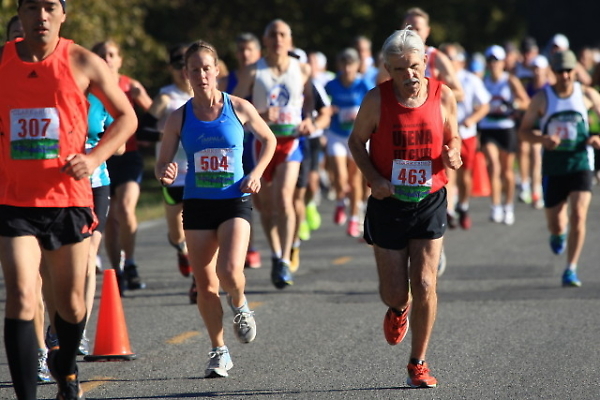 Okay, I did want to run a little faster and I was on pace for eight miles (6:58 pace at that point) but I slowed down and ran 7:17 to 7:21 miles for the last five miles. I didn't fall apart, I didn't feel like I didn't have the energy, I just slowed down. It is easy to loose focus. This was my 12th and last half marathon of my challenge. I ran 1:33:34 which is 7:07/mile pace.
At the Humboldt Half Marathon Pam Kennedy (pictured above with me) and I ran several early miles together. It was one of those times when you don't say anything but we just connected as two runners pacing off of each other. She blasted me the second half. Today we didn't run together but "official" met at the finish line. She ran 1:31:47 today. Glad to have Pam in our Ujena Fit Club. Great way to stay in touch...
Photo is at about the half mile mark. Wished I would have stayed with Emily Wistar (503) She ran 1:29:23. When I was younger it seemed easier to hang on to runners. For some reason it does not seem easy these days. But that is probably because I am not in that good of shape. Resting does not get you in top shape in my book. I know that many of your disgree with this comment but that's how I feel. I do about three easy days per week and only one hard day...my race.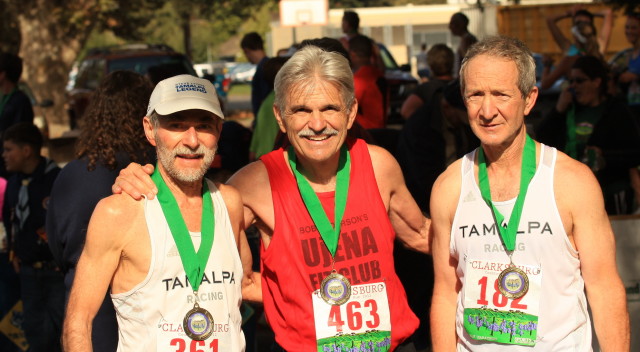 Both 72-year-old Hans Schmid and 60-year-old John Hirschberger will be featured in our movie. Hans ran 1:35:35 and John 1:29:56 today. Always fun to talk and compare notes after a race.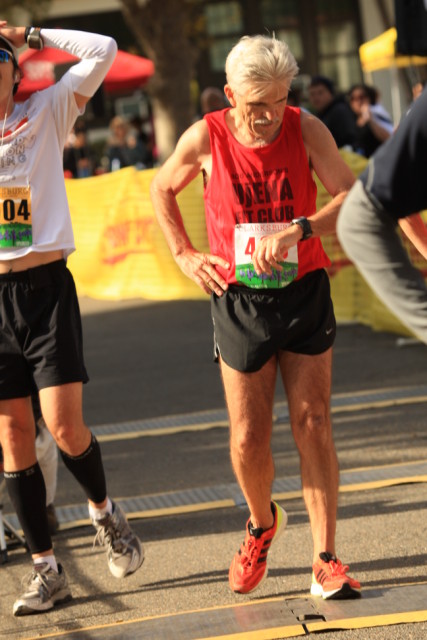 Looking at my watch at the finish told me that I am now 3:29 in total behind pace. BUT I can make this up I think. I mostly have 5ks and 10ks left. Before heading off to New York for the Ted Corbitt 15k classic Dec 15, I have two 5ks, three 10ks and a four miler. For those six races I should be able to be under 7 minutes/mile pace at an average of 45 seconds per race. That is 4:30 OR before going to New York I will be a minute ahead of pace. 5k at 7 minute pace is 21:42 and 10k is 43:24.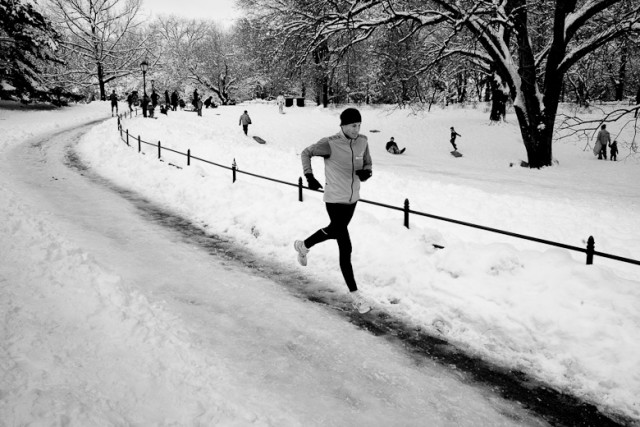 I am not saying that in New York it is going to look like this picture on Dec 15 but it could. The 15k course itselft according to the New York Road Runner's Club Chairman George Hirsch has some hills. It might be tough to average 7:20/mile under these sort of conditions. Which would be a negative three miles or before the double I could be two minutes down. I need to have more of a buffer before going to New York. The best I could do at our Double in Pleasanton Dec 23 (my last two races - it is one race with two legs but for my challenge I do count it has two races) would be something like 1:30 under pace in total. Wow, this is going to be close...stay tuned.
Comments and Feedback