Race 34 Kauai Half Marathon
It was tough but beautiful
Sunday, September 2nd, 2012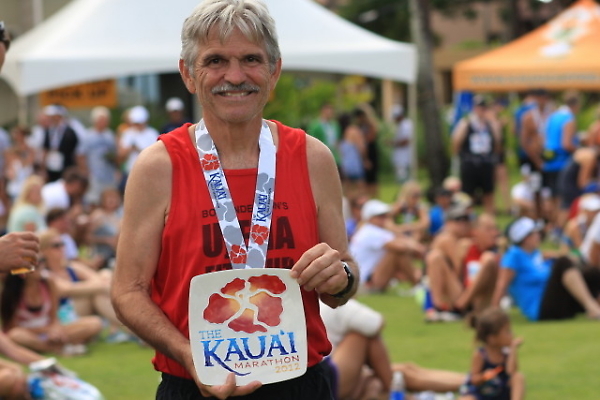 The Kauai Half Marathon has to be one of the world's most beautiful half and full marathons in the world. But it is a tough course. This is not a course to PR on but you will have a blast when you run it. You have to put it on your bucket list. I finished 52nd overall in the half with a time of 1:37:30. Won a nice medal and one of the best awards so far...a plate for placing first 60-64. I spoke with a lot of people about the course ahead of time, we drove it twice, ran some parts of it and I am glad I did. I normally go out fast. In fact at the San Diego Half just two weeks ago, I was under 45 minutes at the half way point. I hit the half way point (6.5 miles) at about 51:30 on Sunday. I was concerned but I was ready for the downhill section.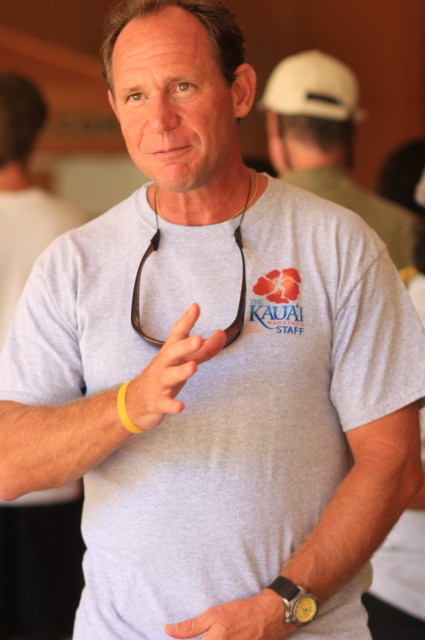 The Kauai Marathon and Half ws created by Jeff Sacchini four years ago. He was one of three people who gave me advice about the course. It climbs for nearly 900 feet the first seven miles and then finishes along side the ocean. "Run the first half easy and then make it up the second half," Jeff told me on Saturday. Thanks Jeff for inviting me. We had a blast and we got great footage for our movie. Your staff is amazing and the support you get from the community is impressive for a new event.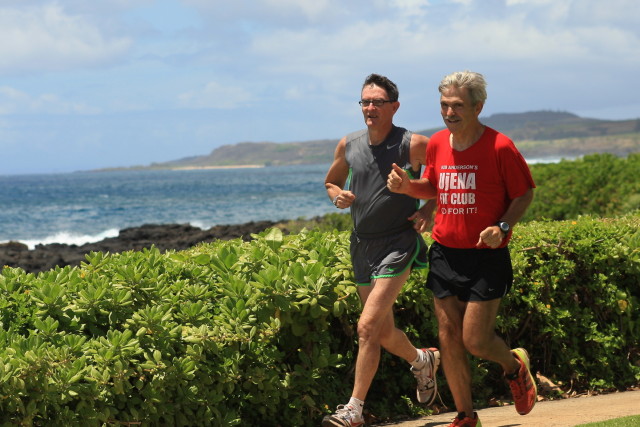 On Friday we met up with 66-year-old Gerry Lindgren. He came over from Honolulu for the day so we could do a run and talk. He is being featured in our movie since he inspired me so much back in 1964 when he bet the Russians in the USA USSR track meet at 10,000m. When he was in high school he broke 14 minutes for 5k. More about Gerry in a later blog. We drove parts of the course, and he gave me some good advice. "Just focus on certain points as you run up the hill making each one a finish line. Once there, focus on another point until you reach the top," Gerry said.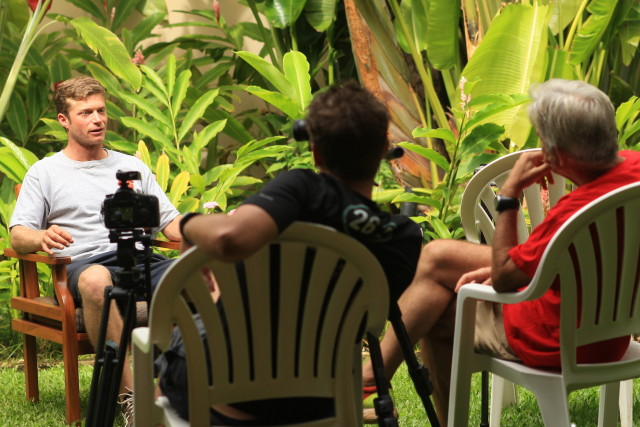 JT Service won the first Kauai Marathon. Besides being a good runner (he does have an injury right now) he has gotten in to race production. Last April he put together the 408K Race in San Jose and sold out at 3000 runners. During our interview for the movie, JT also gave me some advice. "Make sure you don't burn up too much the first half," he said.
Ron Pate lives in Honolulu and certified this course. I was glad he was not in my division (60-64). He is 65 and in the next division. But he would be the one to beat 60 plus. He thought he would be under 1:35 this year. Last year he has run 1:32:15. "It helps to know this course," he told me. "Don't panic if you run over 9 minutes for mile 5 to 6. I have only been under 9 minutes once in four years," Ron told me.
I followed everyone's advice and it helped so much. I ran the first half in 51:25 and the second in 45:18 plus 47 seconds for the last .1 and that all equals 1:37:30. I never run like this and I am sure I would do better next time around. I was hoping to make up another two minutes the second half but it just didn't happen. I finished first 60-64 and second 60 plus.
Right after the finish. My last two miles on Sunday were 6:52 and 6:49. Just two weeks ago in San Diego my last two miles were 9:21 and 8:57. Of course in San Diego there was a mile long hill. I was concerned with these two half marathons. I did not do as well as I wanted but it could of been worse. I am now 43 seconds over my 7 minute/mile pace goal but I can still make it up.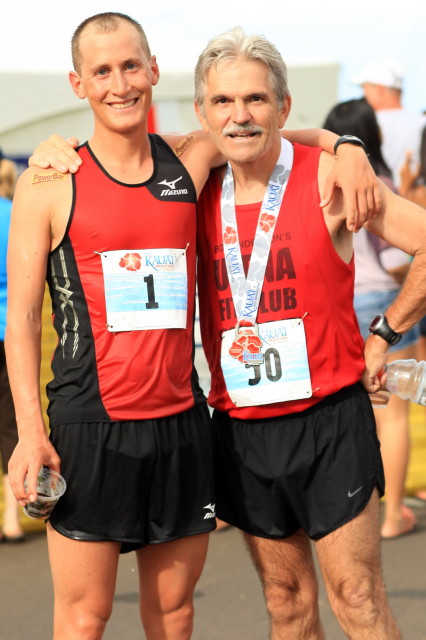 We spoke with the marathon winner Tyler McCandless after the race. He set the course record last year posting an amazing time of 2:23:21. The full marathon course is tougher than the half. Tyler was toasted after the race. The rain and wind just made things tougher this year for him. But he still won in 2:23:52. What an amazing athlete. He lead from the start. "The aloha spirit of the race is unrivaled," Tyler said. There were a record 1829 participants in the two races. Runners came from 45 states and 15 different countries. Photo by Catherine Cross Ujena Fit Club
Comments and Feedback