Race Number 5 10 Miler
Will my hamstring hold on the tough Hill?
Saturday, January 28th, 2012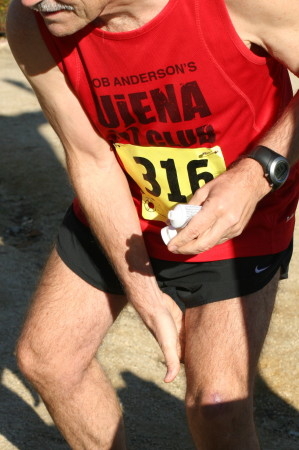 It was a good day for racing in San Juan Bautista, California. The town that was made famous by Alfred Hitchcock when he filmed his famous Bell Tower seen in Vertigo. The race starts just 100 yards from the Bell Tower (Photo below). Race number Five - Mission Ten and 5k.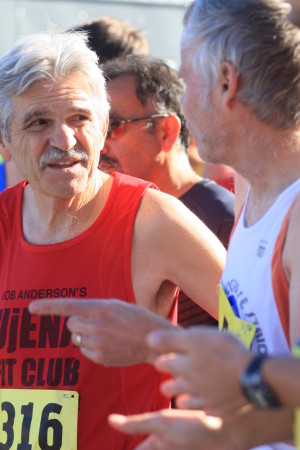 I had not run that many times over ten miles since my fall. I was not sure what was going to happen. My hamstring were feeling a little weird and I knew this course has a tough hill. I ask Dan Anderson (no relation but a runner I have known for many years) at the start how he was going to run. He thought around 70 minutes. He has beaten me by about a minute in my second race of the seaon in Stockton. He ran under 69 minutes there. I told him I don't run up hills good. I had never beaten him before. He will be 60 in April.
The first three miles of this course is fast. I hit the mile (the marker and the Garmin were right on) at 6:13 and the three mile at 19:28. (This would have given me almost a sub 20 minute 5k.) Then there was the hill. My next mile was 8:04. I was able to bring mile seven back down to 6:33. That is when I was closing on Dan. I caught him with two miles to go.
I finished in 1:10:09. My goal was sub 70 and I am pleased with this...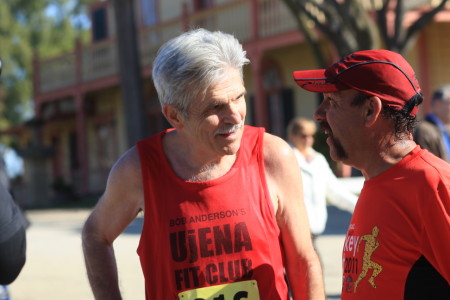 We were racing it in the last mile. The two of us needed to work harder together. If so, we both would have been under 70.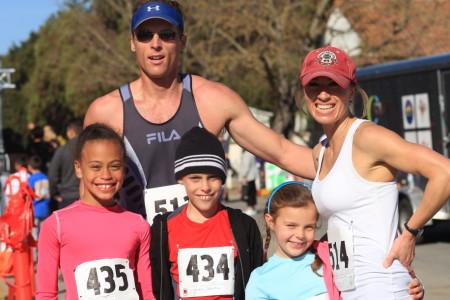 The Bergholz is a running family. Annie (514) won the 5k and their 8-year-old son (434) ran a 6:58 mile in the kids one mile race. They are the type of story we are looking for...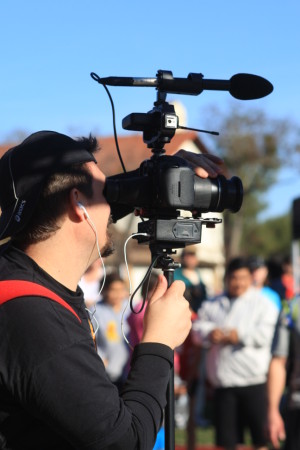 Mike getting some good footage for the film.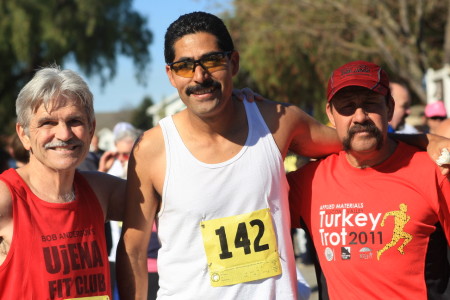 Always nice talking to runners at the races. All photo by Catherine Cross Ujena Fit Club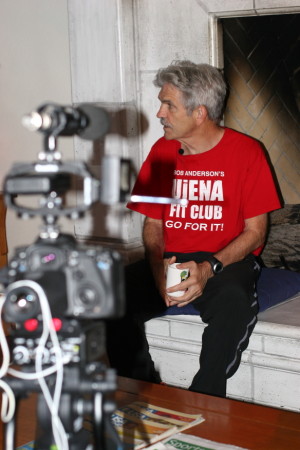 We got some good footage before the start of the race at the hotel.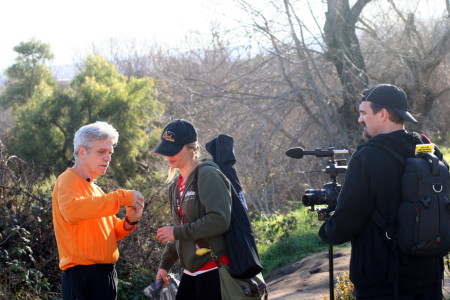 Mike and Crystal setting up a shot before the start of the 10 Miler.
The famous Bell Tower just 100 yards from the start and finish.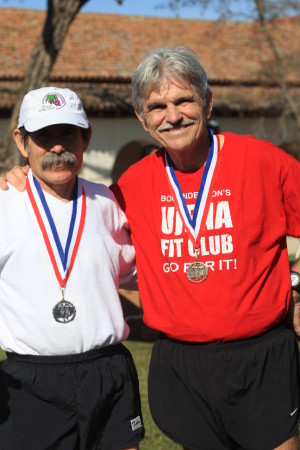 With second place finisher in the 60-69 division. I pulled out ahead of Francisco in the first three miles but then we kept me in sight for the last seven.
The race announcer did a good job offering encouragement to the runners. Thanks Phillip for mentioning my 50 race challenge. I really like this race. Wished there wasn't the hill but there is. It has been there for 29 years and they are not moving it. I would think runners could take off at least a minute because of it.
However, I was speaking with Monica who was the second woman overall and she told me the hills don't bother her at all. She trains in the hills regularly on trails. She ran 65 mintues.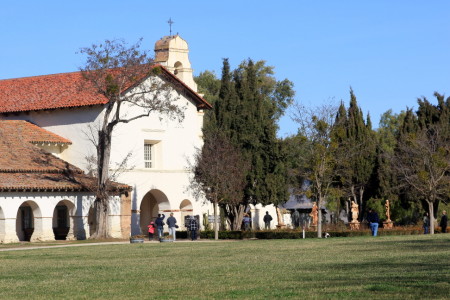 The courtyard in front of the Mission and the Bell Tower. All Photos by Catherine Cross Ujena Fit Club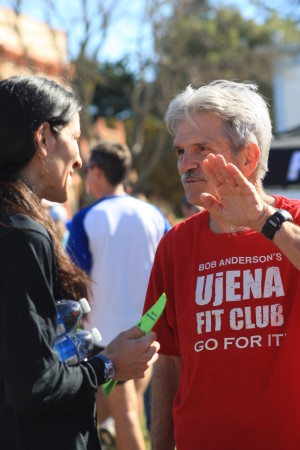 Some runners handle hills better than others. I asked Monica (2nd place women finishing 65:47) about the hills and she didn't think they were bad at all. She trains on the hills regularly. I was with her at three miles...
Comments and Feedback

Bob - I just came across this blog this morning. Very inspirational!!! I quite enjoyed reading your blog entries. And wow, what a nasty cut!! I was checking out your planned races. We will have to try and see if we can run in one of the races that you are entered in..... Kauai or the San Jose Half sounds intriguing.... Any chance you are doing a race in BC, Canada?
Shari Mernett 2/3/12 5:51 am

Thanks Shari...this is going to be an exciting adventure...six of my races will be the Ujena races...hope you will be back with us in Cabo...I would like to do a race in BC...it would be good to include you in our film...
Bob Anderson 2/3/12 8:28 am

We are 99% sure that we will be in Cabo again this year, and will of course run in the Ujena race!
Shari Mernett 2/4/12 8:24 am