2013 Ujena Fit Club Elite Racing Women's Rankings
Click here for information about receiving your 2013 UjENA Fit Club Elite Racing Top 100 Ranking Medal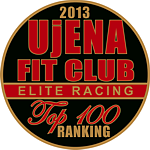 Members who post races on their Ujena Fit Club profiles are eligible to appear in the rankings. Members receive 100 points for each race they post and include their finish time. They also receive 20 points for each mile raced. Top 250 Men shown below. Only timed races with results posted on the internet count. If you do an event that includes other activities (like the Tri) only list the running distance and the time for that distance, however list your place for the overall event.
The deadline to enter your 2013 races (for consideration in the contest) was noon (PST) January 31, 2014. The top 100 men and top 100 women will receive a special UjENA Fit Club Elite Racing Top 100 Ranking medal, as pictured to the right. Click here to add a 2013 race. You can still enter your races for 2013, but the contest period has concluded. The points listed on this page are frozen. Besides the medal, the top three men and women will receive FREE entry into two Double Road Races of their choice (not transferable). The overall winners, Chris Jones and Sharon Vos, will also be awarded up to a two night stay at our official hotel at the Pleasanton Double Road Race Dec 21, 2014.
Click here for Men's Rankings.
*Performance points are calculated on the Ujena Fit Club Men's and Women's Runner Ranking page for 2013.
2013 Age Group Ranking · 2014 Rankings
Kat Powell
Fast-paced tempo run tonight on Los Gatos Creek trail...fear of the dark is a great motivator! ...
View Profile


Riya Suising
I love to stay in shape to feel and look good! Running is the easiest and fast way to get a workout. I run 2-3 times a week, but try to race...
View Profile
Place
Runner Name
1st Quarter
2nd Quarter
3rd Quarter
4th Quarter
*Performance
Year Total

Women
1
Sharon Vos
Races (33)
2,303
2,900
2,322
1,470
14,043
23,038
2
RISPER GESABWA
Races (29)
2,319
2,014
1,902
1,906
12,456
20,597
3
Kat Powell
Races (52)
2,459
5,668
3,898
4,362
2,547
18,934
4
Riya Suising
Races (47)
2,907
3,878
3,801
4,260
2,892
17,738
5
Michelle Meyer
Races (25)
3,043
2,866
1,417
224
6,167
13,717
6
kelly emo
Races (63)
2,753
3,424
3,778
2,578
292
12,825
7
diane batchelor
Races (29)
1,472
2,145
1,716
1,958
4,789
12,080
8
Carol Turner
Races (35)
2,021
2,920
2,564
3,606
594
11,705
9
Sharlet Gilbert
Races (24)
724
972
1,702
1,220
6,904
11,522
10
Christine Kennedy
Races (13)
911
1,109
1,144
1,272
6,309
10,745
11
Carla Happel
Races (25)
2,096
3,053
2,144
2,283
0
9,576
12
MELISSA JOYCE
Races (17)
1,348
2,308
2,794
1,810
0
8,260
13
Emelia Ebendick
Races (24)
1,610
2,534
1,872
1,972
134
8,122
14
Honor Fetherston
Races (14)
0
542
1,092
934
5,449
8,017
15
Nancy Hobbs
Races (23)
806
1,196
530
1,298
3,783
7,613
16
Lisa Penzel
Races (23)
3,262
990
0
0
3,250
7,502
17
Susan Morris Skelton
Races (20)
724
2,172
1,534
2,334
0
6,764
18
Terry Murphy
Races (31)
958
2,660
1,358
1,534
0
6,510
19
Alicia Plancarte
Races (21)
2,381
524
1,418
1,774
0
6,097
20
Joanna Zeiger
Races (7)
986
362
648
986
2,872
5,854
21
Verity Breen
Races (8)
835
786
786
362
2,756
5,525
22
Joyce Lee
Races (13)
1,154
1,710
724
1,496
0
5,084
23
Amanda Fein
Races (17)
888
1,758
934
1,320
0
4,900
24
Andriani Domvrou
Races (9)
648
834
522
1,134
1,646
4,784
25
Rkia El Moukim
Races (7)
0
224
324
947
3,236
4,731
26
Robyn Roybal
Races (9)
724
624
1,148
1,010
1,158
4,664
27
Heather Tanner
Races (7)
300
911
220
586
2,554
4,571
28
Joann Dahlkoetter
Races (8)
0
224
734
1,082
2,509
4,549
29
Barbara Latta
Races (18)
972
464
282
1,134
1,695
4,547
30
Kathryn Brake
Races (10)
504
1,552
404
0
1,977
4,437
31
Jonya Meyer
Races (13)
662
1,330
0
1,646
693
4,331
32
Jan Woodside
Races (13)
404
1,552
362
1,876
0
4,194
33
Kathy Lefeber
Races (10)
0
1,448
834
1,634
39
3,955
34
Monica Jo Nicholson
Races (8)
462
0
1,316
286
1,617
3,681
35
Colleen De Reuck
Races (4)
624
300
286
624
1,765
3,599
36
Gina Tonegato
Races (18)
200
610
1,444
1,339
1
3,594
37
Jenna Boswell
Races (15)
386
892
1,844
286
0
3,408
38
Phyllis Karsten
Races (12)
324
604
728
648
1,068
3,372
39
Christine Brighton
Races (6)
0
748
444
224
1,810
3,226
40
Julie Herr
Races (13)
662
700
782
1,034
0
3,178
41
Sheri Pfeil
Races (10)
300
648
1,106
1,103
0
3,157
42
Kelly Van Zant Maine
Races (13)
548
786
1,186
610
0
3,130
43
Debra Norman
Races (8)
530
883
721
824
0
2,958
44
Kerri Nelson
Races (6)
224
1,248
0
1,272
163
2,907
45
Teresa Rider
Races (4)
362
724
286
0
1,516
2,888
46
Rachelle Fong
Races (6)
624
624
448
724
410
2,830
47
Leslee Russell
Races (6)
362
0
506
1,272
630
2,770
48
Chantelle Wilder
Races (4)
362
0
648
286
1,397
2,693
49
Rosa Gutierrez
Races (4)
0
0
572
648
1,450
2,670
50
Rebecca VanBibber
Races (12)
0
0
796
1,768
0
2,564
51
Liudmila Stepanova
Races (4)
0
0
976
0
1,551
2,527
52
Karen Bertasso
Races (4)
362
786
362
0
929
2,439
53
Libby James
Races (3)
362
0
286
286
1,491
2,425
54
Stephanie Kato
Races (4)
549
624
286
0
907
2,366
55
Melody-Anne Schultz
Races (3)
249
0
0
648
1,417
2,314
56
judi alameda
Races (9)
199
673
0
1,396
0
2,268
57
Soleil Alameda
Races (9)
199
835
0
1,172
0
2,206
58
Sarah Crouch
Races (3)
0
300
286
362
1,232
2,180
59
Sharon Fitzsimmons
Races (9)
361
200
672
886
0
2,119
60
Carol Pechler
Races (6)
300
997
0
362
446
2,105
61
Jodi Morgan
Races (8)
162
224
224
1,458
0
2,068
62
Natalie Holick
Races (5)
0
1,010
0
986
0
1,996
63
Trisha Kluge
Races (3)
224
0
662
0
995
1,881
64
Kathy Ingels Helmond
Races (9)
162
162
610
904
0
1,838
65
Lucy Hardy
Races (7)
162
286
162
772
317
1,699
66
Naomi Morita
Races (7)
0
162
734
748
0
1,644
67
Lauri McLain
Races (7)
0
448
224
960
0
1,632
68
Emily Tortorelli
Races (3)
0
362
448
0
789
1,599
69
Marcie Scipio
Races (5)
0
724
586
286
0
1,596
69
Adriana Tallman
Races (5)
0
510
362
724
0
1,596
71
Cinthya Vielma
Races (3)
0
0
792
0
783
1,575
72
Gabrielle Reed
Races (7)
0
324
710
524
0
1,558
73
Jamie Mendez
Races (5)
0
0
0
1,534
0
1,534
74
Natalie Dimits
Races (3)
0
162
0
510
816
1,488
75
Bret Scofield
Races (3)
0
362
286
286
530
1,464
76
Quynhly Nguyen
Races (5)
0
0
734
662
0
1,396
77
Leilani Ortiz Diaz
Races (4)
0
362
0
1,010
0
1,372
78
Molly Pritz
Races (2)
0
286
0
224
800
1,310
79
Tina Kefalas
Races (2)
0
0
286
286
737
1,309
80
Tori Tyler
Races (2)
0
0
0
648
590
1,238
81
Kerrie Mills
Races (4)
0
0
572
648
0
1,220
82
Julie Patterson
Races (2)
0
224
286
0
709
1,219
83
Angela Robinson
Races (4)
0
199
286
724
0
1,209
84
Mei-Tung Chen
Races (3)
0
0
0
872
320
1,192
85
Amy Starr
Races (5)
0
0
286
868
1
1,155
86
Patti Gurza Dully
Races (4)
611
542
0
0
0
1,153
87
Cynthia Dunn
Races (4)
0
648
286
162
0
1,096
88
Misikir Demessie
Races (1)
0
624
0
0
463
1,087
89
Missy New
Races (3)
0
1,072
0
0
1
1,073
90
Scotty Johnson
Races (3)
0
648
362
0
0
1,010
91
dana gonzales
Races (6)
324
648
0
0
0
972
92
Kaitlin Gregg
Races (1)
0
0
286
0
679
965
93
Larissa Ramos
Races (4)
0
0
958
0
0
958
94
Marla Rhoden
Races (3)
0
286
0
648
17
951
95
Kim Darden
Races (4)
0
286
662
0
0
948
96
Shelley Brake
Races (2)
0
286
224
0
435
945
97
Armida Pham
Races (3)
0
0
572
362
0
934
98
Laura Gettys
Races (3)
362
286
224
0
0
872
99
Sandy Holt
Races (4)
361
0
286
224
0
871
100
JAN BENGIVENO
Races (3)
0
0
572
286
0
858
101
Melissa Spratt
Races (2)
0
286
180
0
365
831
102
Julie Dove
Races (2)
224
0
286
0
267
777
103
Sara Glotzbach
Races (4)
162
324
0
286
0
772
104
Gerhard Bollig
Races (1)
0
0
286
0
429
715
105
Pam Kennedy
Races (2)
0
224
162
0
288
674
106
Tara Grantham
Races (2)
0
648
0
0
1
649
106
Natalie Davey
Races (1)
0
0
286
0
363
649
108
Ana England
Races (2)
0
0
286
362
0
648
108
Rebecca Hernandez
Races (2)
0
0
648
0
0
648
108
LaRisa Chambers-Lochner
Races (2)
0
648
0
0
0
648
108
Ann Carrithers
Races (2)
0
648
0
0
0
648
108
Selina Arechiga
Races (2)
0
0
286
362
0
648
113
Barbara Miller
Races (1)
0
162
0
0
481
643
114
Cecelia Wolfram
Races (1)
624
0
0
0
18
642
115
DENIZ DIMAKI
Races (1)
0
0
0
286
344
630
116
Katie Taylor
Races (3)
0
286
342
0
0
628
117
Sydney Messick
Races (1)
0
0
0
286
318
604
118
Cindy Blakeley-Cameron
Races (1)
0
286
0
0
312
598
119
james weatherly
Races (1)
0
286
0
0
308
594
120
Cathy Morgan
Races (1)
0
0
0
286
297
583
121
Kit McCaffrey
Races (1)
0
0
0
286
292
578
122
Kara Price
Races (2)
0
0
286
286
0
572
123
Jordan Shrack
Races (2)
0
510
0
0
0
510
123
Missie Wolfe
Races (2)
0
510
0
0
0
510
125
Julie Mahmoud
Races (1)
0
286
0
0
211
497
126
Elizabeth A Johnson
Races (3)
0
0
0
489
0
489
127
Jocelyn Petrella
Races (1)
0
0
286
0
191
477
128
Angie Nygren
Races (1)
0
286
0
0
179
465
129
Katie Hauser
Races (1)
0
362
0
0
92
454
130
Jodi Labossiere
Races (2)
0
162
286
0
0
448
130
Julie Kahoalii
Races (2)
0
162
286
0
0
448
130
Julie Ritter
Races (2)
0
0
286
162
0
448
133
Dana Blum
Races (1)
0
286
0
0
158
444
134
Tiffany Taylor Deusebio
Races (1)
0
0
286
0
157
443
135
Alicia Heyne
Races (1)
0
0
0
286
153
439
136
Margaret Sills
Races (1)
0
0
286
0
125
411
137
Susan Hall
Races (1)
0
0
362
0
0
362
137
Katie Cortez
Races (1)
362
0
0
0
0
362
137
karen dub
Races (1)
0
362
0
0
0
362
137
Dominique McLean
Races (1)
362
0
0
0
0
362
141
Karen Richards
Races (1)
0
0
0
286
67
353
142
Doreen Brown
Races (1)
0
0
286
0
64
350
143
Lynn Reedy
Races (1)
0
0
0
286
63
349
144
Cindy Harris
Races (1)
0
0
286
0
59
345
145
Julie Gutierrez
Races (1)
0
0
286
0
53
339
146
Carmen Figueras
Races (1)
0
0
286
0
40
326
147
Kathleen Mc
Races (2)
0
0
324
0
0
324
148
Lonie Lin
Races (1)
0
0
286
0
33
319
149
Karin Venderbosch
Races (2)
0
0
0
312
0
312
150
Suzanne Dubnicka
Races (1)
0
0
0
286
2
288
150
Loren Delmonico
Races (1)
0
0
0
286
2
288
152
Debbi Senorita Limonita
Races (1)
0
0
0
286
1
287
152
Tina Knutson
Races (1)
0
0
0
286
1
287
152
Kerry Burns
Races (1)
0
0
286
0
1
287
152
Debbie Kellogg
Races (1)
0
0
286
0
1
287
152
Ellen Young
Races (1)
0
286
0
0
1
287
152
Kelsey Gurganus
Races (1)
0
0
286
0
1
287
158
Joleen MacKay
Races (1)
0
0
286
0
0
286
158
Diana Morikawa
Races (1)
0
0
286
0
0
286
158
Shelly Reyes
Races (1)
0
0
286
0
0
286
158
Toshiko Iwata
Races (1)
0
0
286
0
0
286
158
Hali Wilson-Hansen
Races (1)
0
0
286
0
0
286
158
Lupe Estebanez
Races (1)
0
0
286
0
0
286
158
Dora Grinnell
Races (1)
0
0
286
0
0
286
158
Christine Guzman
Races (1)
0
0
286
0
0
286
158
Laura Vega
Races (1)
0
0
286
0
0
286
158
Theresa Meyer
Races (1)
0
0
0
286
0
286
158
Dawn Limmer
Races (1)
0
0
0
286
0
286
158
Cindy Cooper
Races (1)
0
0
0
286
0
286
158
Michelle Kim
Races (1)
0
0
286
0
0
286
158
Jennifer Yong
Races (1)
0
0
286
0
0
286
158
Amber Cano
Races (1)
0
0
286
0
0
286
158
Elsa Dinis-McVeigh
Races (1)
0
0
286
0
0
286
158
Angela Zapien
Races (1)
0
0
286
0
0
286
158
stephanie payne
Races (1)
0
0
286
0
0
286
158
valerie rodriguez
Races (1)
0
0
286
0
0
286
158
Karen Hickey
Races (1)
0
0
286
0
0
286
158
Ruth Spirakis
Races (1)
0
0
286
0
0
286
158
Rebecca Kring
Races (1)
0
0
286
0
0
286
158
Races (1)
0
0
0
286
0
286
158
Duy Tran
Races (1)
0
0
0
286
0
286
158
Sandy Prudencio
Races (1)
0
0
286
0
0
286
158
Alison Deacon
Races (1)
0
0
0
286
0
286
158
Charisma Bermudez
Races (1)
0
0
0
286
0
286
158
Barbette Barlow
Races (1)
0
0
0
286
0
286
158
Julie Bostwick
Races (1)
0
0
286
0
0
286
158
Zara Harding
Races (1)
0
0
0
286
0
286
158
Archana Reddy Pasham
Races (1)
0
0
0
286
0
286
158
Melissa Shafer
Races (1)
0
0
286
0
0
286
158
Shelly Hanak
Races (1)
0
0
286
0
0
286
158
Theresa Coyne Dooley
Races (1)
0
0
286
0
0
286
158
Gretchen Stone
Races (1)
0
0
0
286
0
286
158
Samantha Krause
Races (1)
0
0
0
286
0
286
158
Jaimee Chase
Races (1)
0
0
0
286
0
286
158
Angela Anegon
Races (1)
0
0
0
286
0
286
158
Miranda Fox
Races (1)
0
0
0
286
0
286
158
Sarah Timberlake
Races (1)
0
0
0
286
0
286
158
Karen Smothers
Races (1)
0
0
0
286
0
286
158
Sara Harrison
Races (1)
0
0
0
286
0
286
158
Doreen Rose
Races (1)
0
0
0
286
0
286
158
Cheri Lee
Races (1)
0
0
0
286
0
286
158
Amber Knoettgen
Races (1)
0
0
0
286
0
286
158
Cari Hays
Races (1)
0
0
286
0
0
286
158
Lori Sommerfeld
Races (1)
0
0
0
286
0
286
158
Kara Cunningham
Races (1)
0
0
0
286
0
286
158
Michelle Cross
Races (1)
0
0
0
286
0
286
158
Ashley Driver
Races (1)
0
0
0
286
0
286
158
rebecca medina
Races (1)
0
0
0
286
0
286
158
susan lourenco
Races (1)
0
0
286
0
0
286
158
Roxanne Rogers
Races (1)
0
0
0
286
0
286
158
Danielle Van Deventer
Races (1)
0
0
0
286
0
286
158
Nicole Pillatsch
Races (1)
0
0
0
286
0
286
158
Robin Meyers
Races (1)
0
0
0
286
0
286
158
Abigail cannon
Races (1)
0
0
0
286
0
286
158
Angelica Heiniger
Races (1)
0
0
0
286
0
286
158
Amy Jo Wessling
Races (1)
0
0
286
0
0
286
158
Anna Kossen
Races (1)
0
286
0
0
0
286
158
Monica Yellow Bird
Races (1)
0
286
0
0
0
286
158
Katie Croucher
Races (1)
0
286
0
0
0
286
158
Deborah Fafard
Races (1)
0
286
0
0
0
286
158
Tracie Schmidt
Races (1)
0
286
0
0
0
286
158
keiren greenhouse
Races (1)
0
286
0
0
0
286
158
Jenny Selvidge
Races (1)
0
286
0
0
0
286
158
Paula Stoddard
Races (1)
0
0
286
0
0
286
158
Linda Veldman
Races (1)
0
0
286
0
0
286
158
Alexis Snyder-Smith
Races (1)
0
0
286
0
0
286
158
Erin Meyer
Races (1)
0
0
286
0
0
286
158
Cynthia Tinsley
Races (1)
0
0
286
0
0
286
158
Jessica Tauber
Races (1)
0
0
286
0
0
286
158
Jennifer O'Quinn
Races (1)
0
0
286
0
0
286
158
Jennifer Swanholm
Races (1)
0
286
0
0
0
286
158
Jessica Jack
Races (1)
0
286
0
0
0
286
158
Slavica Calvert
Races (1)
0
286
0
0
0
286
158
Jessica Meyers
Races (1)
0
286
0
0
0
286
158
Megan Case
Races (1)
0
286
0
0
0
286
158
judy dalton
Races (1)
0
286
0
0
0
286
158
Lindsay Knoop
Races (1)
0
286
0
0
0
286
158
Sonya Richardson-Thomas
Races (1)
0
286
0
0
0
286
158
Trish Karleskint
Races (1)
0
286
0
0
0
286
158
Jodie Beydler
Races (1)
0
286
0
0
0
286
158
Cheryl Lentz
Races (1)
0
286
0
0
0
286
158
Jessica Cummings
Races (1)
0
286
0
0
0
286
158
Rachel McCaslin
Races (1)
0
286
0
0
0
286
158
Cindy Mahutga
Races (1)
0
286
0
0
0
286
158
Carolyn Langenwalter
Races (1)
0
286
0
0
0
286
158
Sheri Smith Cain
Races (1)
0
286
0
0
0
286
158
Vanessa Johnson
Races (1)
0
286
0
0
0
286
158
Sarah Reedy
Races (1)
0
286
0
0
0
286
158
Kathryn kersting
Races (1)
0
286
0
0
0
286
158
Josie Vanwey
Races (1)
0
286
0
0
0
286
158
Kimberly Roof
Races (1)
0
0
286
0
0
286
158
Beth Steinhorn
Races (1)
0
0
286
0
0
286
158
Thuy Tang
Races (1)
0
0
286
0
0
286
158
Margo Baltera
Races (1)
0
0
286
0
0
286
158
Aleksandra Gradinarova
Races (1)
0
0
286
0
0
286
158
Debbie Solis
Races (1)
0
0
286
0
0
286
158
Maria Myles
Races (1)
0
0
286
0
0
286
158
Janet L. Davidson
Races (1)
0
0
286
0
0
286
158
Gretchen Bracey
Races (1)
0
0
286
0
0
286
158
Karen Routt
Races (1)
0
0
286
0
0
286
158
Lori Justin
Races (1)
0
0
286
0
0
286
158
Betty Lonis
Races (1)
0
0
286
0
0
286
158
Sarah Kempson
Races (1)
0
0
286
0
0
286
158
Joy Madriaga
Races (1)
0
0
286
0
0
286
158
Marsha Wescott
Races (1)
0
0
286
0
0
286
158
teri romero
Races (1)
0
0
286
0
0
286
158
Melinda Ramzel
Races (1)
0
0
286
0
0
286
158
Darlene Param
Races (1)
0
0
286
0
0
286
158
Amanda Moreno
Races (1)
0
0
286
0
0
286
158
Tara Stone
Races (1)
0
0
286
0
0
286
158
Shantel Liddy
Races (1)
0
0
286
0
0
286
158
Leah Gray
Races (1)
0
0
286
0
0
286
158
Victoria Primiano
Races (1)
0
0
286
0
0
286
158
Abigail Beaudoin
Races (1)
0
0
286
0
0
286
158
Cari Camic
Races (1)
0
0
286
0
0
286
158
Kristine Malia
Races (1)
0
0
286
0
0
286
158
Sarah Wright
Races (1)
0
0
286
0
0
286
158
Stephanie Shidler
Races (1)
0
0
286
0
0
286
158
Christan Royer
Races (1)
0
0
286
0
0
286
280
tanya Ludden
Races (1)
0
0
0
165
0
165
280
Leslie Almonte
Races (1)
0
0
0
165
0
165
280
Lynne LaVallee
Races (1)
0
0
0
165
0
165
280
Hope Gerales
Races (1)
0
0
0
165
0
165
280
Shayna Gastellum
Races (1)
0
0
0
165
0
165
280
Dana Mikowski
Races (1)
0
0
0
165
0
165
280
priya nayar
Races (1)
0
0
0
165
0
165
280
anika nicolas
Races (1)
0
0
0
165
0
165
288
Vanessa Graetz
Races (1)
162
0
0
0
0
162
288
Corredora
Races (1)
0
0
162
0
0
162
288
maggie mckenzie
Races (1)
0
0
162
0
0
162
288
maria mccahill
Races (1)
0
0
162
0
0
162
288
Carol Calkins
Races (1)
0
0
162
0
0
162
288
Danielle Hale
Races (1)
0
0
162
0
0
162
288
Marie Hale
Races (1)
0
0
162
0
0
162
288
Jaehee Kim
Races (1)
0
0
162
0
0
162
288
Elsie Hernandez
Races (1)
0
0
162
0
0
162
288
Paula Hemphill
Races (1)
0
0
162
0
0
162
288
Priya Jegatheesan
Races (1)
0
0
162
0
0
162
288
Esther Prabhakar
Races (1)
0
0
162
0
0
162