Rotary Mission Ten (A Long Run - Race #5)
This event is in its 29th year. It is sponsored by the Hollister Rotary Club and all proceeds go to benefit local scholarships and charities. San Juan Bautista is a small California Mission town just off Hwy 101 approximately 50 miles south of San Jose. The two races, one 10 miles and one 5k in distance, both start and finish in front of the historic and beautiful San Juan Mission. The area is rural and the course takes runners through farm land and up the Anzar hills. Medals are awarded three deep in standard age categories.
Member Name

Bob Anderson
Tell your Friends
Share on Facebook
Age
64
Sex
M
Years Running
51
Race Name
Rotary Mission Ten (A Long Run - Race #5)
Race Location
San Juan Bautista, California
Race Date
1/28/12
Race Distance
10 Miles
Age Graded
81.38%
Finish Time
1:10:09
Division
60-69
Division Place
1
Overall Place
44
Pace
7:00
Web Site Link
http://www.theschedule.com/EventInfo.cfm...
Notes: One tough hill. I have run this for many years and I really like the small town feeling here. I hit three miles in 19:28 but the hill killed me. I ran 8:04 for that mile up the hill. Lost at least a minute overall...
Bob Anderson: Best Performances · Performance Summary
UjENA Fit Club members in this race.
Comments
UjENA FIT Club Photo Gallery · Mission Ten and 5k 2012
Share on Facebook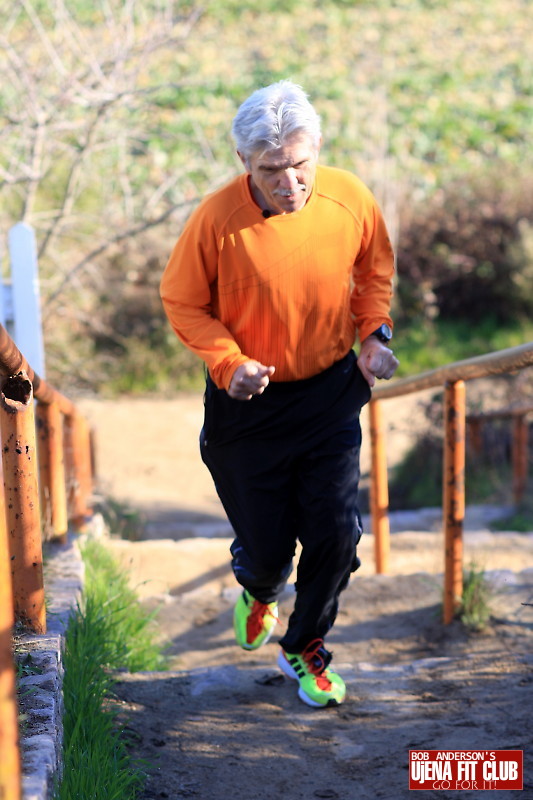 Mission Ten and 5k 2011
Saturday San Juan Bautista, California Jan 28. This was Bob Anderson's fifth of 50 races he is running in 2012. Before the start of the race, doing some filming for "A Long Run." There was a one mile kids race at 9am. The 10 mile started at 10:00am and the 5k at 10:15am. It was about 55 degrees at the start. There was a little breeze in our face on the way back. At just after three miles there is a tough hill. Daniel Tapia (bib 207) was the overall 10 mile winner with an amazing time of 51:10. He ran the Olymic Marathon Trials a few weeks ago. Second was Cristian Soratos (bib 303) with 54:14. Stephanie Kato was the first woman with 65:39 (bib 80) followed by Monica Nicholson (bib 211) with 65:47. First 60 plus was Bob Anderson (bib 316) 70:09. Michael, Catherine and Crystal shot a lot of footage for our upcoming full length doc called "A Long Run." Photos by Catherine Cross Ujena Fit Club