Gerry Lindgren Interview 25
Thursday, March 29th, 2012
"350 miles of running per week will NOT make anyone a great runner"
My first memories of Gerry Lindgren was in 1964 when he won the 10,000m race at the USA/USSR meet in Los Angeles while in high school. It was very inspiring for me. I had just started running and to see what was possible was very exciting.
Over the years I featured Gerry many times in Runner's World. I don't think we ever met and then in 1980 he disappeared for many years. Then we came in contact on Facebook a year or so back. I asked Gerry if he would be interested in doing an interview. (Interview by Bob Anderson)
1. What if you never found running?
I was from a broken home. My father was alcoholic and my home life was a mess. I was brought up to know I was just a worthless person and I had attempted suicide twice before I found running. I am sure that had I not been rescued by running I would be either dead now or in some prison somewhere hating the world.
2. What one thing made you one of the best high school distance runners ever?
Every person who puts on racing shoes wants to finish ahead of everyone else. When I first started running I too wanted to finish in front. But I was so slow and uncoordinated I was lucky to even run without falling down. I was dead last on my team.

With the help of my coach, Tracy Walters, I changed my attitude and stopped thinking of myself. I became the sacrificial rabbit to make my TEAM run faster. Going from last place on the team to the rabbit position required me to train harder, so it led to my doing extra workouts and mega-mileage.

Every time I raced, I wanted to loose by making the other guys race harder, but I discovered I was just as bad at loosing as I had been at trying to win. The very last thing I ever wanted to be was "one of the best high school distance runners ever." It took me two weeks of being the rabbit before I could stay ahead of everyone on our team. My coach expanded my thinking by telling me I need to 'rabbit' all the runners I was racing, not just my own team. I slowly got so I could stay ahead of most of the runners in the league and finished in 2nd place in the Washington State XC Meet.

When I first started running against international competition, my coach used the same thinking. We knew I was not good enough to run with these giants of the sport, but I could get them off to a good first mile while I had energy. I could creat great races. The reason I was able to excel so much as a distance runner was that I was giving to other runners rather that trying to take from them. When you give you have a lot to give away but when you try to take, you have a tough row to hoe.
3. Didn't being a "wimp" as you describe yourself help you achieve your success?
Being a "WIMP" was instrumental in my success. If I had been tall and blessed with natural ability I would have not inspired anyone. But other people saw this tiny, skinny, uncoordinated kid running well and they knew that if I could do that they too could do better. I could inspire because of my wimpiness. Rather that attempting to BUILD the self to be what you are not, it is better to embrace what you are NOT and become an example for other people.
4. You ran a 13:44 5k in 1964 while a senior in high school.
It was the Compton Invitational 5K. An international field of great runners had gathered at Compton and I was there to attempt the 5K for the first time. At the start I took the lead, knowing that I could only help them all get off to a good start. Bruce Kidd of Canada had a strategy of sprint-ease up-sprint and with me in the lead he could not work his strategy so he tried to get around me. I did not have any concept of pace so when he started to pass I sprinted and held him back. He tried again and this time he planted his elbow painfully into my ribcage. It hurt and I did not hold him off. But once he was in the lead I came around him to regain the lead and he let me have it with the other elbow.
Through nearly 3 miles we battled each other with Bruce's elbow seeking my ribcage every time I tried to pass him or he passed me. I was so interested in his elbows I did not even think about the race. After almost 11 laps Bruce tired out and slips into last place in the race. I was all alone in the race when the bell sounded to announce the final lap. I started to sprint but then I started thinking that this was a big race. I shouldn't be leading like this. So I slowed and suddenly 7-runners sprinted around me. I came back to life and sprinted after the seven but in the end I could only regain 4th place.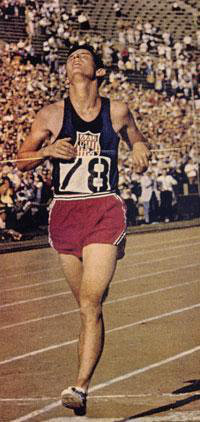 5. I remember watching you on TV when you won the 10,000 at the US/USSR meet in Los Angeles. What an inspiring moment that was for me. When did you realize you could win that race?
I had no intension of winning the Russian Meet. I was not supposed to win it. I was supposed to sprint for a quarter-mile after 4-miles of the race because that is what the Russians were going to do. They called us "Lazy Americans." In the entire series of USA vs. USSR duel meets, Americans had never beaten a Russian. They were the world's best 10K runners. The week after the Compton 5K there was a 10K in Corvalis, Oregon. My coach wanted to see what I could do for 10K. Somewhere my coach read that European runners sprinted a lap after 4-miles so my strategy was just to stay with the front runner(s) and then sprint after 4-miles. I did that, got away from everybody, and cruised to a 29:37.5.
But, Sam Bell, the coach at Oregon State, would later be picked to coach the USA Team for the Russian Meet. He was all impressed with my mid-race sprint and thought maybe, if I could stay with the Russians in that sprint, I could erase the 'Lazy American' image. I finished second behind Bob Schul in the 5K and so I qualified for the Russian meet at 5K. Coach Bell asked me to switch to the 10K instead so I was kinna forced into it (I hated running 10K).
The race started and I sat behind the two Russians for 4-miles. When we got closer to the 4-mile mark I got tense knowing that soon the race would start. One of the Russians moved out ahead about 10 yards. I wondered if I should go around this Russian and catch up to the other one or just wait for the sprint.

Coach Sam Bell was standing near the curve and my coach had yelled down to him from the stands to tell me that if I was feeling good I should go. When coach Bell yelled to me I moved to the outside but just as I was starting to speed up he tripped just a bit and took an extra step or two to find his balance. To me he was sprinting and this was the moment I had trained all summer for.
I sprinted just as hard as I could go. I caught up to the front Russian and sped past him into the lead. Fear gripped me. I sprinted the entire lap as was my calling but when I got back to where Coach Bell was standing, I could hear the sound of running shoes hitting the ground. The Russian was right behind me. I couldn't slow back to race pace. Instead I sprinted another lap.
The fans in the stand had never seen an American runner leading the Russians and they started screaming. In high school, when people scream someone is going to pass so I pushed hard to show them we were not Lazy Americans. In the end they had not passed and I was on the final straight. I expected them to finally sprint past me but when I hit the tape I was all alone. I looked back down the track but there was nobody there. It was my own feet striking the track that has me is such fear....

6. I read somewhere that you trained hard. You stated "race your workouts." Were you pushing yourself in every workout?
In the beginning my training miles were rather slow. I ran to Mt. Spokane, a distance of about 44, at a mere jog. I ran to a lake 57 miles away at a jog. But as I got in better condition and the competition got stiffer, I started using a watch a bit and trying to get somewhere at a faster pace. I timed myself to the top of Mt. Spokane. I would sprint a half mile or so during a long run. Sometimes a bike would go past and that was a challenge for sure. Even cars were racing material by the time I was a senior in high school.
7. You averaged over 240 miles per week for a year. That's a lot of mileage. How did your body handle it?
I did not count miles. I had no idea how many miles I was running. I just ran as much as I could run. I loved to run. Ron Clarke was writing a book and wanted to put in a word about me. He asked me how many miles a week I was running. I didn't know so he wanted me to recreate a typical week. When we got to around 45-miles in a single day he cut off the interview and asked my coach instead. Again the coach had to try and recount miles that had never been counted before. In the end Ron Clarke used the figure 25-35 miles a day because he didn't think any more than that would be believable.
8. A sprained ankle cost you the gold medal at the 1964 Olympic Games.
I was running down a small trail in Yoyogi Park next to the Olympic Village and I stepped on something sticking up out of the ground. At first I tried to continue running but the pain was too much. I went back to the Olympic Village to seek help from our trainers. The head coach of the USA team was a pompous guy from an Eastern university. He had been upset with me because my training was usually done in Yoyogi Park with one of the assistants or on my own and NOT on the training track. He had threatened to send me home saying I was not training.
When I went to the training room that coach was there. Every day he closed off the training room to athletes so the trainers could give him a full body massage and let him sleep for a couple hours undisturbed. My entry woke him up and he was boiling mad. He said I was faking it so I would not have to race. He forbid the trainers from helping me. The Adidas Representative set it up for me to go to a new kind of doctor from Germany; a sports medicine doctor. So I went to the German compound and got treatment there.
When the head coach heard that I had gone to the German Doctor he ranted at me once again. I was unpatriotic. I was undermining all America. He again was going to send me home. My high school coach arrived in Japan and had a heart to heart talk with the head coach and there was nearly a fist fight I was told later. An interesting side note. Billy Mills was my room mate. When he came into the room and saw me flat on my back with my foot elevated and iced, his eyes got BIG. "Gerry" He said. "I can win the gold medal. I can win the gold medal". He was hard to live with for the two days before the 10K because he was so excited. With me out, he said, he thought he could beat everyone else (and he did).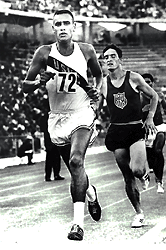 9. You and Billy Mills ran some amazing races together including the 1965 6-mile race were you both ran 27:11.6, a world record at the time.
Billy Mills, full of enthusiasm as was Billy's nature, ran up to me to warm up. I told him I was running for the world record and sure enough, Billy disappeared. The race was called and my ankle was bothering me. Billy came up to me on the track and said he would help me with the pacing. I take two laps and then he would take two laps. We would help each other for the first 5-miles of the race. A deal was struck. I took the first two laps and surprisingly, as soon as the gun sounded to start the race, my ankle was cured! I moved to the outside after two laps and Billy quickly shot through the opening and into the lead.

He picked up the pace to a near sprint, trying to psych me out for sure. After his two laps I waited for him to move out but he held the first lane, forcing me to move past on the outside. He held me off the entire two laps so that my two were in land two. That is how we raced through the first 4-miles.

At the 4-mile point is was again my turn to lead and we were on world record pace. I went by on the outside but this time I picked up the pace much more. I didn't want to go into my usual hard sprint at that point because I didn't want to mess up our pace. But Billy got my point and when it was his turn to take the lead two laps later, he struggled. At 5-miles our bond was over and I did a hard sprint lap to rid myself of the pesky Mills. At the end of the lap I started to slow back to race pace but Billy sprinted his own sprint lap and I had to just hang on.

With only two laps to race we were sprinting against each other in a grand way. For me this was what I had wanted to do my entire career. I could make Billy a better runner by giving my all. We came to the gun lap and we were neck and neck. All the way around we were together. Around the final curve of the track I found a little bit more speed and slowly I started to move ahead. At the top of the curve I let up just a bit and Billy came back into contention on my inside shoulder. To the finish we raced right together. At the tape Billy knew to lean and I went it straight up.
10. You mention that "Karma" was a large factor in your running success?
When I made the Olympic Team at age 18 I had a lot of trouble thinking I was Olympic Material. I was just a wimp. I started looking at other Olympians to see what it was that got them there. I was shocked to learn it was not natural ability. Almost every athlete I talked with stated that when they were new to the sport they were not as good as other athletes.
11. You mentioned that a runner should pick one event? What was your event?
I was a miler in high school; I ran XC in the fall too but in track I was a mile specialist. I see so many runners spread into several events and focus on none. I think that by focusing on one event you live that event. You know where to go faster and where you can run best. If a runner competes in several events this focus is lost.
12. Were you ready for all the attention running brought you?
I was never prepared for the success that came my way. Suddenly being forced to the forefront of my sport was very hard to take. I decided that I was just extremely lucky to be racing so well. I didn't even want to win races; I wanted to make races great and help other runners.

13. Are you a good coach?
I seem to be a pretty good coach, but I doubt that I will ever get an opportunity to actually coach a team. I coached the girl distance runners at Univ of Hawaii for a year and a half but the head coach 'let me go' when several of the girls on the team suddenly started to show signs of greatness. I have coached other runners by e-mail; even had some of my runners run in the Footlocker Nationals. Now most of the coaches follow what is written in books. They have a program that the runners must follow. I don't read books on how to run. I know that the books were written by asking successful runners what they did. I think it is better to just go out there and do it and not know HOW.
Comments and Feedback

Thanks Gerry for doing this interview...how can anyone ever forget how good of a runner you were in high school. Running a 13:44 5k as a senior. And that was back in the days of cinder tracks and heavy shoes...
Bob Anderson 4/2/12 11:48 pm

Wow! what an inspiring story! thanks for sharing!
Catherine Cross 4/3/12 5:18 pm

Great interview. What an interesting guy. Gotta love his goal in life.
Justin Wall 4/20/12 2:52 pm