4. You say in your book you were "born to run." When did you first make this discovery? My running journey began with a timed mile in my seventh grade physical education class. I got all my competitive experience through middle school, high school and college meets. Before coming to the U.S. I didn't even know running was a sport; after just a few races I knew it was my sport.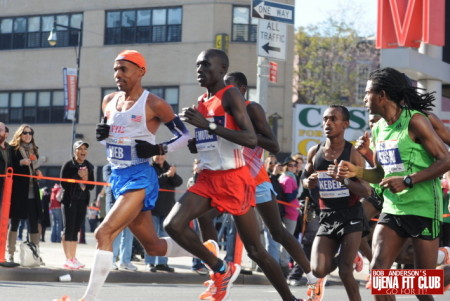 Photo: Meb in control at the New York City Marathon 2011 at about 10 miles, photo by Keith McNulty Ujena Fit Club
5. In your book, you talk about the importance of the ING New York Marathon. Can you elaborate on that for us? I knew New York was not going to be easy. The lineup included four Olympic medalists and six world track and field champs. Some people thought I was too old at 34, or too complacent with my Olympic medal to be a factor. A series of disappointments and injuries in 2006 through 2008 had people discounting me. Other doubters figured my wife and two children put too much on my plate to summon the focus.
Victory at the 2009 New York City Marathon was important to me.The race hadn't had an American winner since Alberto Salazar in 1982. I also wanted to something special in honor of my friend and former training partner, Ryan Shay, who died of cardiac arrest in 2007 while we were competing in the Olympic trials marathon in Central Park. I hope that my victory at the 2009 ING New York City Marathon teaches people not to give up on their dreams, even during difficult times.
6. Do you see some parallels going into the 2012 Olympic Trials with what was going on in your head before the NY race? I went into the 2008 Olympic Trials in great shape, hoping to win my first ever marathon. Unfortunately it didn't work out that way. Not only did I not win the race, but I missed making the Olympic team. This year, I have not had the ideal training leading up to the Olympic Trials. But I was in great shape 69 days ago in the NYC Marathon and I feel like my fitness is good going into the race. But at the end of the day, it is the performance on race day that materials…so we'll see what happens on Saturday.
7. Did your win at the San Jose Half Marathon help your mindset for the Olympic trials? My training and competitions in the last few months have definitely given me a lot of confidence going into the Olympic Trials.
8. How has age changed your training, or has it? I've been working with Coach Bob Larsen for almost 17 years. Throughout the years we have refined our training. The older you are the longer it takes to recover, so that has been a big focus. I have been stretching more and doing more drills to keep my body strong and flexible.
9. What special things did you do for these trials? Any major changes in training, diet or plans for race day? I have been training hard and smart throughout my career. The many years of training helps me get fit quicker.
My nutrition is designed to help fuel me for training and recover also. I have also been using Generation UCAN, a protein-enhanced sports drink to help me recover from workouts.
10. What advice would you give to high school and college athletes who have economic disadvantages but a dream to step into the Olympic circle? Set realistic goals. Work hard to achieve those goals. Once you achieve them, it is okay to reset you goals to something bigger. Throughout the process, stay focused, disciplined, and persistent.
For additional information -
UjENA FIT Club Profile link: Meb Keflezighi