Finishing in fifth place overall in the men's race was Jose Pina, Sr., 44, of San Jose, who also was the men's Masters champion, as he recorded an aggregate time of 51:11 (33:58/17:13).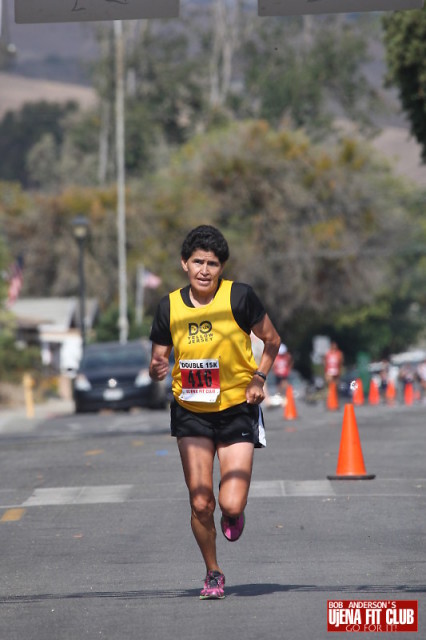 Photo: Rosa was the overall female winner.
In the women's division of the Double 15K, the indomitable Rosa Gutierrez, another veteran of the Double, finally broke through to win the women's overall championship in a Double. Running in her fifth Double 15K, the 50-year-old from San Jose strung together splits of 40:31 (10K) and 20:11 (5K) for an aggregate time of 1:00:42.
Linda Sereno, 54, of Salinas, Calif., running her first Double, finished second with an aggregate time of 1:06:01.
Sharlet Gilbert, 63, of Richmond, Calif., was third with a combined time of 1:10:47 – and in the process unofficially clinched first place, and the $1350 prize that goes with it, on the 2014 Women's Double 15K Leader Board.
The winner of the prestigious Double Victory Cup at San Juan Bautista for best age-graded performance was Brian Davis, 59, of Livermore, Calif. Another competitor who has run numerous Doubles, his aggregate time of 57:25 (38:18/19:07) translated to an 88.27 age-graded percentage, which was fractionally better than Darius Terry's 88.24 score and Sharlet Gilbert's 88.08 score. This was the first time Brain Davis has won the Double Victory Cup.
The Double 5K in San Juan Bautista was a repeat of the Double 5K in San Jose a month earlier as Pedro Montes, 30, of Santa Cruz, Calif., and Omar Pina, 13, of San Jose finished 1-2 again, posting aggregate times of 17:32 and 18:45 respectively. They had run 18:25 and 18:36 in San Jose.
Della Marquez, 55, of San Jose was the women's winner in an aggregate time of 26:23.
Omar Pina, who's the youngest son of Jose Pina, Sr., then came back to win the Bob Anderson Kids' Cup Double 1½ Mile as he had in San Jose, posting an aggregate time of 8:30 after running 5:31 in the opening one-mile leg. His aggregate time in San Jose had been 8:46.
This talented young man, who has now run two double Doubles in four weeks, will be eligible for one more Kids' Cup Double 1½ Mile – and that will be in Pleasanton, Calif., December 21 – before he turns 14.
The girls winner in the Bob Anderson Kids' Cup 1½ Mile in San Juan Bautista was Natalie Mazaud, 12, of nearby Carmel, Calif., who posted an aggregate time of 9:36, running the mile leg in 6:19 and the concluding half-mile leg in 3:17. She had won the event in San Jose with a combined time of 9:39.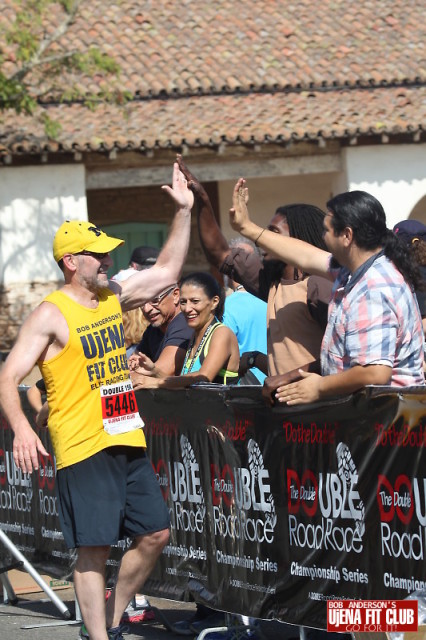 Photo: Gary Greenberg after finishing the second stage of the Double 15k
So there was a lot going on in San Juan Bautista in the run, fun, food and entertainment departments. Bob Anderson, the creator of Double Racing® and the original founder of Runner's World magazine, said after the San Juan Bautista Double Racing® Festival, "It was great. It was really, really a fun event. A lot of people were saying this was the best Double ever."
It's safe to say Anderson will try to make the next Double Racing® competition even better. He is nothing if not a proud parent where this new sport and competition is concerned.