The 2012 Dipsea Race
Monday, July 16th, 2012
72-Year-Old Hans Schmid wins the whole enchilada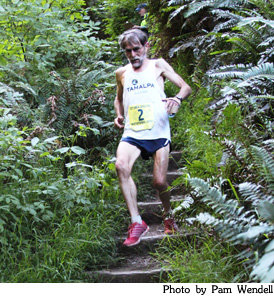 (Mill Valley, CA) - If you thought a 72-year-man would win the 102nd Dipsea, raise your Hans.

Competing in only his sixth Dipsea, Hans Schmid of Greenbrae on Sunday become the oldest winner in the history of the quirky 7.5-mile trail race from downtown Mill Valley to Stinson Beach, holding off 41-year-old marathon runner Chris Lundy of Sausalito. Schmid, with a 23-minute head start, beat Lundy, who had a 10-minute head start, by 27 seconds.

"This is one for the old guys," said Schmid, who didn't start running competitively until he ran a 5-kilometer race along Lake Michigan in Chicago at the age of 63. "Will somebody pinch me to make sure I won the whole enchilada?"
Comments and Feedback
,,,,,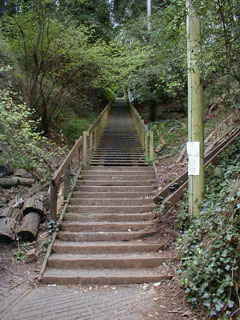 Photo: this is a tough course. These are the famous Dipsea steps.
The retired natural foods importer and distributer eclipsed Joe King as the oldest competitor to ever win the event, the second oldest foot race in America behind the Boston Marathon. King won the Dipsea in 1996 for the second year in a row at the age of 70.

Schmid, who finished second last year in the Dipsea, ran 46 seconds faster this year and helped his club team, the Tamalpa Runners, win the Team Trophy for the 34th time in the last 35 years. Schmid warded off a strong effort by Lundy, who clocked the fastest time (57:38) by a female in the field.

"I tried to catch him all the way down from Cardiac (the highest point on the course at 1,300 feet above sea level)," Lundy said.

"It shows what a great race Hans ran today."

Diana Fitzpatrick, 54, of Larkspur placed third, her highest finisher ever in the Dipsea, and 26-year-old Alex Varner came in fourth again, yet became the first runner in Dipsea history to win the best time award for the fourth consecutive year. His time was 49:01.

"This is the best I can do," said Varner, who missed six weeks of training with a foot injury. "When I go into it, everything has got to go wrong with everybody else and incredibly right for me to win this thing."

Varner was a scratch runner with no head start in the event which awards head starts to runners based on age and gender. He had to pass more than 400 runners in the tight and treacherous course just to capture fourth place. Brian Pilcher, the 2010 Dipsea champion from Ross, finished fifth and defending champion Jamie Rivers, 61, of Mill Valley placed 10th, one spot ahead of 16-year-old Julia Maxwell of Ross who was the first high school runner to finish in the field. Trevor Reinhart, 16, of Ross was the first boy high school finisher at 41st.
Hans is a member of the Ujena Fit Club and will be featured in the "A Long Run" movie. Good job Hans!!!!