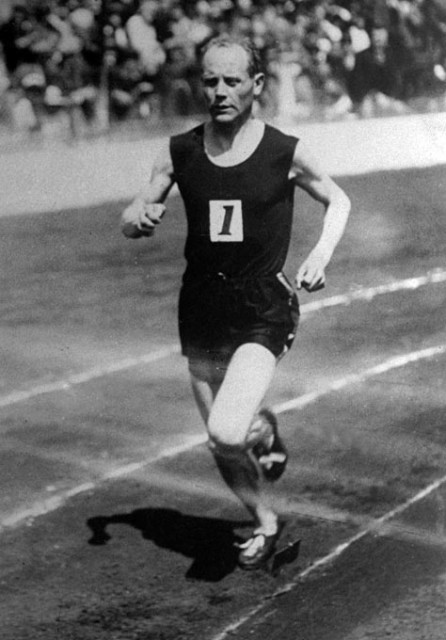 For six straight days, from July 8 through July 13, 1924, Nurmi ran seven races including the finals of the 1500 and 5000 on the same day—July 10. To add to the difficulty of his task, it was an extremely hot summer in Paris that year with temperatures exceeding 100 for most of that week. Nurmi would have liked to have started this Olympics with the 10,000 on July 6, 1924 but Finnish officials did not want him to compete in this event which was won by his countryman Ville Ritola in a world record time of 30:23.2. Runners from Finland's powerhouse program also won the bronze and took fourth in this event. According to several reports, the ever confident Nurmi wanted to prove to the Finnish officials that he was also the best 10,000 runner in the world and broke Ritola's world record six weeks after the Olympics with a time of 30:06.2.
The timeline of Nurmi's seven races with seven victories, five Olympic gold medals, and two Olympic records went as follows:
July 8, 1924: Semi finals of the 5000. Nurmi easily wins his heat in 15:28.6 to qualify for the finals.
July 9, 1924: Semi finals of the 1500. Nurmi again easily qualifies for the 1500 final with a win in his heat at 4:07.6.
July 10, 1924: Nurmi's first race of two on this day is the finals of the 1500. He is pushed to a new Olympic record of 3:53.6 by runners from Sweden and Great Britain and narrowly misses his existing world record of 3:52.6. The second race on this day for Nurmi is the 5000 final. There is quite a range of the reported time span between the finish of the 1500 and start of the 5000 from a low of 25 minutes to nearly two hours. Multiple accounts set the time at about 40 minutes of rest between the races. Nurmi wins his second Olympic gold medal of the day, beating his Finnish rival Ritola by two tenths of a second in another Olympic record time of 14:31.2.
July 11, 1924: Semi finals of the 3000 team race. Nurmi wins his heat in 8:47.8 and the Finnish team easily qualifies for the finals with a sweep of the top three places.
July 12, 1924: Cross-Country Individual and Team final. This was perhaps the most difficult physical challenge that Nurmi faced during the six days of racing. Due to the difficulty of the course with its hills and deep weed cover, and the intense heat, only 15 of the 38 runners who started the 10k (actually 10,650 meters) race were able to finish. Nurmi easily won the individual title by nearly a minute and a half over Ritola for his third Olympic gold of the week. The Finnish team won over the second place USA team for Nurmi's fourth gold medal.
July 13, 1924: 3000 team race final. Nurmi wins his seventh race in six days with an individual victory again over his teammate Ritola in a time of 8:32. Finland also picks up a fifth place finish in the race to win the team gold medal for Nurmi's record setting fifth gold of the 1924 Olympic games.
Led by Nurmi and his incredible 6 days of racing, Finland totally dominated the distance events in steamy Paris. The Finnish runners won every distance event from the 1500 up for a total of 8 gold medals and showed their depth with three silvers, a bronze, and 5 other top 5 finishes. Nurmi continued his Olympic performances in the 1928 Amsterdam Olympic games at the age of 31. There he won the 10,000 in an Olympic record of 30:18.8, placed second to Ritola in the 5000, and ended his Olympic career with a second place in the 3000m steeplechase behind a world record performance by another Finnish teammate. Most of the sources reviewed site this final as only the second steeplechase Nurmi had ever run—with the first being the preliminaries three days earlier.
This would be Nurmi's last Olympic games. Speculation about his amateur status led the International Amateur Athletic Association to suspend Nurmi from international competition—including the 1932 Games in Los Angeles. Though he was unable to run, Finland continued its Olympic distance running domination in 1932 and Berlin in 1936 by winning 10 of the 18 medals presented in the three distance events. Nurmi continued to run competitively in his home country through 1934. Even with the greats of recent times like another Finnish Olympic star in Lasse Viren or even more recently Kenenisa Bekele of Ethiopia there likely will never be a more decorated Olympic champion in the distance events than Paavo Nurmi. And, with the changes in event schedules over the years to avoid same-day distance finals and add rest days between the finals and qualifying rounds, there will never be another distance runner accomplish so much in six days straight of Olympic competition. Six days, seven races, five Olympic gold medals—kind of says it all for this greatest of all Olympic distance champions, Paavo Nurmi.