4. Tell us about how your approach coaching?
The 10 years I spent coaching cross country and track at Kansas State University as the head women's coach, and for a time as the men's sprints and hurdles coach, brought me full circle in running and was one of the most rewarding periods of time in my life professionally. First, and most importantly, I met my wife of nearly 40 years, at the start of my coaching career, who helped create a family atmosphere on the team and played a more important role in the success of those I worked with than she will ever know. Secondly, I found that watching and helping individuals set realistic goals and challenge themselves each day to reach those goals provided me with a sense of pride unlike any I had ever experienced in my own running and racing career.
Photo: "It is good to have Barry on the team. We have not worked together for years," says Bob.
5. What was it like in the beginning?
My responsibilities today with our Ujena Fit Club are the same as they were when I first placed an ad in the student newspaper in late 1972. The ad asked anyone interested in running for theKansasStatewomen's track team to report to our indoor track for a meeting and workout on a Monday evening at 7:30. The group of 30, or so, that assembled were much like our Fit Club members. A few were highly experienced. One, who had been training with our men's program, won the collegiate national women's championship in the mile (4:45.8) earlier that year. Another, totally inexperienced, actually wore a pair of work boots to the workout and literally did not know what direction to run around on our indoor track when I asked them to take a few warm-up laps. By the way, that second young lady with the boots became a 2-time All American and a national champion on our 4 x 880 relay.
I will always believe that the success our teams enjoyed were largely due to those student-athletes that may have never won a race. Every day, without exception and without the need for attention or urging, they came to workouts ready to put in another day of work to reach their own goals. These ladies probably didn't realize that they were setting the example for what it takes to achieve one's goals and build a team spirit—and also, they exemplified a love of running that became contagious.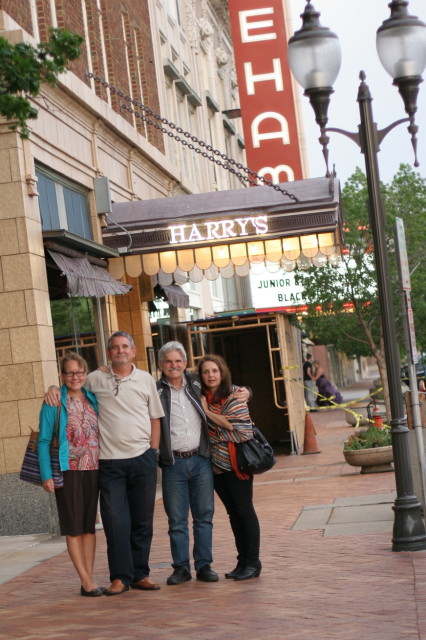 Photo: Manhattan is a cool town. Great place to eat is Harry's. Barry, Vicki, Bob, Catherine and Michael ate there in April. Bob ran the Kansas City Half Marathon the day before.
6. How do you see the Ujena Fit Club helping?
Though we will not all be able to gather together every day in person like these teams of my past, I hope that this same team camaraderie and love of running is, or will become, a major part of our Ujena Fit Club members lives. There are days when running is not easy and we need to help each other to hit the roads and not give up on our individual goals…whether they be to run a sub 18:00 5k or to live one day longer due to improved fitness and health. There will also be days where you will feel like you could run forever. Both are, in reality, what running is all about.
At this point in my life, I am looking forward for the opportunity to revisit the pride that I have enjoyed in the past by trying to help each of you reach your individual goals. You are encouraged to ask questions in your posts and I am sure that someone on our coaching team can help get you an answer. You are also encouraged to get others in your life to run and join our club. It is certainly easier to get out the door some days if you have a running partner. And, if you are finding something that is working well for your running, share it on our web site for the others in our club.
Take pride in being a member of the Ujena Fit Club. If you are racing, be sure to get a Fit Club shirt and wear it at your races. Post your results on our web site so we can all follow your progress and enjoy your successes. If you are running only for fitness, also wear your Fit Club shirt when ever possible. It just may open the door to another runner joining our club and expanding Bob's ultimate goal—Inspiring a Fitness Revolution…One Step at a Time.
Enjoy your run.