13. Are you still coaching?
Not so much...I write the marathon training program for the guys at the Olympic Club and will work with a select few athletes here and there...just helped a group with specific work aimed at winning USA Cross Country National Championships (they succeeded) and another athlete with whom I had coached for many many years had me advise them going into the Olympic Marathon Trials a couple of weeks ago. By and large, coaching is on the back burner for now...and while I loved the excitement of prepping athletes for the post collegiate national stage, likely my next coaching gig will either be with kids or at the high school level...a level where you can make a difference in young lives going forward by teaching lessons learned through sport.
14. Are you still involved with Rolfing? We don't hear too much about this recently. Is deep tissue sport massage basically the same thing?
I have had just over 300 sessions of rolfing in the past 12 years...the specialist I see does all that really deep tissue stuff and more importantly a lot of nerve work. If it wasn't for him (James Schwartz) there is no way I'd still be able to run...he has taken 10 years or 20,000 miles off my legs...seriously. I also do ART (active release therapy) with Doug Kyle whenever there is something acute...and knock on wood, I haven't seen him in six months...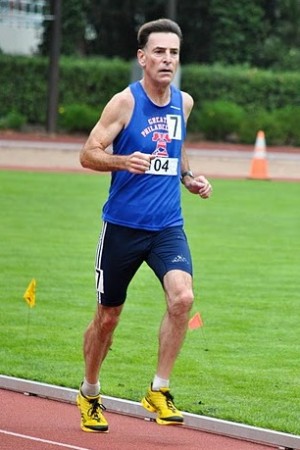 Photo: Racing 5000m at the PA USATF Masters Track and Field Championships 2011
15. How are you adapting to aging?
Well, once you get over the fact that you're never ever going to run as fast as you once did, then you're "on the road to recovery"...seriously, I am so so thankful that I trained and raced and sacrificed as hard as I did as a younger man as those experiences are absolutely priceless. Funny thing is that I so appreciate being ABLE to run today, albeit much slower. I have frankly never enjoyed running as much as I do right here right now.
16. Your 2:25 marathon when you were younger would be equal to about a 2:51 marathon at age 55. Does it seem like the two should be equal based on age-graded?
You know, I just don't pay a lot of attention to quantifying performances by age grading...what I ran in the past is what I ran in the past...what I run today is the present...am a "be here now" sorta guy. The beauty of our sport is that it is so quantifiable in distance and in time...black and white and beautiful baby!
17. How important is your race time to you these days?
How important? Absolutely critical! I am very realistic about what my body will enable me to do training-wise without breaking but I train really hard to race as fast as I possibly can. I try to set "modern day PRs" without beating myself up with that "used to be" self talk.
18. How involved are you in the current running scene? Do you follow the sport as much as you have in the past?
I am a humongous fan of the sport through and through. Love the sport's history, trivia, characters etc. Aside from middle and long distance races, I totally dig following the decathlon. I actually have a remarkable memorabilia collection...like 90% of the past 100 years of Penn Relays meet programs and esoteric stuff like that. I NEVER miss the Olympic Track and Field Trials (my very favorite meet in the world bar none) and will of course spend 10 days in Eugene this June. I love traveling to World Championships etc. and in fact, although we had a London Olympic ticket debacle, along with two other couples we are renting a house in France for the entire week of track and field at the Games this August...the biggest criteria on which property to rent was that it HAD to have an English language BBC feed so that we can see everything single event live while it's happening...next best thing to being there.
19. What running goals have you set for yourself in the coming year?
Aside from running my 100,00th mile? Is that not enough?? Seriously though, assuming my wrecked feet will hold up, I'd like to try to make the masters national track and field rankings at 800, 1500, mile, 5000 and 10,000...I just love the purity of racing and training on the track.
20. Are you going to do anything special when you run your 100,000th mile?
Am trying to dovetail the 100,000th mile with the Philadelphia Marathon on November 18th...my very first marathon was Philly Marathon 1972 so combining 40 year marathon homecoming with the magical 100K mile seems like a perfectly geeky thing to try to do...afterwards, we'll be the guys drinking way too much champagne and hanging out at the Rocky Balboa statue on the top of the Art Museum stairs that he made so famous
21. How many miles a week are you currently running? Have injuries slowed you down in reaching your 100,000 mile goal?
Most of my body parts are still in really good working order except for my feet which have been really bad for probably 20 years...am in constant management mode and been able to avert the prescribed surgery...just have to deal with a lot of very sharp pain pretty regularly. I can not even wear real dress shoes anymore uggghhh. I managed 2209 miles in 2011 which averages just over 42 miles a week...just 1700 miles to go!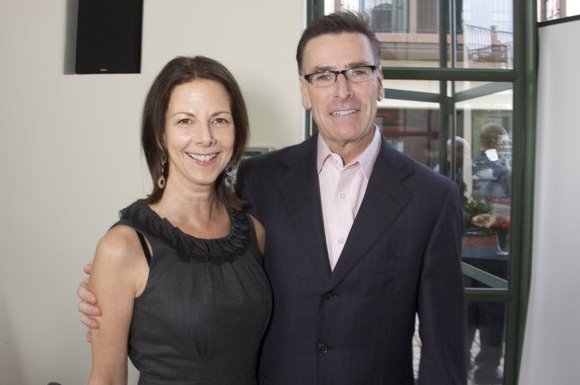 Photo: Mike with wife Renay at "Top Producers" Real Estate awards dinner in 2011.
22. What is your "normal" day like these days?
Up by 5:45, coffee, read two or three newspapers, track the opening of the stock market, respond to client e-mails and out the door running by 7:30...a round of push ups and sut ups and then work mode till about 7 PM...catch Jeopardy over dinner, a little more work and lights out usually by 9:45 then repeat. The famed Villanova coach Jumbo Elliott taught his athletes to "live like a clock"...I do.
23. You play a lot of golf. Does golf give you the same feelings as does running?
Golf feels different than running...except for when I miss a two foot putt...then it hurts even more than running. Golf is amazingly zen for me...lots of self talk , strategy, figuring out the risk reward ratio of the different options, analyzing biomechanics...I really enjoy it and unlike some folks that stress out over the game, it takes the edge off for me. Come on, how bad can a five mile walk on a grass carpet be after all.
24. Have you been able to mix running and golf? Does one help the other?
I find that the long walk is a good activity on one of those "active recovery" days ...I still get in a run but an easy one. In fact if I try to play the same days as a hard workout, I am usually to tight in hamstrings, gluts, and back to swing fluidly. The one way that I find that running helps golf is between the ears. It's a really mental game loaded with self talk and visualization. Basically everything that I know about those topics I have learned from running.
25. How would your life be different if you had not found running?
I shudder to even think about what path I may have gone down. I look at some of the guys that I grew up with (those that are still alive) and thank my lucky stars for the day I got bit by the running bug.
26. What do you think of the present running scene?
I am really pleased and impressed with the resurgence of American track and field and distance running as a whole. The running scene is so strong and healthy at the grass roots high school level all the way up to our Olympic ranks. I mean 2:09 did not make the team at the Olympic Marathon trials earlier this month...exciting times!
27. Do you think the big prize money at the major races is helping improve performances?
The only thing I see big prize money doing is to help fund the retirement coffers of foreign athletes that come to America to earn a living as road warriors. As far as US running development is concerned, chasing races for a pay day is a sure way to reduce the likelihood of reaching one's maximal potential...a distraction at best.
Photo: Mike's day job...representing buyers and sellers of fine residental properties in San Francisco and Marin County
28. As a successful professional in the high end Real Estate business, has it been hard at times to find time to run?
I make running a daily priority...my current "streak" is a week away from 400 consecutive days. I find that the best way to assure that it gets done is to do it early in the morning before life has a chance to get in the way. Rather than miss a day, I'll get out and pound the pavement at 4:30 a.m. if that's what it takes for a particular given day.
29. Has running helped you in your business? The time spent running is a great way for me to strategies and problem solve the complicated issues that come up regularly in an exhaustively detailed real estate transaction.
30. Is it pretty cool to be a member of the SF Olympic Club?
What most people don' know about the Olympic Club is that it is the nation's oldest athletic club and was established in 1860. Yes, older than the New York AC. I am honored to be a member in good standing in this historic and storied club...beyond cool!
Photo: SF Olympic Club
31. How often do you play this course?
I like to play around...golf I mean. So while I play OC maybe 10 times a year, I play at a lot of other really neat and interesting course. I've played Bandon Dunes, Pebble Beach and even Cape Kidnappers on the North island of New Zealand. I collect Alistair Mackenzie designed courses and have yet to play his Cypress Point or Augusta but hope to at some future date...just awaiting an invite ;}
32. Does your wife run? or play golf?
Golf? never. Run? Oh yes...we actually met at the 100th Boston Marathon and are about to celebrate our 15th wedding anniversary. You could say running has brought some very nice gifts to my life and this one is the very best gift of all!
33. Do you ever go running with your dog when hanging out at your wine country vacation home?
Baci, a visual, is over 13 years old now and so his running days are mostly behind him the past year or so although he did a two mile hill with me just last week. We did many many miles on the trails of Mt Tamalpais and up at Lake Sonoma in wine country. Man that dude could run!
34. Is there anything you have not done but want too?
When I turn 60, the World Masters Track & Field Championships are being held in Perth, Australia so I've got that on the agenda...probably some weirdo double like 800 and 10,000 meters. I've also got a hankering to do the Comrades ultra marathon in South Africa and a speed trek to the top of Kilimanjaro. Surely those three pursuits will keep me busy for a little while longer.