Mary Etta Boitano Blanchard - Interview No. 9
Monday, January 23rd, 2012
Our Whole Life Was Running!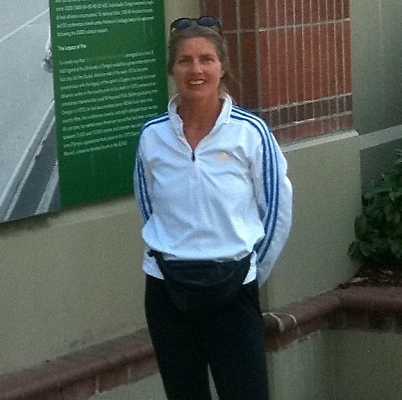 Mary Etta Boitano Blanchard, is a San Francisco native and started running long distances at the young age of four. She ran her first marathon at the age of five in Petaluma, CA. She continued running at San Francisco State obtaining a BSN degree in Nursing. Currently she coaches cross-country and track at Justin Siena High School. She enjoys running, training 60-70 mpw occasionally jumping into road races.
She ran her first Dipsea when she was five. Her parents entered her as M. Boitano and she ran with a cap. She was supposed to be a boy. Women couldn't run distance races back then. At age 10 (in 1974) she ran a 3:01 marathon and won the Dipsea (it is a handicap race) and the Bay To Breakers (43:22) the same year as well as in 1975 and 1976.
I can remember running a marathon in 1973 when at about the half way point a little girl caught me and passed me easily. I tired to stay with her (she was like nine years old) but she just kept pounding out the miles. It was the first and only time I ran against Mary Etta Boitano.
When I got to the Runner's World offices on Monday, I told Joe that we just have to feature this amazing girl on the cover. Over the years we lost touch but about the year ago we found each other on Facebook. I was glad to hear that she loved running just as much as ever. Mary you are such an inspiration. What an amazing story. (Interview by Bob Anderson)

1. Tells us about growing up as a Boitano?
I loved growing up as a Boitano. I should probably write a book. My older brother, Mike, and I enjoyed playing sports in school and at a very early age got involved in road and x-c running with our parents.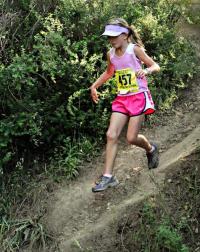 One of her favorite races is the Dipsea in Marin County just north of San Francisco. She won the Dipsea in 1974 at age 10.
2. Your parents was very involved in the running movement?
Both of my parents, John and Lucille, were instrumental in starting two running groups. In 1967, our family started to run around Lake Merced every Wednesday and then go to Shakey's for pizza. People would pull their cars over and ask what we were doing. We told them we were running to stay in shape and invited them. At the time, we unknowingly were recruiting runners. The word spread about us and a running group started to form. It got so popular, that we started to have races. It was fun and the runners were mostly parents looking forward to having pizza and beer after our runs. The kids looked forward to pizza, playing arcade games, watching the black and white videos like the Little Rascals and Laurel and Hardy and playing outside with each other. That is how the PA-MA-KIDs Club started.
My father was also a member of the South End Rowing Club (SERC) and Walter Stack was a member of the Dolphin Club. Walter lived up the street from us and on Saturdays we would run 20 miles with him. Then on Sundays, we would head down to the club and race along the Marina and the Embarcadero. Word spread that our family was running at the SERC too so we had tons of runners showing up there each week on Sundays. The numbers grew. My father and Walt combined the two clubs and started the DSE Runners. These are the two biggest running clubs in the city today.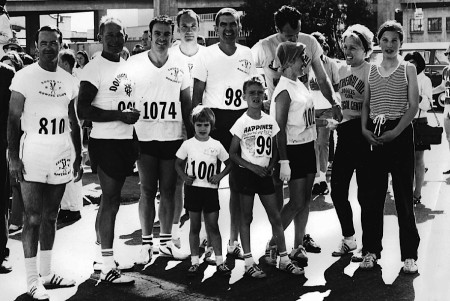 Photo: Early days of the DSE Club. Walter Stack, my family and Pax Beale at the 1969 Bay To Breakers.

My mother and I were instrumental in getting the approval in 1971, from the AAU to run in road races. Before then, women were not allow to run races longer than 1500m. That was also the limit in the Olympics. My mom and I would enter races before 1971, with our first initial and our last names. We wore caps and scarves to hide our hair and dressed in a t-shirt and shorts. Most people thought I was a little boy and no official would dare mess with my mom or me by pulling us off the race course for fear of the wrath of my father.

My father was WWII Airborne. He made it through three big campaigns which were Normandy, Market Garden, and the Battle of the Bulge. He jumped into Normandy and into Holland and fought in Bastogne during the Battle of the Bulge. My parents were very well liked so I guess most of the officials turned a blind eye to my mom and me.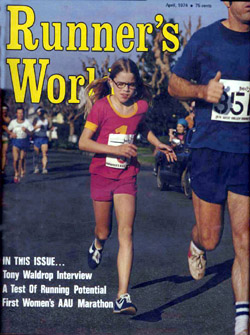 3. Was it your idea at age five to run a marathon?
No, it was my parents' idea. I was curious about the race though and wondered if I could finish it. Unfortunately, I didn't. I ran 20 miles and quit. DNF was the acronym you got in the area of where your time should have been posted in the race results. I hated to see that and it was on the big board at the finish and came out in the race results. At the time, I was very disappointed. I wanted to finish. My first marathon was in Petaluma and it was 25 degrees and raining that morning. I wore a t-shirt and shorts and was freezing. I spent over 3 hours running in the cold and rain. I was miserable and could not wait to be done and back in the car heading home. In retrospect, I think I did pretty well.

4. Do you remember what it was like pushing yourself at that age?
I had endless energy. I loved running in Golden Gate Park. I chased my brother all the time. I was hoping to some day be as strong as he was and beat him. However, that only happened a couple of times.

5. What kind of training were you doing?
We did it all. We did hills of course living in the Castro in San Francisco. We were surrounded by hills. We trained on trails. We traveled to Marin and ran a lot on the Dipsea and did fartleks. We did mile repeats on the roads. We did intervals on the track. I loved running stairs and we would train up 22nd Street. It prepared us for the 647 steps at the beginning of the Dipsea.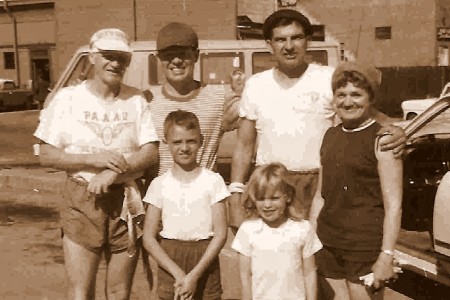 PHOTO: Start of the Dipsea near the Train Depot 1967 with my family.
6. Were you also able to do "normal" kid things?
I was pretty much able to do everything I wanted to do. My parents were pretty guarded, however, as far as my legs were concerned. My father did not want me to go skiing or ice skating for fear of falling and hurting myself. I can understand that considering I had some big races that I needed to run.

7. At age 10, you ran a 3:01 marathon. An amazing time for any age?
I remember that race well. It was in Burlingame. It was the first national women's marathon. There was a discussion about men running in it and eventually men were allowed to compete in the race as well. I ran a pretty conservative race. I remember feeling like I was running too slow. My father wanted me to run around 3 hours so I had to be smart and run a little faster than a 7 minute pace. The course was easy to gauge because we ran a five mile loop five times and then a one mile loop. Even though it sounds pretty boring it made it easier to race and pace yourself.

8. Why do you think you were able to do what you did before your 13th birthday?
I did what I did because I had the family support. That is what we did. We trained. We started running back and forth to school. It was nothing but hills on the way home. When my father came home, we would head out and run some more hills. Sometimes we would drive places to run. Other times we would just run from the house. Our whole life was running and keeping fit.
Comments and Feedback

It is so great to know that you love running just as much now as you did at age five...maybe even more! What an amazing story...see you in Sonoma this coming July! Thanks for doing this interview...
Bob Anderson 1/23/12 12:48 pm

Loved this interview! What an amazing story! Thanks for sharing!
Jodi Labossiere 1/23/12 1:38 pm