16. What role did Runner's World play in this? Right place at the right time?
Browning's Long Distance Log provided results only, how fast the few hundred long distance runners in the country did in the Boston Marathon and the few other road races available in the 1950s and 1960s. Distance Running News (which became Runner's World) told us how to train to get those results. That plus motivational articles and features on the heroes of our sport and (perhaps equally important) the ordinary people who changed their lives by the simple act of putting one foot in front of the other. Let's not overlook the writing of Joe Henderson and Dr. George Sheehan and Dr. Joan Ullyot and myself whose work was featured in the magazine.
17. Tell us about your running in the 70's. Did you change your training after turning 40?
My training evolved over the years. I prospered with interval training, but it also led me into a cul de sac until rescued around 1962 by Fred Wilt, a member of the 1948 and 1952 Olympic teams. At that time, Fred was working with Buddy Edelen who was living and training in England, exchanging diary sheets by mail. Buddy would record his workouts, even what he ate and how much he slept, and mail them to Fred, who would return the sheets marked with a red pen.

I had been coaching myself until that point, having finally learned what it took to maximize my potential. But it's said that a lawyer who represents himself has a fool for a client, so I asked Fred in 1963 to supervise my training. He agreed and was responsible for my breakthrough at Boston the following year. But by then I was in my 30s and younger runners were coming up behind me. I continued running but without the intense focus on winning races.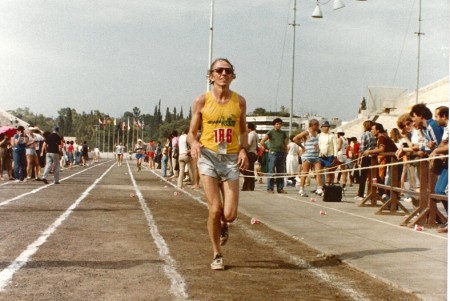 18. Do you think you have a lot of natural running talent?
I had talent, but not what I would describe as "a lot of talent." My fastest time in the mile at age 26 was 4:13.6 was good, but the best runners of the era were 10-15 seconds faster. Knowing what I know now about the sport and if I had started to train seriously in 6th grade, I probably could have run even with Emil Zatopek, except none of the other more talented runners from my era knew how to train properly either and few had jobs (or the lack of jobs) that would have allowed them to maximize their ability.
19. What was your race strategy? Did it change over the years?
My race strategy early in my career was to go out fast with the leaders and try to hang on for as many laps as I could. That allowed me to pick up a lot of 5th and 6ths at national championships. The main reason I finished 5th at the 1960 Olympic Trials was that as slow as I ran the final lap, everybody behind me ran it slower because they gave up when they knew they weren't going to be in the top three.

But this strategy didn't work in the marathon, as I discovered when I shifted to that event. I failed to finish my first three marathons, because I tried to run with the leaders--the Japanese, the Finns at Boston--and that left me sitting on the curb at 22 miles. As a master runner, I became more patient and became the runner passing everyone else in the last few laps or the last few miles.
20. You have run over 100 marathons? Was this by plan or did it just happen?
It just happened. I didn't run my first marathon until age 28 and over one period of 4-5 years I failed to run a single marathon because I was more focused on masters track meets. But over the years marathons simply accumulated. Numbers never meant much to me. I ran my 111th marathon while doing 7 marathons in 7 months to celebrate my 70th birthday. That seemed like a nice number on which to stop. A decade has passed after number 111, although it's always possible that I would do number 112.
21. Running has taken you all over the world. Any trips really stand out in your mind?
The 1990 Berlin Marathon was the first one in which the course went from West Germany into East Germany. And between the time when I entered and race day, the Wall came down. Coincidentally, the celebration of the reunification of the two Germanys occurred only a few days after the marathon, and I was able to see the fireworks over the Brandenburg Gate, a memorable moment, particularly because I had spent a year and a half in Germany while in the US Army and had raced in Berlin several times.
22. How many running books have you written? Is there any one that you are most proud of?
Thirty-six books, about a third of them on running. The one I'm most proud of is Falconara: A Family Odyssey, the book I wrote with my wife Rose, tracing her family history from the south side of Chicago back through the mountain village in Italy where her parents were born to Albania in the 15th century. When the Ottoman Empire conquered Albania in 1476, her ancestors fled to Italy and founded a village called Falconara. The villagers have continued to speak an Albanian dialect called "Arberesh" until today.

In fact, that was her parents' first language, one that Rose grew up speaking along with English. (I can speak better Italian than she can.) We spent 10 years researching the book, our work delayed because Americans were unable to travel into Albania until after the collapse of communism in 1991. Falconara: A Family Odyssey sold a few thousand copies, but I am more proud of it than any of my better selling books. Marathon: The Ultimate Training Guide has now sold a quarter-million copies in four editions.
23. Tell us about your running in the 80's. Did you change anything after turning 50? What successes did you have?
I won the M45 marathon at the World Masters Championships in Christchurch, New Zealand, five months before I would move into the next age group and theoretically faced slower runners. That challenge motivated me and resulted in a 2:29:27 performance, my second-fastest ever. Following that victory I took two months off from running and spent a decade running without any particular purpose. I competed in some cross-country ski races and triathlons at this time and even qualified for Ironman.

I turned 60 just before the 1991 World Masters Championships in Turku, Finland, so I got somewhat more serious about my running and trained hard enough to win the 2,000 meter steeplechase, my fourth world title. I started slow and passed three runners in the final 500 meters, so I finally had learned something about both training and competition.
24. Tell us about your running in the 90's. Did you loose any interested in pushing your body to the limits after 60?
I had no more worlds to conquer. I also became more involved in coaching other runners--mostly back-of-the-pack runners hoping to finish their first marathons. Most of this coaching was done over the Internet, designing training programs for all distances between the 5-K and the marathon, but it absorbed some of the psychic energy that I might have used for myself.
25. What writing have you done outside of the running world?
My entire journalism career was outside the running world, writing articles on politics for The New York Times Magazine, on business for Playboy, on science for National Geographic, on Hollywood for Good Housekeeping. Most of my writing on running was pro bono until I learned how much money you were making from Runner's World, as circulation soared through the 1970s to near 500,000. After learning how much money you were making, I strong-armed you into putting me on a retainer, doing the same for George Hirsch when I ungraciously joined him on The Runner. But even then writing about running provided a relatively small percentage of my income at least until the 1990s when I got involved with the Internet and a website, halhigdon.com, with its focus on training programs.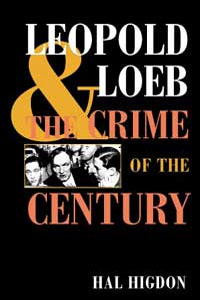 26. How long did it take you to write "Leopold and Loeb, The Crime of the Century"? Was it a tough book to write?
Writing has always come easy for me. I enjoy the research, whether digging into old articles and books in the library or interviewing people in person. Once I knew as much as I could know about a subject, I would organize everything into an outline. With that done, the mere act of putting words onto a page (or now into a Word file) was the simplest thing in the world. But I inherited The Crime of the Century from another writer, a crime reporter who suffered classic writer's block. Some writers can handle a 1,000-word newspaper article, but not a 100,000-word book.

Walter Minton, who was Norman Mailer's editor at G. P. Putnam's, asked me to finish the book. I inherited the reporter's research, but also did a lot of additional research myself. All the writing was mine. Interestingly, Leopold and Loeb were 19 when they committed the crime in 1924. They were dead when I started work on the project in 1975, but a lot of their peers still lived, and I interviewed as many as I could.

The crime occurred in Kenwood, the neighborhood just north of the University of Chicago where Barack Obama had his home before becoming president. I had attended U-High and graduate school at the University, so intimately knew the neighborhood. I even had a typewriter similar to the one the killers used to write the ransom note then threw into the harbor from a bridge that was on my 20-miler running route. Writing the book was a breeze. It took me maybe a year, but I wasn't counting. The University of Illinois Press brought out a reprint edition on the crime's 75th anniversary in 1999, and The Crime of the Century still sells surprisingly well as an e-book on Kindle. I don't know how crime buffs learn about the book, but they do.
27. When you were really tied up on a project with deadlines, how did you work in your running?
I am supremely well organized. You don't survive as a freelance writer unless you possess organizational skills. I guess the same is true in running. I've known a number of individuals with writing talent who could not manage the pressure of deadlines. I rarely missed a deadline. And the same was true with my running. I went out the door each morning to run for an hour and did the same in the evening, sometimes hitting 100 miles a week. The advantage I had as a freelance writer was that I dictated my own schedule. Also, I didn't waste several hours each day commuting from home to work.
28. What changed when you turned 70? When and why did you decide that time was not as important as it once was?
It was a gradual evolution. My focus shifted from winning (or even running) races to maintaining a healthy lifestyle. As a result, I have broadened my interests. I continue to run, but probably spend more time biking with my wife to various coffee shops. We spend winters now in Ponte Vedra Beach, FL and belong to a fitness center only a few minutes walk across a bridge over a marsh inhabited by birds, turtles, and alligators. I pump iron with no particular purpose. I swim and run in the water. That plus healthy eating habits which I have maintained all my life.
29. How closely do you follow and what do you think of the current running scene?
Not as closely as I should. Earlier, I used to devour Track & Field News, reading it cover to cover, absorbing every word, every statistic. I haven't subscribed to the magazine for several decades, and I admit that with embarrassment. My focus is more on the middle and back of the pack now, helping those runners achieve their personal goals. Front of the race? Sometimes I attend a race and only discover who won when I see it on the Internet the next day. Having said that, I was excited to watch the Olympic Marathon Trials telecast from Houston and feel that this is the best group of marathoners the US has sent to the Olympic Games. I can't wait to see how that group does in London this summer.
Running gets better and better. Today's road races are superbly organized, because the race directors all talk to each other and learn from each other. I remember that the Boston Marathon didn't get around to offering water on the course until the 1978 race and only after the previous year's winner, Jerome Drayton, complained about that fact. We've come a long time since then.
30. Why do you think the average times are getting slower? Is this an issue?
The average times may be slower because we're attracting more average athletes. I say that not as a put-down, but to indicate that our sport is open to people of all abilities. I ran my first race at Boston in 1959 when there were no qualifying standards, but each one of the 150 entrants probably could have met the standards of today. When Dr. Cooper ran the Boston Marathon in 1961 while a graduate student at Harvard Medical School, his wife Millie had to talk the officials to stick around long enough to record his finish. Ken finished in 99th place faster than 4 hours. Today's first-time marathoners are motivated to finish the race, not to finish it fast. Time is of secondary importance to them.
31. How important to you think Prize Money is for running?
I feel that we need to assist our top athletes in making a living. Prize money and shoe contracts are part of that, something that was unavailable to me as what is now called an elite runner. Fast times attract sponsors and media coverage.
32. What has changed over the years in running that you don't think is good?
Entry fees have skyrocketed. The New York City Marathon recently increased its entry fee to $255 for Americans, something like $350 for foreign runners. Of course, it costs more than that to play 18 holes of golf on The Players Championships course near where we winter.
33. What has changed that you think is good?
Would it be too conceited for me to suggest my training programs. I can take someone who has not run a step in their life and 18 weeks later they're crossing the finish line in a marathon, and most importantly they're crossing with a huge smile on their face and their arms raised in triumph--even if it takes them 5-6 hours.
34. What is your running life like since turning 80?
I run when I feel like running, but that might be only two or three times a week. As stated above, my exercise interests are much more varied.
Photo: My wife Rose and daughter Laura Sandall
35. Do you feel old?
I would be kidding you if I said I bounced out of bed each morning feeling as frisky as I did when I was in my 20s. But I move a lot better than most my age. Often when people learn my age, they are surprised, thinking me much younger.
36. Do any of your kids or grandkids run?
At Disney World this January, three of my grandkids ran the half marathon. One of them will run the Austin Marathon this February. At one time my son Kevin and I had the fastest combined father-son marathon time in the world, I with a PR of 2:21, he with a PR of 2:18. I'm sure some father-son combo has bettered that, so maybe we can get the father-son-grandson record, and if one doesn't exist we'll create one.
37. Besides running and writing what else do you love to do?
My wife and I are movie buffs. We love Netflix and back home in the Midwest there is an Indy movie house (Vickers Theatre in Three Oaks, MI) that specializes in foreign movies. When we're home during the summer, we never miss a show.
38. Are you ever planning on not running or writing?
That is somewhat out of my control.