Run or Walk one mile daily* and win $50 UjENA FIT Dollars!
Bob Anderson, the founder of Runner's World magazine and publisher for 18 years, invites you to join the Bob Anderson's UjENA FIT Club dedicated to promoting fitness in unique ways. Since running and walking helps you lose weight in less time than almost any other sport, this will be our main focus along with Yoga and light weight training.
"Our goal is to get and keep as many people FIT as possible and out the door regularly. We want to make fitness as important as brushing your teeth daily. Fitness is a positive addiction with great side effects," says founder Bob Anderson.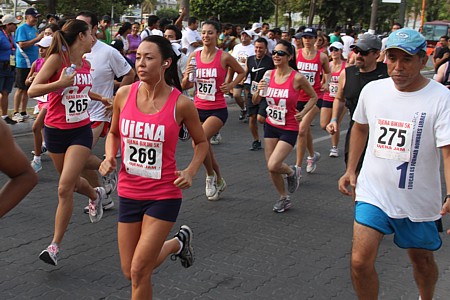 Ujena models running the Ujena 5k in Puerto Vallarta, Mexico. For 25 years Ujena models, photographers and guests have been running the Ujena races. Over $20,000 (now called UjENA FIT dollars) have been awarded. The Ujena 5k, 10k and combined 15k events are held in Cabo, Cancun and Puerto Vallarta.
"I love to eat and because I run or walk 30 miles per week, I can eat just about anything. However, I stay away from soft drinks and I don't eat deserts," says Bob. "My weight has been at around 144 pounds for years. Much of my running is at 9 minutes per mile and some of my 30 weekly miles is walking. But I do it everyday and I can race at under 7 minutes per mile for 13 miles. I am 63."
You can do it too! Let us show you how even if you have never run a step in your life.
Maybe you are already addicted to fitness? Or you want to experience the FIT feeling for the first time? In either case, we want you to join us. As a group we can make a difference. 90% of all funds raised will be used to promote Fitness and the other 10% will be given to unique charities which we feel are worthy of our support.
Membership fees, donations and contributions will be used to help promote fitness and to encourage everyone to get and stay FIT. Our unique UjENA FIT Dollars will give special recognition to help people stay motivated and inspired. "Sometimes it is the little things that can make a difference and who doesn't want to feel like a professional athlete at least for a day?" Bob Anderson thinks. "We also will be awarding UjENA FIT dollars to members who run or walk every day and to members who have lost 15 or more pounds by including running and walking into their life."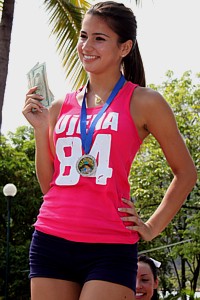 There is a special feeling when you are recognized and win cash for your effort. It is hard to explain until it happens to you. It is like being a professional athlete for the moment. Ujena model Andrea runs to stay fit and look sexy. She ran 24:55 in the Ujena 5k in PV and won $50 Ujena FIT dollars.
*UjENA FIT Club members can log in their miles for recognition and to be part of the weekly drawing for UjENA FIT Dollars. Thirty minutes of Yoga, Weight Training and bicycling can be mixed in and counted towards your daily FIT goal.
The UjENA FIT Club will also select races we feel are unique and offer a lot to it's participants. We will award UjENA FIT Dollars to finishers in different age brackets and categories. You don't have to be a UjENA FIT Club member to win. The San Francisco 2011 Full and Half Marathon was selected as a UjENA FIT Club Pick and we awarded $1300 UjENA FIT Dollars to selected winners. (Click on FIT $$ Tab for details.)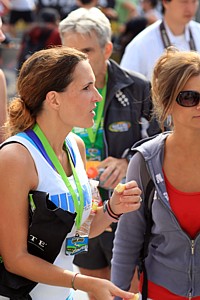 Ujena FIT Club director Lisa Andeson-Wall after finishing the 2010 San Jose Half Marathon with Ujena office mate Trisha. Lisa finished in under two hours and will be running in 2011. Lisa is the president of Ujena.
Bob Anderson runs or walk 365 days per year and has been doing so since October 1, 2008. Thirty miles a week works for him and he also makes sure he hits this goal.
"I have found that you don't have to do a lot to run well. The main thing is to run or walk every day. Make it a part of your life," says Bob.
"I enjoy training but I love to run races. The races make all my training more complete. To me it would be like writing a book but never publishing it, if I didn't run races. I am currently running at least 25 races per year. I plan them out many months in advance. I like setting goals and going after them. If I don't reach my goal, I just leave that behind and start planning for the next one, " Bob continues.
In addition to our unique programs, we will also be offering training ideas and advice to help you reach your goals. The more you know the better. Jump on board and make a difference not only for yourself but help others too!
The UjENA FIT Club was launched July 29, 2011 in Los Altos, California by founder Bob Anderson and directors Lisa Anderson-Wall, Justin Wall, Catherine Cross, Michael Anderson, webmaster Waitman Gobble and with the support of the Ujena Swimwear company and Jodi LaBossiere.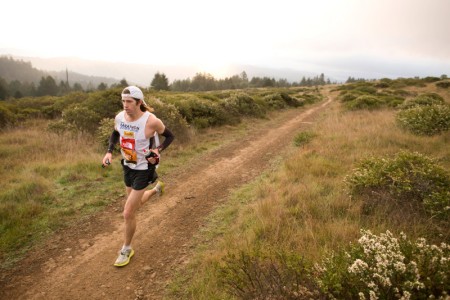 The 2011 San Francisco Marathon was a UjENA FIT Club Selected race and $1100 FIT dollars is being awarded selected winners. Michael Wardian was the overall winner of the full marathon in 2:27:06 winning $50 FIT dollars and $50 more by being first in the 36-39 age group. Michael does a lot of trail races and was the first american runner in the 52 mile Comrades Marathon. "I am very excited to be a part of the UjENA FIT Club and to help get people outside and moving," says Michael. "I am always pushing the boundaries and exploring my limits. Thanks UjENA FIT Club for the FIT dollars."
Join the UjENA FIT Club and win some FIT Dollars
You can win UjENA FIT Club Dollars (cash) by just running or walking one or more miles daily. If you want to win UjENA FIT Dollars, login your miles to our computer and if you do this every day for a week you will be part of the weekly drawing.
It will take you no more than one minute to do it. These weekly drawings will start August 15. $50 UjENA FIT Dollars will be awarded to the person who wins the drawing.
This is just one of our unique programs. Join our Meet-Ups, send us your weight loss story and run in one of our selected races.
So what are you waiting for? Get signed up, it is free or upgrade and show us more support. More importantly get in at least one mile run/walk daily either outside or on a treadmill. It works!!!
We make running a fun family event. The annual one mile race at the July 4th race in Morgan Hill, California is for kids 12 and under and adults who want to run along. Bob is running with granddaughter Carly (754) and Lisa is running with son Owen age 4. Jaxson, age 8 was out front. The 5k follows this race and we all ran.
FREE to Join FIT Club
UjENA FIT Club basic membership is FREE. However, we hope you can give us more support and upgrade your status. When you upgrade your status to 2-star ($49 per year) or higher and if you win a weekly drawing, we will double your winnings. You have to sign up before the drawing. Click on Sign up to Join. GO FOR IT!!!!
UjENA FIT Club founder has been running and racing for nearly 50 years!
Bob Anderson running the San Jose Half Marathon in 2010. In 2009 he finished in 1:27:53. He runs or walks daily. The 2011 San Jose Half Marathon is a UjENA FIT Club Selected race and $1200 of FIT Dollars will be awarded to selected winners. See the list of age-groups and categories by clicking on Fit $$ Events above.
There are many ways to get FIT and one of the best is running and walking. "I have been running for nearly 50 years and it has allowed me to live a wonderful life," says UjENA FIT Club founder Bob Anderson. "I am looking forward to another 40 or more FIT years ."
He started running at age 13 on Feb 16, 1962. Two years later he ran a half mile on the track in 2:08.5 at the Junior Olympics. In high school he ran cross-country finishing third at a tough Kansas regional meet his senior year. He also ran on the track team and got his mile down to 4:41. When he was not running, he was planning on starting a magazine about the sport he loved. His first issue of Distance Running News (renamed to Runner's World in January 1970) appeared his senior year. The one thousand copies of the magazine have become a collector's item.
"Running is the best exercise for me. I can do it anytime during the day. I can do it by myself or with others. I can run at whatever pace and still gain benefit," Bob continues.
Bob Anderson and friend Roberto comparing splits. Roberto had never run in his life until two years ago. He lost 100 pounds by running and ran the San Jose Half Marathon last October in under two hours. By sharing his story he can now win UjENA FIT $$$.
He has slowed down some but Bob is still able to run close to 7 minutes per mile for a half marathon (13.1 miles) at age 63. When he was 53 he ran 59:26 for 10 miles at the Stockton 10. He runs or walks every day and has logged in 30 or more miles per week since October 2009.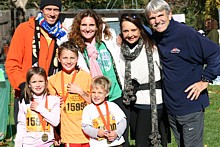 The annual Thanksgiving morning races in San Jose has became a regular thing for the Wall and Anderson family. In 2010 it was like 36 degrees but it didn't stop over 8000 runners from showing up.
Training Tips and Advice
(from Bob Anderson) It can be easy to get fit once but to stay fit over a period of time is harder. But it does not need to be. The trick I have found over the nearly 50 years I have been running is to make running/walking a daily habit.
It is simple advice but it works. There are a lot of program out there that follow the same type of thinking. Take one day at a time.
It will take about ten days without missing a day for it to start being a habit. Then keep it going. One mile a day of running or walking counts.
On busy days make a plan in advance. Be sure to get in the run/walk before a busy day gets started.
When I am catching a plane first thing, I will get in my run/walk before leaving the house. Just as long as you don't miss the day.
I have run in street clothes right before midnight just to not miss a day. When you miss a day, it is too easy to miss another one and then another one.
This is the first thing. Once you get this going, and you want to get in better shape or to race faster, you will want to do a minimum number of miles weekly. More about this next time.
If you have not started, what better day than today? Then note it in our FIT Log...