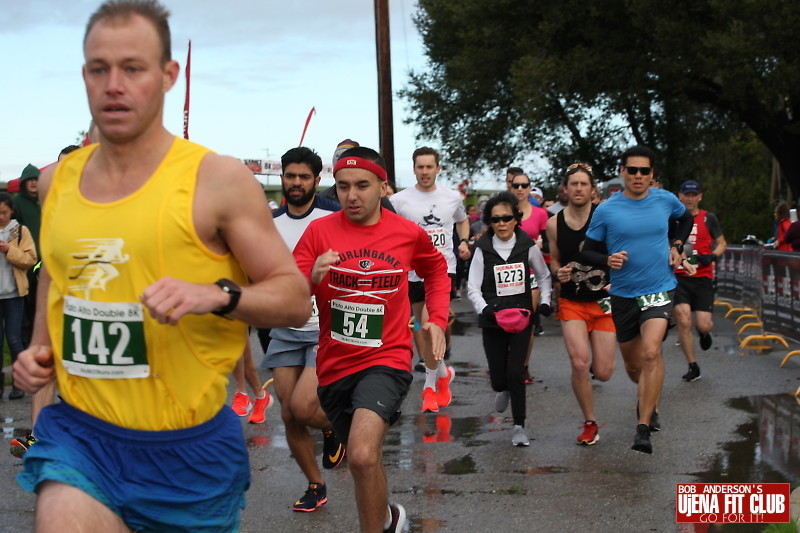 Palo Alto Double 8K second leg and UjENA 5K 2019
The morning started off with some rain but by the time we got to the second leg (3K) of the Double 8K and the UjENA 5k the rain had stopped. This was the biggest turn out at this location. Photos by Catheirne Cross for UjENA Fit Club, My Best Runs and the Double Road Race Federation
Bib #s in this photo: 142, 54, 1273, 123

"Looking forward to our Christmas Double 15K and Baylands 10K and Palo Alto Ujena 5k on Saturday. See you there. Bob"
Bob Anderson 12/11/19 3:23 pm
(x) Delete
Tag A UjENA Fit Club Member in this photo.
Use the form below to tag a UjENA Fit Club Member. First, search for a member, then press the Tag button to tag them.
More Galleries

#319 Palo Alto Double 8K 2018
#328 Palo Alto Double 8K second leg and UjENA 5k 2019
#331 2019 Golden Gate Double 8K, 10K/5K
#333 8th Annual Christmas Double 15K and 10K/5K
#338 Brisbane Double 15K and 10K/5k 2020
#339 Golden Gate 10k/5k Double 8k Start
#341 Palo Alto Double 15k - 10k leg and 10k
#342 Palo Alto Double 15k, 5k, kids mile
#344 2022 Marina Races by Bob Anderson
#345 2022 Golden Gate Double 8k and 10k/5k
#347 2022 Golden Gate Batch 2 Double 8k 10k/5k
#348 2022 Golden Gate Double 8k second leg
All Galleries