Clarksburg County Run Half Marathon (#42)
Paul Reese Memorial Clarksburg Country Run

Come on out for the 45th Annual Clarksburg Country Run. Break away from the city and enjoy some small town hospitality. Clarksburg offers a variety of race distances (kids' races, 5K, 10K, Half Marathon, and 20-mile) and you can enjoy a hot meal after the race.



PAUSATF Championship

The Clarksburg Half Marathon is now a PA USATF Championship race. We are excited to offer the half marathon as a PA USATF event. With many of Northern California's best runners preparing for the California International Marathon this competitive half marathon will provide a perfect tune up.

Member Name

Bob Anderson
Tell your Friends
Share on Facebook
Age
64
Sex
M
Years Running
51
Race Name
Clarksburg County Run Half Marathon (#42)
Race Location
Clarksburg, California
Race Date
11/11/12
Race Distance
1/2 Marathon
Age Graded
81.26%
Finish Time
1:33:34
Division
60-64
Division Place
2
Overall Place
95
Pace
7:08
UjENA FIT Club Photo Gallery · Clarksburg Country Run Half Marathon 2012
Share on Facebook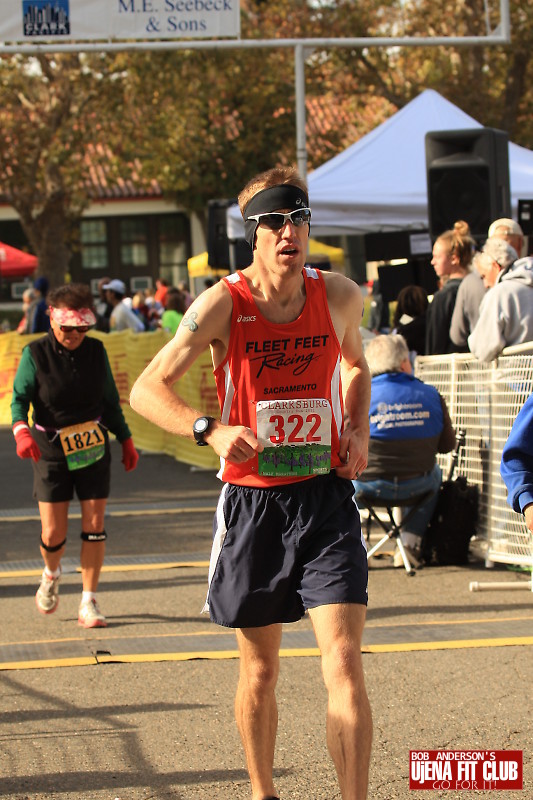 Clarksburg Country Run Half Marathon 2012
It was cool at the start (38 degrees) but it was perfect for racing. Clarksburg California is about 30 minutes from Sacramento. There were several other races but the featured event was the half marathon. There were 434 finishers. Daniel Tapia (bib 395) won in 1:05:40. First female was Alia Gray (bib 164) in 1:17:04. This was Bob Anderson's 41st race of the year. He finished 95th in 1:33:34..2nd 60 plus. Photos by Catherine Cross Ujena Fit Club