Take an ice bath to assist in recovery
Friday, August 3rd, 2012
Learn to listen to what your body is telling you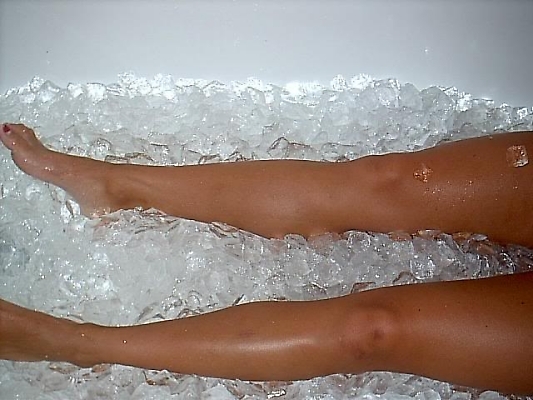 By Alisa Harvey (2007 Masters Athlete of the Year) Your legs will have a heavy burning feeling during runs which will indicate that you may need to have either a day off or another light jog instead of a workout. If your alarm wakes you up before you naturally wake up in the morning it may be time to assess the amount of sleep you are getting; you may need an extra day off from running. A big signal that indicates that you may not be ready to work hard again is when you try to do a fast stride and you just can't seem to reach that last gear like you could before. Day-to-day stresses will also play a factor in how your body recovers during and after runs. A major emotional event may mandate that you take at least one day off from training. Listen to your body.
The amount of healing for any given runner depends on the individual's gender, age, and health. A woman will need more time to recover from any given workout than a man because of a man's higher testosterone levels, muscle mass, and blood volume. Masters runners generally need more time to recover due to decreased hormone levels of men and women as they age. A runner who is suffering from an illness will often cause himself more damage or delay in healing if he attempts to work out while sick. Be sure to consult your physician when you are confronted with any type of illness before engaging in strenuous exercise. Continuing to train through illness or an injury can prolong healing.
Taking an after exercise plunge in an ice water bath (a tub of 12 to 15 degrees Celsius ice water) is a common practice among many elite athletes as a way to recover faster, and reduce muscle pain and soreness after intense training sessions or competitions. From elite runners like Paula Radcliff, the ice bath is a standard practice routine.
Tips for Resting Well
1. Give yourself at least one day of complete rest per week.
2. Use a heart rate monitor to help assess your recovery
3. Never do two hard track sessions on consecutive days.
4. Always err on the side of too much rest between intervals.
5. Take an ice bath to assist in recovery.
6. Get a sports massage; it is well worth the cost.
7. Stop the workout if you begin to slow considerably from predicted pace.
Thanks Washington Running Report.
Comments and Feedback

Or you can turn a garden hose on your legs after a run. An old horse trainers trick. Jack Foster the great masters runner from NZ used this all the time.
Richard Stiller 8/11/12 3:36 pm