Why the Long Socks?
Monday, July 2nd, 2012
Improve blood flow and Performance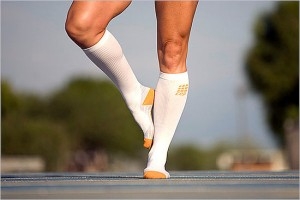 by Ujena Fit Club coach Barry Anderson "I see lots of runners wearing socks pulled up to their knees. Why the long socks?" Someone asked me this question not to long ago and I had to admit—I did not have an answer. I have also noticed that one of our members, Meb Keflezighi, often wears these long socks. There are many new "things" involved with running now that were not available in my days of running and coaching full time, and compression socks are one of them.
The principal of using compression socks for the lower legs is similar to the reason that fighter jet pilots wear compression suits—only at a much lower level. When you run, particularly long distances, blood will pool in the legs due largely to gravity…including blood that contains lactic acid. It is believed that the use of compression socks can help improve blood flow through pushing blood back towards the heart.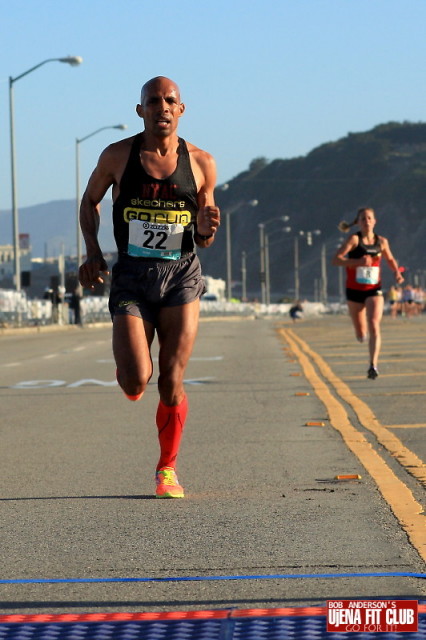 Photo: Meb finishing this year's Bay to Breakers
There have been several scientific studies with mixed results as to the overall benefit of improved blood flow and improved performance when these socks are worn during a race. One study that was reviewed did show slightly reduced lactate levels in the blood but could not rule out the psychological effect as also being a contributor to improved performance.
In the studies reviewed, there is agreement that there is a faster lactate recovery rate when compression socks are worn after exercise. There is also evidence of decreased muscle soreness. These studies did suggest that graduated compression socks—those with tighter compression at the ankle end than the knee end—performed better in all tests.
Give them a try if your haven't already—particularly if you have tightness or soreness in your lower legs on a consistent basis. Maybe when Meb is not busy preparing for the Olympic marathon he can provide us with some of his thoughts on their use. Let us know your results if you have tried this training aid.
Comments and Feedback

I have thought about trying these socks...I know that Ujena Fit Club member Meb swears by them...any other members wearing them?
Bob Anderson 7/2/12 12:12 pm

I use mine every once in a while... Mostly if I have a long run along the highway.... I have also worn them to bed at night when my legs have been tired. Not sure if they helped more physically or mentally....
Shari Mernett 7/3/12 6:34 am