Dr JoAnn Dahlkoetter Interview 26
Tuesday, April 10th, 2012
"I believe that running and performing well is 90% mental"
Dr. JoAnn Dahlkoetter, is CEO of Performing Edge Coaching International Association, and founder of Dr JoAnn.com. She is the author of the best-selling book Your Performing Edge, sports psychologist to Olympic Gold Medalists and winner of the 1980 San Francisco Marathon. She is an internationally recognized Olympic Keynote Speaker, columnist, and TV expert commentator.
I have know JoAnn for many years but I can't say that we spent that much time together until recently. I have always felt that the mental side to racing was just as important as being physically ready. Dr. JoAnn has provided some aids to help me focus before races and during. A little extra coaching does help. (Interview by Bob Anderson)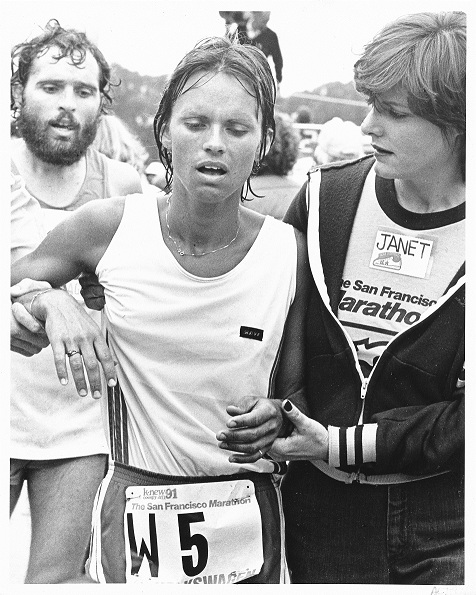 Photo: JoAnn after running 2:43:20 at the San Francisco Marathon.
1. You won the 1980 San Francisco Marathon. You beat your PR by 20 minutes?
I was in the best shape of my life for the San Francisco Marathon. As a sports psychologist, I used positive images to visualize myself doing everything right, running smoothly, powerfully and fast. I utilized power words to knock out the negative thinking so that I only focused on the things I have control over - my thoughts, feelings and actions.
Just three weeks earlier I had taken 10th place overall in the Cascade Runoff 15 K race in 53:52, which was about a 5:45 pace, which was a quantum leap for me. That race brought in a world-class field with the best runners internationally, including Joan Benoit Samuelson and Patti Catalano. So that 15 K race gave me the confidence and set me up and to run a 2:43:20 marathon, break the course record by over 6 min., and run the 19th fastest time in history for an American woman.
After that race I received invitations and appearance fees to compete in races all over the world – very exciting. I got a nice sponsorship by Nike for travel, gear, and everything I needed.
2. Soon after that you pulled up with a stress fracture in your tibia. With all your positive thinking, how did that happen?
I had a coach at the time who was very demanding and inflexible in his training regimen, and didn't notice that I was becoming injured. He insisted that I had to do the required workouts no matter what. I was driven and wanted to please the coach, so I continued doing the workouts, but finally got a stress fracture and had to stop running for 6 months, which actually turned into a great opportunity to excel much higher in another sport.
The lesson I learned from that was to listen to my body's needs and take care of myself first, regardless of what others are telling me.
3. You then focused on swimming and cycling and went on to placed second in the October, 1982 Ironman competition.
Yes, I focused on swimming and cycling as cross-training, while I was healing, and realized, hey, I'd like to try doing the Ironman Triathlon.
When I was training for my first Hawaii Ironman Triathlon, I had never attempted an event of this length. I used imagery to prepare mentally and build my confidence going into the race. Every night for six weeks prior to the race I would spend fifteen minutes visualizing the event.
On race morning, I completed the swim easily. However, the long grueling bike ride through black lava fields took its toll. When I completed the bike ride and dismounted I felt horrible. I had swum 2.4 miles, and cycled 112 miles in 100 degrees weather, with 90 percent humidity. The sun was beating down during the hottest part of the day. I left the bike transition area and began walking the marathon course. I told myself: "26 miles, yeah right. There's no way I'm going to finish this. I might as well pack it in right now." I was doing a superb job of talking myself out of the race.
Then a woman passed me whom I had beaten in several other races. I said to myself, Oh God, even she is passing me. She looked back and said, "Hey Dahlkoetter, you're walking!" That's probably the best thing that could have happened. I was angry. I said to myself, "I've got to do something major here to get myself going."
I pictured in my mind a time when I felt really good on a run – the San Francisco Marathon. I visualized myself feeling powerful, relaxed, and focused. I remember the race conditions were perfect that day. The weather was cool and I was mentally and physically prepared. My legs felt strong and I was in "the zone". When my consciousness shifted back to the Ironman, I found myself no longer walking. I was running well; the crowd was cheering – you look great.
After completing that mental imagery process early in the run, I realized that I could go on, and possibly finish my first Ironman Triathlon. I continued to gain momentum, feeling stronger with every mile, as I moved up in the ranks. At that point, nothing could stop me.
I had begun the run in 19th place, and eventually finished as 2nd woman overall – a race I will remember forever. The visualization had transformed my entire outlook and empowered me to run the race of my life.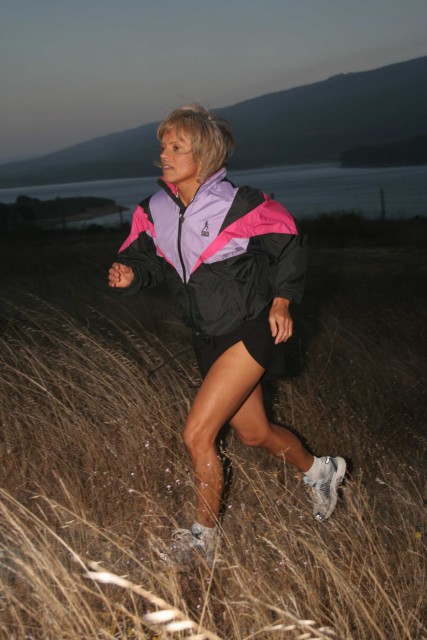 4. How important is the mental part of running?
I believe that running and performing well is 90% mental. At the top level everyone is trained well physically but not everyone has the mental focus and confidence that you need to do your best on race day. That's where you can really gain an advantage over your competition.
Mental training is so important that I've made it my life's work to develop leading edge techniques and train athletes and coaches in my sports psychology methods that truly work to create success in achieving one's goals.
I've found, just like we work out our bodies, we also need to exercise the brain. Mental training is like taking your brain to the gym. We want our bodies to have many different gears and speeds. We also need the mind to be flexible – to be able to shift into different gears depending on the task at hand. Mental imagery is a powerful tool for achieving this purpose.
5. When a runner is at the starting line of a race, what should they be thinking?
You want to relax, breathe deeply, remind yourself that you are well-prepared, and say to yourself, what I call "Power Words" like these below, that I developed for you, Bob for your 50 race challenge, or create some of your own power words that work for you:
Power Words to say BEFORE a Race: I gain energy from other athletes in my race. Racing gives me a chance to celebrate my fitness. We can all help each other do our best in this race. In this event I can be towed along to a new personal record. I am well prepared, rested, and ready for this event. I am strong and relaxed, at the end of the race. I love competing, I am totally focused.
Power Words to say DURING the Race: I am laser focused on this race. I'm staying in a relaxed flow in the 2nd half of the race. Doing well comes easy for me. I'm running fast and smooth with confidence. The second half of the race becomes easier and easier. I hear the cheering of the crowds carrying me forward. I enjoy running and doing my best when it counts the most. My body is getting stronger with every step. I believe in myself, I radiate an inner confidence. I have all the tools and resources I need inside to perform my best. Every step in getting closer to the finish line. My motivation and drive are growing stronger every moment. I'm improving with every step.
6. I really liked your idea of thinking that the person or finish line ahead is like a magnet.
My "magnet technique" is one of many ideas that have dramatically improved my own running and the performances of my athlete clients. Picture yourself running, and now imagine that the athlete ahead of you has a magnet on their back. Rather than working hard to catch up, envision the magnet drawing you toward the person effortlessly, so you feel THEIR ENERGY pulling you along and THEY are doing the work, rather than you. Once you pull alongside them, place the magnet on the next athlete ahead of you, or at the top of the next hill, or the finish line.
I have used this technique many times to move ahead into the lead in triathlons and marathons. Using the mind in this way allows you to take the pressure off, and have more fun with your racing. You'll find that your competition will appear less threatening because you can stay in contact with those that normally pull away in races. You'll be able to maintain a steady pace while using less energy, and sustain concentration for longer periods.
7. Tell us about your book "YOUR PERFORMING EDGE"
I wrote the book to give athletes and coaches and high achievers in all walks of life sports performance psychology coaching and training tools they can use lifelong. I wanted to offer people a unique and effective method, a proven, success-oriented program that helps you achieve major breakthroughs in every area of your life.
This book presents a comprehensive step-by-step program, with the latest psychology tools for optimal mind-body performance. I give you methods to focus your energies, overcome obstacles to excellence, and perform your best.
It's filled with easy-to-follow steps, engaging stories and profound wisdom for personal performance. I'm excited that corporations and health-fitness industry professionals worldwide now use this book and audio programs as their standard reference.
It's a comprehensive guide that contains all the techniques I teach the pros, including training tools, templates, and exercises so you can align your performance with the vision in your heart.
8. When did you first realize you loved running?
When I was in college I started running two miles a day, and felt renewed energy every day, first thing in the morning, and I realized, this is how I want to start my day. This is the kind of healthy lifestyle want to lead.
I also combined running with many other sports such as surfing, rock climbing, cross-country skiing, skydiving, kayaking, the more extreme the better.
9. Tell us about your first race?
I did my first race while I was doing my graduate clinical psychology program at West Virginia University. The races in Charleston, West Virginia. It was a 10 mile race, very hilly I had no idea what I was doing this first training goes, it was all an experiment. I won the race, got first woman overall and got my first trophy made out of "COAL" right out of the West Virginia coal mines.
10. Is there a race you will never forget?
In 1976 I rode my bicycle across the entire United States, 5000 miles, with a group of people averaging 100 miles per day. It wasn't a race, it was an extreme event that I will always remember. It was called the Bike-Centennial to celebrate the Bicentennial. We had no Sag wagons, no support . We carried all our own gear on our bicycles. They took us across the roughest, highest, most extreme routes they could think of cross United States. We crossed the Continental divide nine times, going through the highest parts of the Rockies, and crossing most of the major passes there many times.
Each night after riding 100 miles per day, we would have to find a grocery store, buy all our food to prepare for the next three meals and find a campground. Then we have to set up camp, get out our camp stoves, cook our dinner, wash dishes, and sleep in our tents on the hard ground. Then the next morning we'd have to break camp, pack everything up, get on our saddles, ride 100 miles, and do it all over again every day for 56 days.
We made memories and friendships during that event that I still keep to this day, and will always remember.
11. When you were racing at your peak, tell us about your workouts.
When I was racing my peak I was doing my doctoral internship at Portland VA medical center. I ran 80 to 100 miles a week, including track workouts, farlek training, hill workouts, and many long runs.
I remember I was doing one of my best workouts on the track in Portland in the summer of 1980. In the middle of one of my best intervals we all looked up in the sky and it looked like Hiroshima. Mount Saint Helens had just erupted for the first time, and it was the most amazing sight to see.
That was just a couple weeks before the cascade runoff and the San Francisco marathon, so maybe it was a sign that my running career was about to explode as well.
12. Were you doing anything special with your diet?
I was paying careful attention to good nutrition, eating lots of fruits and vegetables and good sources of protein, and taking the best pharmaceutical grade nutritional supplements, which has always help me to perform well and recover quickly.
13. How about weight training?
I've always done a lot of core training including half hour of sit-ups, push-ups, and core exercises every day as well as weight training 2-3 times a weeks to support my running workouts.
14. You work with a lot of top athletes, is there one basic thing you tell them all?
I have five Olympic gold medalist clients and I have worked with my athletes at the last 4 Olympic Games as their sports psychologist and performance coach.
One of the things I tell them all is - mental performance is the key. Developing your confidence is critical. I have a whole program that I take them through, and I do my coaching mostly by phone so location doesn't matter. I have clients and athletes of all levels that I'm working with over the world - half of them are high school and college kids, and half are adults. A lot of sports parents call me as we work with their child – they often say "My kid can do it in training he just can't do it when it really counts. " Or he sabotages his performances by doing something counterproductive.
One thing that I tell all of them – both kids and adults, is to: "Visualize to energize" Take time each day to see yourself doing it right. So often we repeat the mistakes we've made over not and over in our minds and the body follows those mental instructions. There's so much negative chatter going in our minds all the time. We need to be constantly finding ways to stay positive and to stay focused on our goals.
Right before you go to sleep at night, take those last 5 min. before you drift off to place into your mind exactly what you want to achieve the next day, feel the way you want to feel. Is helpful if you can play video or audio modeling exact behavior and thoughts feelings that you want to have. So for instance if you want to run well, 5 min. before you go to bed, play a video of a runner that you really admire. Then will the last thing you're thinking about before you go to sleep, you will tend to dream about. Your subconscious mind will be working on this for the next eight hours. So you are really getting in 8 more hours of powerful training.
15. I was most impressed with the Your Performing Edge Visualization CD you gave me. How can this be used to improve performance?
Bob I'm glad you're using the Your Performing Edge CD that I gave you. It goes along with my book and it has 4 powerful guided visualization exercises so that you can practice you are learning in the book. This CD can be used to enhance anything you do in life.
This Visualization CD is a Companion to the best-selling YPE book with exercises to help you practice what you are learning in the book. I've seen so many people create major breakthroughs in business, fitness, health, and life – and prosper at all levels in any activity. It's meditations and Music for a healthy mind, body, and spirit.
16. You majored in psychology and music therapy. It seemed like the music you selected for the CD was just as important as the words?
Yes, I think to have a good visualization experience you need to have a CD that has a great voice, excellent content, great delivery of that content, and good non-distracting music that takes you into a serene place, where you can work on your dreams and goals.
When creating the CD, I tried hiring other musicians to create the kind of music I wanted. But I was very particular. I needed a very special kind of music that complemented the visualizations and went along with my voice. Since I have a background as a musician myself I realized that I could create this very powerful music myself and have exactly the kind of psychological mood that I wanted to achieve. So I purchased a synthesizer, and created, performed and recorded the music for each visualization.
Comments and Feedback

Thanks for doing this interview JoAnn...loved every word of it!
Bob Anderson 4/10/12 9:50 pm

Thanks Bob for interviewing me, you did an amazing job, I loved your well-thought-out questions. It was an honor to be interviewed by you. And I'm excited to be part of your performance team for your 50 race quest. http://www.PerformingEdgeCoach.com
Joann Dahlkoetter 4/11/12 9:41 pm