Verity Breen Interview No. 21
Tuesday, March 6th, 2012
"I am ruthless when it comes to doing what I love in life"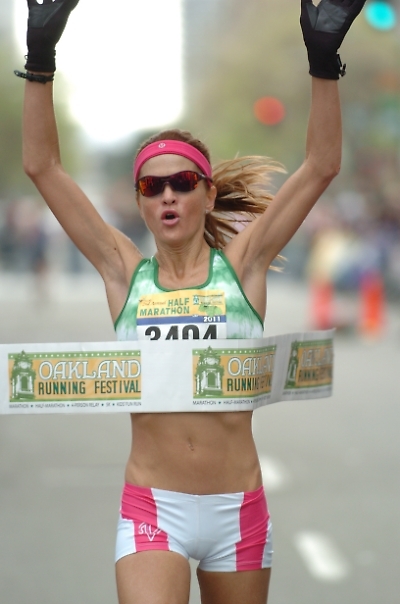 An Aussie now living in the USA, 45-year-old Verity Breen is a four time Australian representative. She is passionate about running. Verity represented Australia at the World Triathlon Championships in 1991, World Mountain Running Trophy in 2001, the World 50k Road Championships in 2009 and recently the Commonwealth Ultra Trail Championships in 2011. Verity has numerous state titles from cross-country to the marathon and has won both the Australian Marathon Championship title in 2003 and the Australian 50k Road title in 2009. I met Verity for the first time at the starting line of the Chinese New Year 10k in SF recently. She took off like a rocket and was the first female overall for the third straight year. (Interview by Bob Anderson)
1. Do you hate the word jogging as much as I do?
Firstly I never use the word hate as there are better words like loathe! I simply think it is a silly invented term for what should always be called running. If I see a slow runner or a fast runner they are all runners to me, just different speeds. Never do I assume a slow runner should be deemed a jogger and a faster jogger a runner. If you know what I mean (wry smirk)!
2. You have been running for 23 years, how did you get started?
Followed a boyfriend around when he was tri training and started beating him in the pool and on the roads to his annoyance. Long story short he broke of the engagement (I dodged a bullet) and two years later in 1991 I trained myself up and was in the Australian Triathlon team. From there I came to the conclusion I loved to run.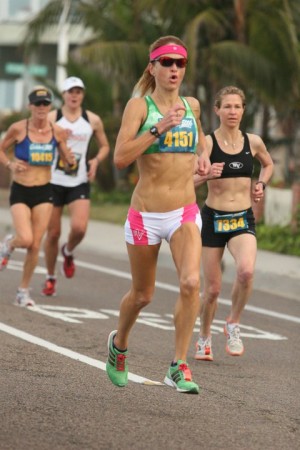 3. Did you get into racing right away?

After the introduction of drafting to Olympic Course Triathlon I lost faith in the purity of the sport of triathlon. I did not and to this day... do not agree with drafting and hence moved on to pursue a running career.

4. What brought you to the United States?
The love of my life who is now my husband, a lovely California boy.
5. How is racing different in Australia as it is here in the US?
The competition in USA is deep and fierce at all levels, there is a huge population in comparison. The amount of races on offer any given weekend is mind boggling.

6. You run races from 5k to Ultras? What distance do you like the best?
That is a really difficult question. I do not have a particular favorite, each distance and race has it's own qualities that I love. Track racing is wonderful as you are totally exposed and tactics are employed and on the other hand the expertise of long distance running is enchanting.

7. You won a lot of titles in Australia? tell us which ones you are the most proud of.
Would have to be the Australian Marathon title in 2003 at Sydney Marathon in extremely hot conditions, my father was there for one of the few times he got to see me race and was beside himself with pride. That made me the happiest to bring him and my mother such joy.

8. You have so much energy. Where is this coming from?
My life has been a combination of great adventure and great emotional challenges, these two things have taught me how precious living life fully is. I was born kicking apparently and wriggling around so I also think it is a naturally gene of energy.

9. Do you do anything special the day before an important race?
I keep things the same apart from backing off and doing a very simple 3 mile run with strides to keep me settled and remind the legs to go quick.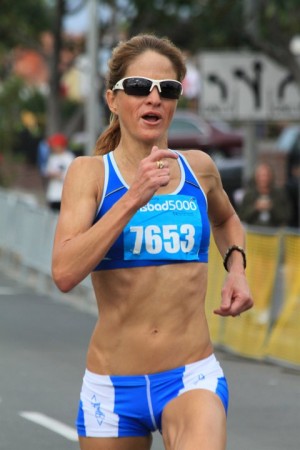 10. Describe one of your toughest training weeks.
100 miles with a set of 25 xc 400's on 2 minutes on the Tuesday of that week which was done alone and exactly on time. Intensely wonderful.

11. Do you do any weight training?
Yes, once a week unless in rest phase or sick with a bug.

12. How about diet, anything special?
Gluten free, basic food combining principles adhered to and a wine or tequila in the evening.

13. Are you addicted to running?
No, if anyone ever states "you are addicted" I simply laugh and say that I am no different to a writer or an artist, this is my craft.

14. How important is racing to you?
I enjoy the social aspect, the tactical aspect and the sense of achievement from self coaching. But at the same time I choose wisely.

15. Describe a typical day.
Wake up, espresso, eat a banana with lactose free yogurt and or tropical fruit then run and x train in the evening. In the middle of the day I work on my business Thirty Birds and look after our home.

16. You have started a company. What is edgy sports apparel?
Yes the company is called Thirty Birds and edgy basically means on the cusp. We need women to pop, have fun and reflect the joy of running in their apparel with a twist.

17. What are you plans for your company?
The essence of the business comes from a place of passion for the sport I love but also to invest back in to the sport and encourage others to do the same. Plans are to capture a percentage of the market and have a lot of fun doing it.

18. You worked at Speedo for awhile? is this experience going to help you with your new venture?
Absolutely, I was responsible for establishing Speedo in the pharmacy sector from the ground up and thoroughly enjoyed the challenge.
Comments and Feedback

I enjoyed reading your interview. Good luck to you with your new company Thirty Birds and your quest to break 1:20 for the half...
Bob Anderson 3/6/12 11:05 am

Great Read..Verity is a balanced athlete and it shows..My kind of friend Wine and tequila.. Shoes and handbags? .Congratulations!
Mary Level Menton 10/19/12 10:18 am
Photo: with husband Randy on their wedding day at North Bondi in Sydney Australia
19. Tell us about your family.
My family? I am the youngest of four adopted children. My parents both passed away unfortunately, my mother passing suddenly in 2004 and my father just prior to my marriage in 2009. I am proud of my parents and deeply thankful for all they gave me my life.

20. Besides running, what do you like to do?
I am an avid reader and ambitious writer.

21. If you had not found running, what would your life be like?
Probably highly paid executive, single and stashing cash away to pay for world trips when I turn 60 and take up running.

22. For three years in the row, you finished first women at the Chinese New Year 10k race. How exciting is that?
Pretty cool and fun. I like three's. What they are doing for the community there is excellent and that is why I go back to support it.

23. How do you mix going out and having a good time and running?
I very much believe in both. Life is about balance and I have met too many runners that forget to have a life. I have had some pretty good races hungover or little sleep but you can only get away with that at least twice a year.

24. Do you think drinking a little wine hurts or helps your running?
No! I am proof. LOL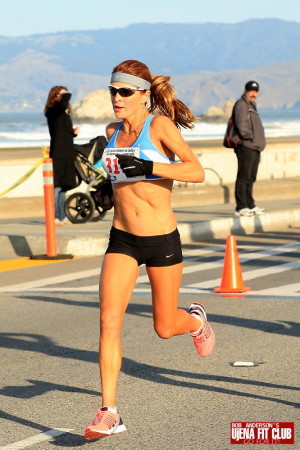 Photo: At the seven mile mark of the recent Kaiser SF Half Marathon. She ran 1:21:49. Photo by Catherine Cross Ujena Fit Club
25. How are you going to handle turning 50 in a few years?
No different to now, but smarter. Older, wiser and smarter is the goal.
26. You are part of the Impala Running Club.
Impala Racing Team is unique, wonderful and a huge asset to any female that wishes to excel.
27. Have you run your fastest half marathon? Is a sub 1:20 coming?
PR is 1.20.05 and yes, I will run a 79 later this year for sure.

28. When you are battling it out in a race, what to you do to win that battle?
I use every trick in the book I have learned over 20 years and if that does not work I am the first to shake the hand of those that beat me.

29. When your hit the 20 mile mark of a marathon what happens?
You buckle up your seat belt and focus.

30. Do you work out on the track?
Yes, each Tuesday but I take a break in Dec.

31. How about massage? Is this important?
Critical for long term injury free running and success. I do not skimp on massage. Every month.
32. What issues have gotten in the way of your running?
None really, I am ruthless when it comes to doing what I love in life so I find a way to make it all work.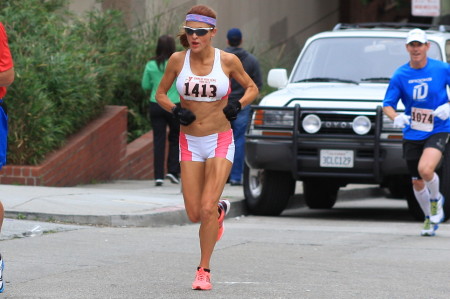 Photo: Verity finished first overall female at the Chinese New Year 10k in SF 2012 photo by Catherine Cross Ujena Fit Club
33. How often do you get back to Australia?
Every year, last year I returned and raced for a month. This year I will probably head back for the Sydney Marathon in Sept.

34. Do you miss it?
Yes, I miss the social aspect of the culture at times and of course my dear friends but thank goodness for technology. We can stay in good touch.

35. How many races you do you like to run annually?
Gee? Probably about 30.

36. What is the crazy thing you have ever done?
There are a few but one highlight would have to be tackling the Australian Mountain Running Champs to make the team in 2001 and nearly coming unstuck on the descent right at the finish line as I threw myself down to make top three and a fast time.
37. Do your friends understand your commitment to running?
Absolutely, they are the real friends.

38. You pay attention to the way you look just when you are racing?
No, every day. I have always been like that and my rule is "better to be over dressed than under dressed" I love to feel good.

39. What advice do you have for a new runner?
Love yourself, be kind to your legs and remember the only person that will ever truly understand what went right, wrong or wonderful is you so just enjoy the ride and remember to have fun and be silly sometimes too.

40. What running goals have you set for the coming years?
Chase down some Masters titles, run a 2.45.45. Marathon and make a 5th Australian Team.