8. How exactly does that work?
Our event generates about $3 million in tourism, and that's a big deal especially on a tiny island. I was very vocal about needed some help to keep the event running so the county stepped up and said we want to help. They've invested in our event last year, $120,000, and this year the same. They're saying they'll put $85,000 up for 2013.
9. How does prize money figure into the equation? Has that increased over the years?
We have the $15K speed challenge initiated in 2010 and it remains the same amount.
10. How closely do you think prize money is connected to race revenues?
Very little correlation as the elites who are vying for prize money represent such a minuscule percentage of the overall field.
11. How did you go about getting sponsors?
I hired people on the island to do this. My race director, Bob Craver, is a professional event specialist and knows all the ins and outs. Robin Jumper is my marketing ace and she works on the big sponsors.
12. How would you describe your position in terms of putting on the race? The money man? The idea man? The businessman? Or the running man?
All of the above, except that I haven't run it officially yet. Probably more visionary, money and year round decision maker.
13. How did you actually map out the race course?
My main goal was to minimize the traffic impact. I made my rounds in Poipu, talking with the business associations to pitch my idea, and got a lot of support. We hold it Sunday morning to minimize disruption to traffic, although there is always some disruption. I wanted very specific start and finish points. We start in front of Poipu's shopping center that has a parking lot that could hold up to 3,000 easily. That's where we have pre-race party and warm-up, and of course, everyone now knows where the shopping is. I definitely wanted the race to end on the beach. We came up with a course for both the half and full that starts and finishes together. The finish is right at the beach on the Sheraton lawn. In my experience, I think it must be one of the most beautiful finishes of any race. It's great for photo ops, and it's just so perfect.
14. How did you find your course timer and get the certifications?
I had to bring over Rick Hanna, who long before the internet wrote the Ultimate Guide to Marathons. He owns a timing company now. I also brought in Ron Tate from Oahu and the three of us designed the course, which is both USATF and AIMS certified.
15. Is your race a Boston qualifier?
It could be, but that's not the draw. It's a tough course with a lot of hills so most of runners come for the destination.
16. Have there been any OMG moments where you wonder why you ever got into this?
We've had interesting stories, mostly involving disrupting a church service or neighborhood. We had two cases of heat exhaustion, but with the aid stations and a roaming ambulance that was no problem. I'm glad to say there haven't been any really bad moments, part of that is luck, and part is also careful planning.
17. Who on your staff is paid?
Just two: our Race Director, Bob Craver, is a subcontractor, his business is Hot Tropix and he's been a professional event planner for many years. The other full time subcontractor is Robin Jumper, and she's in charge of marketing and chasing down big sponsors like the hotel and airlines.
18. Do you draw a salary?
I do not, never have. I've taken zero money out.
19. What is the largest single expense?
The largest cost is advertising, promotions and marketing. You've got to get the event on the map. You really can't do this on a shoestring. You can spend hundreds of thousands on full page ads, so you have to it smart. I wanted this to be a world class event. We won't ever be as large as Honolulu, but we have the prettiest course and I think we can grow to 4,000, but that's all roads and hotels can handle.
20. In terms of appeal, what are the most important facets of your race?
Number one is destination. Number two would be the course, and number three our reputation.
21. How many runners have come to your races?
The first year 1600, second year 1700, and least year 1800. We expect over 2000 this year.
22. And you think you'll cap it at 4,000?
Our goal is to have 3000 by 2015. We may cap it there. We'll have to wait and see how many the island can handle.
23. How many volunteers do have, and where do get them from?
We need about 650 volunteers. Most of them come from our charity groups, the local PTA and Church Groups. They send their people out to man the specific places. At 4 am their parking cars, then manning all the aid stations, and we need volunteers all along the course. About 3-400 volunteers are affiliated with our charity groups, the rest may just want to help out and some others we hire.
24. You've run successful companies, and still do for profit. How does that compare in terms of job satisfaction to being a race promoter?
Interesting question. There is this misconception that a non-profit doesn't try make a profit. It's definitely a labor of love, but I try to run it as a for-profit business. We look to cut costs at every corner to bring more financial rewards to the community and our charities. There's always a reward in being a success. In my for-profit business there are a lot of personal rewards in seeing employees grow and in customer satisfaction. Promoting the race is much more richly rewarding, but not in a financial way.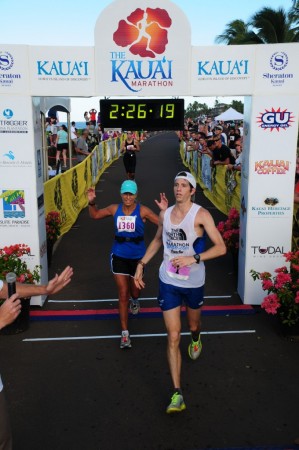 Photo: Ujena Fit Club member Michael Wardian finished second in the Marathon. The finisher right behind him is finishing the half.
25. Can you elaborate on that?
This was the one aspect of the race that really caught me by surprise. I was really taken aback at the number of people wanting to track me down, to hug me and tell me their story. These were complete strangers, crying and hugging me and I'd be crying as they opened up about the trigger in their life that caused them to run. Maybe a spouse had passed away or a child and they were running in their honor. Maybe they're fulfilling a dream, or celebrating a second chance at life. It's true that every runner has a story, whether they finish in first or last. It's very emotional at the finish line, very powerful. That's what motivates me every year. One year we had a blind runner and we found two people to guide him. We've had people go from start to finish on crutches. One soldier back from Iraq carried the flag from start to finish. I could go on and on and on.
26. Do you run any other races or attend them to keep up with the market, and if so, which ones?
Yes, I do some halfs and 10K's mostly.
27. What advice would you give to someone who is about to start a new race?
I'd say see a shrink to make sure they're sane. No, seriously, you have to be sufficiently capitalized and be ready to fund the event for the first three years. Don't overestimate your sales ability. This is so important. Your first time out is going to be tough to raise funds. You can't make an event without the businesses, community, local officials and sponsors behind you and in a new area, that can take considerable time. But if you succeed, you'll never regret the work that went into it.