By regulation, the 5K of the Double starts 100 minutes after the start of the 10K, give or take 10 minutes. This means that runners who cover the 10K fastest will get more rest before the 5K leg starts.
Those who cover it slower will get less rest.
The Double provides runners an almost endless number of strategy variations – and this is only one of them. For that reason, the Double has been described as a road running chess match in shoes, shorts and a singlet.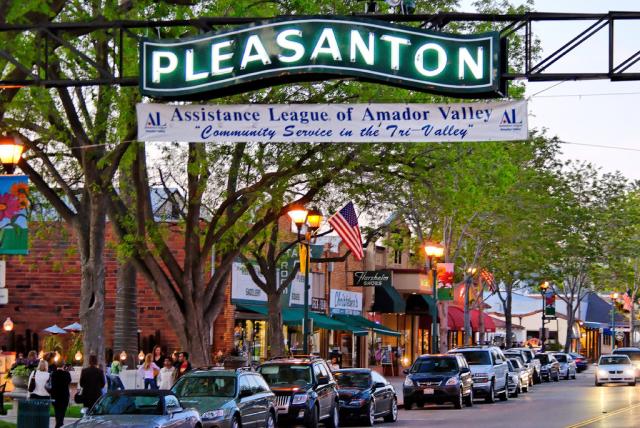 Photo: Pleasanton California is just 48 minutes east of San Francisco or 33 minutes north of San Jose. The starting line is just over a mile from the center of town.
Asked why Pleasanton was selected as the site of the inaugural Double in America, Bob Anderson said, "Pleasanton is a community that is very partial to sporting events, and it was very supportive of us holding the event there. Besides, the roads are wide, smooth and flat, and we wanted a fast course.
The courses for both the 10K and 5K are fast and flat."
One of the great visionaries in the history of distance running, Bob Anderson not only founded Runner's World, but in publishing the magazine from 1966 to 1984 played a major role, one which has largely been overlooked, in the running boom of the '70s and '80s. Even in the '70s Anderson was originating innovative running events like the 24-Hour Relay, National Running Week, Corporate Cup Relays, National Fun Run Program, and the Runner's World Midnight Race where the world 5-mile road records was set.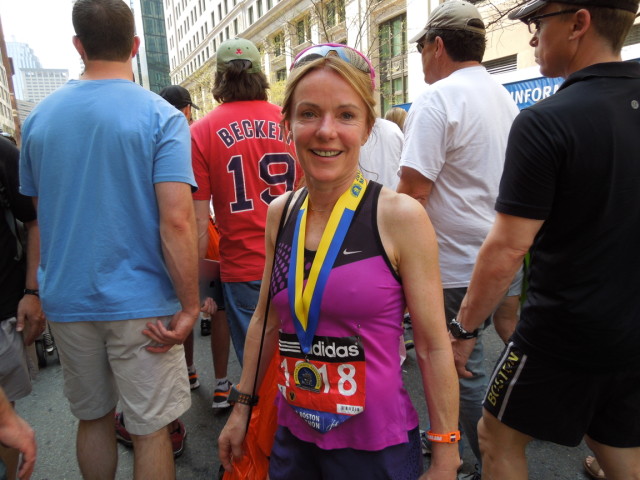 Photo: 57-year-old Christine Kennedy ran the best age-graded performance this year in Boston. In Chicago she became the only women in the world to break three hours for the marathon for women 57 or older. Her next big race will be the Double.
Anderson sold Runner's World in 1984 and since then has been the CEO and chief photographer of the Ujena Swimwear Company. Although he's always stayed true to his passion, running, his creation of the Double and the communications and organizational structure he's built around it – the Ujena Fit Club, several running Websites, including BestRoadRaces.Com, and the Double Road Race Federation, which will sanction what Anderson hopes will be a proliferation of Doubles around the world, signals that the man who started Runner's World is formally back in the game and intent on making another big impact on running.
A spokesman for Anderson's organization, Justin Wall, who also happens to be his son-in-law, says, "I think it's important that people know his vision goes way beyond building one race or a series of races that are unique and different. Bob wants to build a new sport for runners and the Double Road Race Federation will be the umbrella organization for these races. Runners do not get nearly enough attention and Bob wants to recognize all runners, all ages, in many new and unique ways. As this grows, we want race directors to license and put on official Double Road Races all over the country and internationally.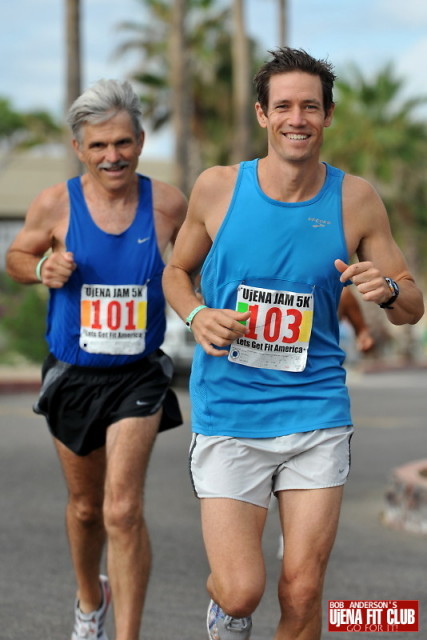 Photo: Bob Anderson and Justin Wall running the first ever Double held. That was October 23, 2010 in San Jose del Cabo. Not knowing what to expect added to the challenge.
It was "But we're not only creating the Double and the Double Road Race Federation, we feel there is need for a Website that focuses on the best races to participate in. So if you're looking to run a race, we want you to go to BestRoadRaces.com
"Our underlying cause with the Double, in addition to encouraging more participation and provide runners with a new challenge, is to support national youth running programs (such as Just Run.org), as well as other local running programs for kids. There is a big issue with child obesity in this country, and our goal is to raise funds and awareness by building up running programs for kids."
Justin Wall continues, "The Ujena Fit Club, an organization and Website which Bob started through his company, ties into everything we are doing with running. It's a networking site that encourages and helps people get fit and stay fit. Ultimately the idea is that it will offer all things running and fitness related.
"So Bob is focused on building something big and all these different things tie together and support each other."
All in all, not a bad way for a man to celebrate his 50 years as a runner and give back to the activity he loves.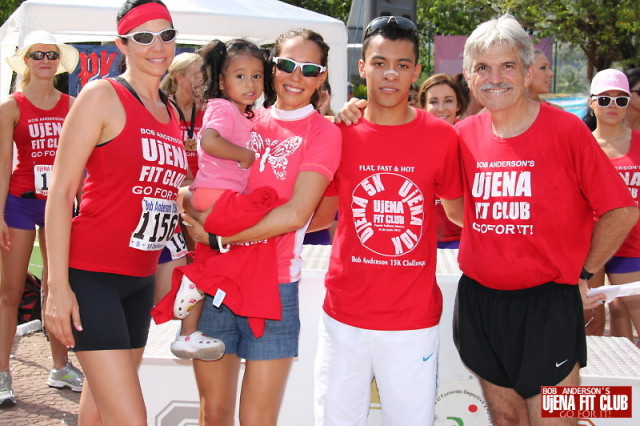 Photo: Bob Anderson (right) with world record holders Monica and Carlos in Puerto Vallarta. Ujena cover model Jodi Labossiere (left) has run five of our Doubles held in Mexico. Her best time is 72:56. She wants to break 70 minutes in Pleasanton.
Six Doubles have been held thus far, all in Mexico, where Anderson's company, Ujena Swimwear, does a lot of promotional events. You guessed it, Bob Anderson has run them all. The fastest aggregate time recorded thus far by anyone has been 49:15 (33:40 for the 10K and 15:34 for the 5k). The fastest women's time has been 55:02 (36:45 and 18:17). The best age-graded performance in any of the Doubles held in Mexico was turned in by Silvano de la Cruz, a 52-year-old runner from Puerto Vallarta. He ran 35:43 for the 10K leg, then came back and ran 17:22 for the 5K to give him an aggregate time of 53:06, which translates to an 86.83 percent age-graded performance.
The Doubles held in Mexico, however, were more modest, smaller budget events with a relatively small number of participants. At Pleasanton, $4200 in prize money will be awarded in the Double, and the Double Road Race Federation is offering an additional $1000 for world record performances. The caliber of competition expected at Pleasanton should also result in a wholesale revision of the existing records in the event.
As for the number of participants expected in Pleasanton, Justin Wall says, "We want to ultimately build this into the biggest running event in Northern California during the Christmas holiday. Thanksgiving Day has the Applied Material Silicon Valley Turkey Trot race in downtown San Jose (25,000 runners). In seven years they have raised more than $2.2 million for charity. But there is no BIG running event in Northern California at Christmas time. We want to build this into an event of that magnitude."