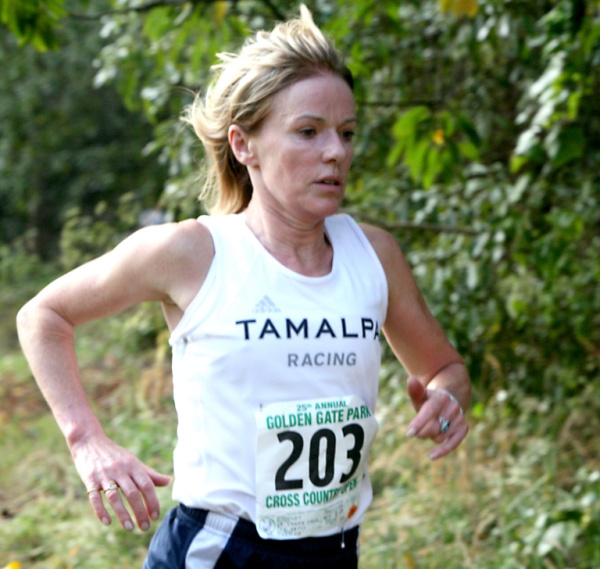 Christine had planned to run a negative split race in which she started out with 6:30-6:38 miles and ran faster at the end. She felt comfortable at 6:36-6:38 pace the first 8-9 miles, but when the stomach cramps hit at 10 miles, the rest of the race turned into a real ordeal for her.
"I did finish," she said afterwards, "but it was rough. It's the hardest race I've run in a long time."
Compliments that her 2:56:04 while suffering cramps for more than half the distance was a remarkable performance didn't seem to diminish her disappointment.
"What makes it frustrating is I know I'm better than 2:56," she said.
This was clearly a case of what might have been, and Christine knew it.
"In the shape I'm in, I think I was capable of running 2:50 today. Definitely!
"My coach (Tom McGlynn) was very disappointed in my time. I told him not to blame himself, the training was perfect, I'm in the best shape I've ever been in, it just wasn't my day because I had the stomach issue."
Christine's next chance to go for the 55-59 age group record will be next spring at the Boston Marathon, where she's won that age group the last four years. The 5'1", 98-pound native of Ireland will be 58 by then, and the 55-59 age group at Boston next year will be particularly interesting because none other than 1984 Olympic marathon champion Joan Benoit Samuelson will be there and apparently racing fit and record focussed.
Before yesterday's race Christine talked to Joan in Chicago, who told her she plans to run Boston and hopes to break 2:52 there.
"She was surprised that's what I hoped to run here," Christine said later of their conversation. "So it looks like we'll be racing head to head at Boston. We know how hard it is (for someone our age) to run 2:52. But that will be a great chance to get the record."
Christine, who is a member of the Ujena Fit Club, will be a participant in the Double, or Double Road Race (a 10K, followed by a 5K), to be held in Pleasanton, Calif. Dec. 23. In fact, she will head her own team of three in the competition, which will be the first Double to be held on American soil. Six Doubles have been held thus far in Mexico, where the Ujena Swimwear Company stages a lot of promotional events.